HERAT -- Ongoing Taliban violence and threats have kept more than 320,000 children out of schools in Herat province in the current school year, according to the Herat Education Department.
The violence keeps boys and girls alike from attending class.
However, the Taliban have a special animus for girls who go to school, said Zakaria Rahimi, director of the department.
"More than 50,000 children have enrolled in schools across Herat province in [solar] education year 1400," she said, adding that this number would have been much higher if the Taliban had not engaged in intimidation and fighting.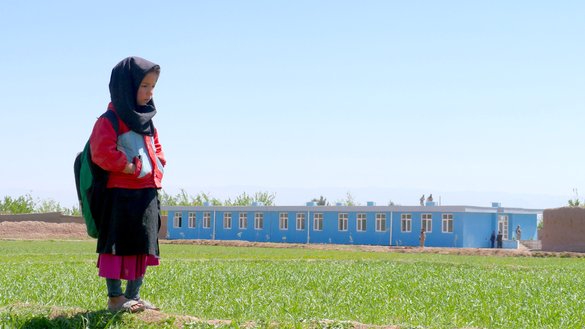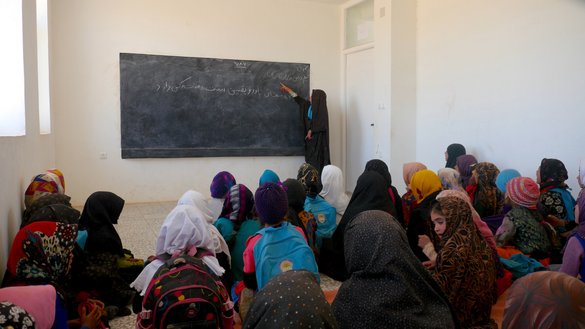 "In most areas, we do have school buildings. However, there are no students because of Taliban threats and violence," Rahimi said.
In many villages, the Taliban have turned schools into bases from which they organise attacks on security forces, Herat Governor Sayed Wahid Qatali said on April 2.
"Taliban attacks have displaced many families, and their children have lost the opportunity to go to school," Qatali said.
In recent years, the Taliban have destroyed dozens of schools in Shindand, Adraskan, Ghorian, Kohsan and other districts.
The government plans to launch clean-up operations to oust the Taliban from those villages, according to Qatali.
Children should not become victim to the Taliban, he said.
Many students in Herat say the Taliban's threats and their attempts to stop children from going to school are an injustice.
"The Taliban should not prevent children from going to school," said Mirwais, a 10th-grade student in Herat city. "Not only boys but girls have the right to go to school."
The Taliban are always trying to destroy Afghanistan and do not want the country to prosper, he said.
"Those children who want to study and serve their country cannot do so because the Taliban prevent them from going to school... [the Taliban] do not want to see their progress," Mirwais said.
"We [students] have not committed any crimes and therefore should not be deprived of going to school," said Faridoon Ahadi, an 8th-grade student in Herat city.
The Taliban, who claim to be religious scholars, should realise that studying is allowed in Islam, and they should let children go to school and study so that everyone becomes educated and society becomes more prosperous, Ahadi said.
"If the Taliban have issues with the government, then they should solve it with the government, not prevent children from going to school," said Ehsanullah Usmani, an 11th-grade student in Herat city. "We do not deserve to become the victims."
The Taliban should not use children and schools as tools to achieve their objectives, Usmani said.
"Every child has the right to go to school and build his or her future, but the war and the Taliban threats are preventing us from fulfilling our dreams."
Growing illiteracy
The Taliban seeks to keep youth illiterate so that militants recruit them more easily as foot soldiers, officials and analysts say.
"There are many illiterate individuals among the Taliban" who are unaware of Islamic and human values and just kill innocent civilians and launch terrorist attacks, said Abdul Qader Kamel, a political analyst in Herat city.
"Illiteracy and lack of knowledge are key tools of the Taliban's war, and one can hardly find someone educated among the Taliban fighters," Kamel said.
"The more illiterate youth we have in society, the more the Taliban avail the opportunity to recruit them," he said. "The Taliban recruit uneducated and unemployed youth and make false promises to them."
The Taliban have deliberately created barriers over the past 20 years to prevent children and youth from going to school. Literacy rates in areas under the Taliban control are extremely low, according to Kamel.
"Undoubtedly, this action of the Taliban has ruined Afghanistan's new generation," he noted.
"With growing Taliban activity in Herat province, restrictions on children attending school have increased," said Mahdi Hadid, a member of the Herat provincial council.
In recent years, children and adolescents were conveniently able to attend school, but they are no longer able to do so because of the escalation of the war and the Taliban's threats, Hadid said.
New schools
Herat authorities are continuing to build new schools in defiance of the Taliban.
The Herat Rural Rehabilitation and Development Directorate announced that 103 school buildings were inaugurated in the province last year.
Most of these schools were simultaneously inaugurated in 12 districts in Herat province last November, providing regular education indoors for thousands of children and youth.
The construction of an additional 126 schools is under way with support from the Education Quality Reform in Afghanistan programme and Citizens' Charter project across the province, according to Farid Ahmad Azimi, chief of the directorate.
The schools are being built in 19 districts, Azimi said. "We hope to inaugurate these schools in the coming months."
"The total budget for the construction of 229 schools in 1399 and 1400 [the previous and current solar years] is more than 1 billion AFN ($12.7 million)," Azimi added.
Most recently, on April 5, the Herat Provincial Education Department opened five schools in Karukh district.
Another two schools inaugurated on March 31 in Keshk Rabat Sangi district have the capacity to provide quality education for 3,000 students, said Rahimi, director of the Herat Education Department.
"Construction of new school buildings in Herat has led to an encouraging rise in the quality of education because students can now study in a more suitable environment," Rahimi said.
With support from international development partners, the Ministry of Education is aiming to construct buildings for all schools across Herat province, he noted.
A number of schools that the Taliban blew up in recent years have been rehabilitated and reopened during the past two years, Rahimi added.