HERAT -- The Afghan government has built 97 schools in Herat Province over the past nine months as part of an education programme implemented in conjunction with international partners, say officials.
These facilities were built in Injil, Guzara, Karukh, Keshk Rabat Sangi, Keshk Kuhna, Adraskan, Zindajan, Pashtun Zarghun, Farsi, Chesht, Obe and Ghorian districts under the Iqra programme of the Citizens' Charter project.
The schools, which cost 424 million AFN ($5.5 million), provide educational opportunities for 54,000 students, including both boys and girls, according to the Ministry of Education.
Work is under way on hundreds of schools that will improve education and standardise the educational system in Afghanistan, acting Minister of Education Rangina Hamidi told reporters on November 5 during the inauguration of a school in Injil District of Herat.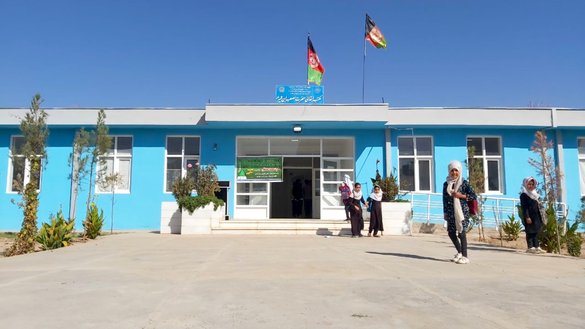 Work is in progress on 3,000 schools in 17 provinces. Of those, 600 schools already have opened, and the remainder will be delivered in the next few months, according to Hamidi.
"The government is planning to build 6,000 schools throughout the country through the Iqra programme," she added. "Once these 3,000 schools are built, work on the remaining 3,000 schools will commence in the remaining 17 provinces."
"About 65% of schools in Afghanistan have buildings, but 35% of them don't," she said. "Thanks to President [Ashraf] Ghani's decision of building 6,000 more schools, nearly 80% of schools in Afghanistan will have proper buildings."
"The government has rolled out an unprecedented programme of building 6,000 schools in the country, and it shows that the government prioritises educating the future leaders of the country," Herat Governor Sayed Wahid Qatali told reporters during the inauguration ceremony.
"Opening 97 schools in one day sends a clear message that children won't continue to remain deprived of having standard classrooms and schools," he said. "The construction of 154 more schools is under way in Herat."
Most of these schools are being built in insecure areas controlled by the Taliban, which means that the children of the Taliban can attend the schools that the government is building, he added.
"With the construction of new schools, the lack of school buildings in this province has been partially solved," said Zakaria Rahimi, director of the Herat Department of Education.
"There are 1,256 schools in Herat Province, and 313 of them don't have a proper building," she said.
"Some of the schools that anti-government elements have destroyed recently will be rehabilitated to allow boys and girls to return to school."
Excited students
Currently, almost one million children -- 48% of whom are girls -- go to school in Herat Province. Many who previously studied in tents or private houses say they are happy to have proper school buildings and classrooms.
Gulsoom, a fifth grader in Injil District of Herat, said that she and other students could not focus well on their lessons because of cold in the winter and heat in the summer.
"Our tent classroom was very small... we couldn't learn well, but the classroom here at school provides a better environment that enable us to pay good attention to our lessons," she said. "When it rained in the winter, our tents leaked."
"We are very happy with our new and well-equipped school," Gulsoom said. "We have fans and heaters in our new classrooms. We can turn on fans in the summer and heaters in the winter to allow us to focus on our studies."
Asma, a fourth grader in Injil District of Herat, said that the rented property where which she studied was not a suitable environment.
"We are happy to have a proper classroom, and after this, we'll be more comfortable with going to school and learning," she said. "As the school is built in our village, we will attend school with even more interest and continue to learn."
"We are thankful to our government that it built this school for us, and now we're better able to study," said Zakia, a fifth grader in Injil District of Herat.
"When we were learning under a tent, we hoped to have a school where we could sit at a chair and desk -- now that hope of ours has come true," she added.
Making peace
As the new schools are rolled out, residents of Herat Province are urging the Taliban to stop destroying educational facilities and to make peace.
New school buildings provide better facilities for children and adolescents, said Habibullah, a resident of Injil District.
"Peace is the hope of every Afghan," he said. "Youth and the elderly are hopeful for peace, but unfortunately, Afghanistan still can't see peace. We ask the Taliban to make peace and not deprive children of this country of getting an education."
"If the Taliban are real Muslims and Afghans, we call on them to make peace and reconcile with their people so that the children of this country don't continue to lose their lives," he added.
"Building schools symbolises a bright future for Afghans and prevents young people from joining the terrorist groups," said Din Muhammad Faqiri, a resident of Injil District.
"We call on the Taliban to seize the opportunity in front of them, make peace and return to a normal life together with their people as it will help Afghanistan get rid of this crisis and disaster," he said.
"We ask the Taliban to stop destroying schools and let the children including theirs go to school and get an education," he said.