LAGHMAN -- Maryam Amarkhil still remembers when Taliban militants burned down her school in Maidan Wardak province in 2007 when she was in the sixth grade.
"When I came to the school in the morning, the carpets were burned and everything had turned black," she said. "All my hopes for getting my bachelor's and master's degrees burned up too."
Prior to destroying the school, she said, Taliban militants sent her father many letters "warning him not to send his daughters to school because they [the girls] would be misled".
"Because my father was illiterate, I would throw these letters in water or hide them in the walls," she said.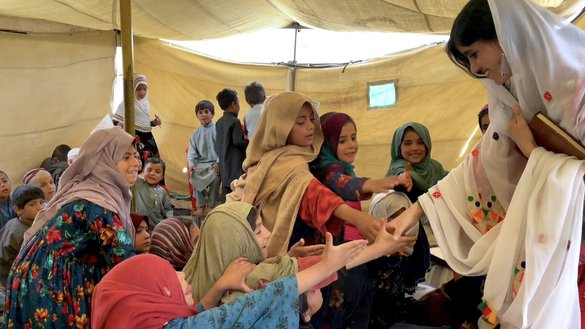 "But things got worse; the Taliban torched my school, and I had to move to Kabul."
"Around 1,200 girls had studied in our school, all of whom stayed home after the school burned down," she said.
Defying the Taliban
Amarkhil, now 25, refused to let the Taliban extinguish her dreams.
"I was the only one who went to Kabul, completed school, getting my bachelor's," she said. "I then pursued my master's in Pashto literature."
Now Amarkhil, who hails from the Kuchi tribe, operates a school for tribal children in Qarghayi district of Laghman province.
Students of "the mobile tent school" are becoming familiar with books and pens and are learning English letters.
"I established this school here two months ago because more than 100 Kuchi families live in the dry desert of Qarghayi," she told Salaam Times on April 10. "Right now, 235 boys and girls study up to 3rd grade."
Amarkhil runs the school using her own salary as well as financial support from Afghans living inside Afghanistan and abroad.
With more funding, she intends to start similar mobile schools in Logar, Nangarhar and Ghazni provinces in the current solar year.
Seeing these Kuchi children in school reminds her of her childhood and of the difficulties she had to overcome during her school days, she said.
Mujahid Khan, 16, picked up a book and a pen for the first time when he started at the school two months ago.
"I used to herd sheep, but I am now in the school studying in the first grade," he said. "I learned a lot in two months and am very happy for the school."
His younger sisters are also delighted to see a school established in their village.
One male and two female teachers oversee three classes covering all subjects including religious studies, science and English.
"My father and mother have not studied," said Rahima, 11, who studies in the first grade. "I used to get very upset seeing other girls going to school. Now I am very happy to be in school and studying."
Rahima's mother, Gulnar, said she is grateful her children have the opportunity to study.
"We are Kuchis; we have not studied and grew up without an education," she said. "We are happy now that if these children study, they will be able to correct our mistakes in prayers and reciting the Koran."
Education 'under fire'
Amarkhil's former schoolmates are not the only ones whom the Taliban have blocked from obtaining an education.
Attacks on schools in Afghanistan almost tripled in 2018, cutting children's access to education, UNICEF said in May 2019.
Attacks on Afghan schools jumped from 68 in 2017 to 192 in 2018, the first increase in such incidents since 2015.
More than 1,000 schools were closed by the end of 2018, UNICEF said, depriving some 500,000 children of their right to an education.
"Education is under fire in Afghanistan," UNICEF Executive Director Henrietta Fore said in a statement at the time.
More recently, in Herat province alone, Taliban violence and threats have kept more than 320,000 children out of schools in the current school year, according to local officials.
In recent years, the Taliban have destroyed dozens of schools in Shindand, Adraskan, Ghorian, Kohsan and other districts.
The Taliban seek to keep youth illiterate so that militants recruit them more easily as foot soldiers, officials and analysts say.
"There are many illiterate individuals among the Taliban" who are unaware of Islamic and human values and just kill innocent civilians and launch terrorist attacks, said Abdul Qader Kamel, a political analyst in Herat city.
"Illiteracy and lack of knowledge are key tools of the Taliban's war, and one can hardly find someone educated among the Taliban fighters," Kamel said.
"The more illiterate youth we have in society, the more the Taliban avail the opportunity to recruit them," he said. "The Taliban recruit uneducated and unemployed youth and make false promises to them."
The Taliban have deliberately created barriers over the past 20 years to prevent children and youth from going to school. Literacy rates in areas under the Taliban control are extremely low, according to Kamel.
"Undoubtedly, this action of the Taliban has ruined Afghanistan's new generation," he noted.