KUNDUZ -- The United Nations Children's Fund (UNICEF) is providing education to children in six districts of Kunduz province and the provincial capital through the establishment of makeshift home-based schools.
As part of the effort, UNICEF sends teachers to remote villages and rents local houses to be used as classrooms.
So far, 510 classrooms have been set up throughout the province.
The classes, which are offered to children in grades one to four, will be taught from May to February every year, said Mujeeb Ur Rahman Seerat, director of the Citizens Organisation for Advocacy and Resilience (COAR) for Afghanistan's northeastern provinces.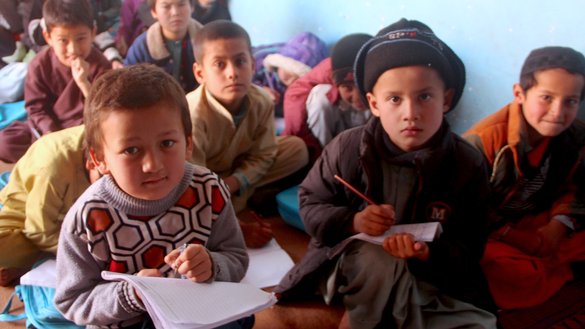 "UNICEF has recruited 600 male and female teachers to teach children in various villages of Aliabad, Chahar Dara, Imam Sahib, Khanabad, Qala Zal, Dasht-i-Archi, and the provincial capital," he said. "The programme is expected to continue for eight years."
Teachers are paid 9,200 AFN ($100) monthly, he added.
The programme aims to provide educational opportunities for children who are otherwise deprived of schooling, Seerat said.
"In these classes, priority is given to children who do not have access to public schools or those who live in areas with no schools," he said.
"These classes give children in remote areas of Kunduz the opportunity to study and not remain deprived of education."
"These community-based schools were run by Save the Children in 2019 and 2020, but this year we have taken over the programme," he noted. "Fifty percent of the students are girls and 50% are boys."
Fulfilling children's dreams
The majority of the children studying in the local UNICEF-funded classrooms are between 8 and 15 years old.
Namera Naseeri, 11, is a fourth-grader at Haji Abdul Rahman School in Aliabad district.
"I have been studying at a home-based school for four years," she said. "I am very happy and very satisfied with the lessons here."
"We come here to study because public schools are hours away from us and our families don't allow us to travel that far."
Namera requested that the community-based schools be expanded so she and her classmates can study up to grade 12.
"I want to become a doctor in the future," she said. "If I have the opportunity and graduate from high school, I can realise my dream."
Ashiqullah Omarkhail, 11, a third-grader attending the same school, said the nearest public school is three hours away from where he lives.
"I could not attend that school, so this is a good opportunity for me to study near my house," he said.
"Teachers teach us religious subjects including the Holy Koran, religion and Hadiths, as well as science, math and Pashto," he said. "I can now read and write, and I'm very happy that I can build my future."
Ahmad Naweed Hussaini, 10, another third-grader, says he has been attending home-based schools for three years, as public schools are far from his home.
"My family members, including my parents, are illiterate and, being adults, can no longer study," he said. "I can study and want to become a teacher and teach other children."
"If girls' schools are not re-opened, not all of us cannot realise our dreams," he added. "My message to everyone is let's study and build our future."
'Building a brighter future for Afghanistan'
Children in various Kunduz villages who previously had little chance of receiving an education, now have access to classrooms, said Baryalai Qaderi, 33, a teacher recruited by UNICEF in the Se Darak area of Kunduz city.
"I am happy to be teaching children in my area," he said. "People in this area are very happy that their children are studying at the community-based school."
Around 30 boys and girls attend his class for half a day from Saturday to Thursday.
"Providing education to thousands of boys and girls means building a brighter future for Afghanistan," he said. "I am proud of teaching this country's children."
Sharifullah Khairkhwa, 37, also expressed pride in his role as a teacher at a home-based school in the provincial capital, meaning one held informally in someone's house.
"I have been teaching children at various home-based schools for four years," he said. "We teach children according to the school curriculum. They are provided every kind of support and lack nothing."
"I am proud to be teaching the children of this country, these villages, so they can study, stay away from harmful things and be encouraged to study," he added.