KUNDUZ -- Kunduz officials, students and elders are pushing for schools to reopen in the province after dozens were closed as a result of conflict and as restrictions remain as a result of the outbreak of COVID-19.
More than 50 schools have closed in the provincial centre and six districts of Kunduz over the past two years, according to Abdul Hafiz Kakar, the director of urban education at the Kunduz Department of Education.
The closures, COVID-19 and other problems mean more than 30,000 students could not attend school in Kunduz during that time, he said.
The 50 damaged schools make up a sizable proportion of the province's more than 500 schools, and some 380,000 students attend those still in operation.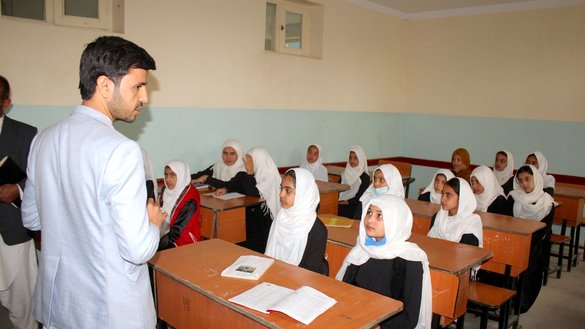 "Some of our schools were hit by artillery shells, while some others were turned into military posts," Kakar said.
"A number of other schools were located in areas of permanent conflict."
In addition to war and insecurity, the outbreak of COVID-19 has affected education, he added.
"COVID-19 cases are not on the rise right now in the country," he said. "We will wait until the start of the school year in March and decide, depending on the spread of COVID-19."
Efforts are under way to reopen the damaged schools, ease restrictions on students and bring back students who were left out of school, he said.
Left behind
Students and residents themselves are hoping for the damaged schools to reopen.
Amanullah Azizi, a 9th-grader at Alchin High School in the provincial centre, told Salaam Times that he was unable to continue his studies over the past three years because his school was situated on the front lines.
"I would have graduated by now and would be preparing for university studies had it not been for the war and insecurity," he said.
"Sometimes our schools were used as military posts and other times they would get hit by mortars, which forced us not to attend school," he added.
Unless Afghan schools re-open, the education of thousands of other students will be disrupted like his, Azizi said.
Residents of Chahar Dara district have seen most of the fighting, which has kept them behind in all aspects of life, Abdul Rahman Samadi, a resident of the district, told Salaam Times.
"Although new schools were built in our district in the last three years ... war and insecurity did not allow girls and boys to go to schools," he said.
"The more we fall behind in education, the more our society will remain behind," he added. "Governments should not create obstacles for the youth's education and should let them change the future of their country."
"There is no power that can stop us from obtaining an education. Our youth must be united and fight jointly against ignorance and darkness," he said.
A basic right
"Around 2,000 students have been deprived of attending Alchin High School, since the school has been closed for the last 12 years," said Azizullah Esmati, a member of the Kunduz Education Support Council.
He lives near the school, but his children could not attend it because the school was used as a military base and came under regular targeting, he said.
Aid agencies should assist in the reconstruction of damaged schools so that Afghan children do not miss out on an education, he urged.
Sayed Shamsullah Maiwandi, a civil society activist in Kunduz, said progress and development in any country rely on the level of its citizens' education.
Without education, society will go toward darkness, he added.
The rights of youth, especially the right to education, should not be taken away from them under different pretexts, he said.
"Free education opportunities, even for graduate degrees, should be provided to the youth so that they can build their country and we no longer need to bring in specialists from abroad."