KABUL -- Residents of Zabul and Logar provinces are welcoming the reopening of dozens of schools shuttered by the Taliban, some for days and others for years.
More than 40 schools have reopened in the two provinces following mediation efforts with the Taliban by tribal elders and religious scholars.
Four years ago, Taliban militants closed 13 schools in Naw Bahar District, Zabul Province, said Nasrullah Zahid, head of the provincial education department.
"With the reopening of these schools, the educational opportunity for almost 3,000 students was provided," he said during a meeting with tribal elders and religious scholars on April 21.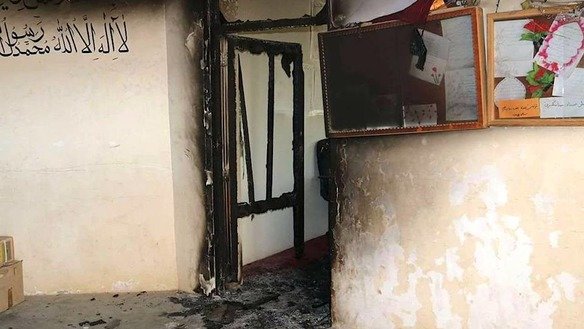 Zahid expressed his appreciation for the tribal elders' and religious scholars' efforts to secure the reopening of these schools.
"Efforts are under way to reopen schools that remain closed in Arghandab, Khak Afghan, Atghar and Daychopan districts," he said.
Reopening schools in Logar
Meanwhile, in Logar Province, the Taliban shut down 30 schools in Charkh District on March 30 after Afghan National Defence and Security Forces killed local Taliban commander Maulvi Mohammad, said Salim Saleh, a spokesman for the provincial governor.
The schools included 10 high schools, eight middle schools and 12 elementary schools with a total of 11,436 students, of whom 2,262 are girls, according to the Afghan Ministry of Education.
The schools were reopened after 10 days, thanks to the mediation and intervention of religious scholars, tribal elders and the students' parents.
Despite the reopening of the schools, however, militants' disdain for education and disregard for Islamic principles have persisted.
On April 10, at about 8.00pm, unidentified gunmen broke into a girls' school in Mohammad Agha District of Logar Province.
The men beat and tied up the unarmed school attendants before attempting to set the school ablaze. The school's main entrance and seven chairs were burned in the incident, according to the Ministry of Education.
A total of 981 students, from first through twelfth grade, study at the school. The incident did not stop students from returning the next day, the ministry said.
"The government will step up efforts to prevent security threats against schools," pledged Saleh.
Taliban enmity toward education
Religious scholars, lawmakers and other Afghans condemned the vandalism and closure of schools by the Taliban.
"Acts such as the shutting down of schools or setting them on fire are not permissible in any religion or sect, especially in Islam," said Mawlawi Abdulahmad Mohammadyar, a religious scholar in Kabul.
"In addition to general knowledge and science, religious subjects are being taught in our schools," he told Salaam Times. "What excuse then do the Taliban, who consider themselves the seekers of religion, [use] to commit such a grave sin?"
"Islam has made it compulsory for both women and men to seek education and knowledge. An individual who lacks knowledge and science is a deprived human being," he said. "If the Taliban are truly Afghans and Muslims, then they should not deprive the public of knowledge."
"When schools remain closed for 10 days, it has a negative impact on students' morale, especially when it comes to female students," Shakila Hashemi, a representative from Logar Province in the Wolesi Jirga (lower house of Afghan parliament), told Salaam Times. "It also interrupts their learning."
"Schools are places of science and knowledge, and hence closing schools or setting them on fire is not considered rational," she said.
"We call on the government to protect our schools," Hashemi said. "We also urge the public to take the initiative and stand up to all those who are hostile towards schools and education."
Beating back the enemies of Afghanistan
"The Taliban and the ["Islamic State of Iraq and Syria"] (ISIS) are enemies of the people of Afghanistan and have delivered only devastation and distress to our people," Homaira Mohammadi, a 25-year-old Kabul University student, told Salaam Times.
"By shutting down schools, the Taliban hinder the education and progress of our children and youth, which is an act of hostility towards society and against the country's progress," she said.
"The Taliban are in fact obstructing education," Hekmatullah, 26, a native of Logar Province who resides in Kabul, told Salaam Times.
"This is a proven fact for everyone that whenever the Taliban are defeated on the battlefields, they take revenge on the public by setting schools on fire, carrying out suicide attacks among civilians and destroying power grids or culverts," he said.