PESHAWAR -- Despite their claims to the contrary, both the Afghan Taliban and Tehreek-e-Taliban Pakistan (TTP) have no qualms about murdering women and children, observers say.
In one recent case, Joshua Boyle, a Canadian man who was held by the Afghan Taliban with his family for five years, said the militants murdered his infant daughter and raped his wife, American citizen Caitlan Coleman.
The Pakistani army rescued the family in October.
A brutal track record
"The allegation by the Canadian couple ... that their infant baby was killed isn't news as the Taliban are in the habit of killing women and children," Peshawar-based security analyst Khadim Hussain told Pakistan Forward.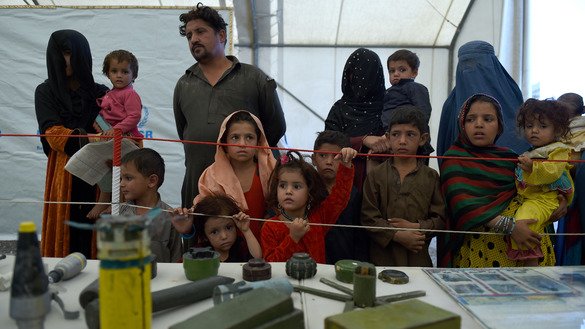 Although the Afghan Taliban have denied the charge, the militants have a track record of raping women, said a South Waziristan-based journalist who wished to remain unnamed.
"In Afghanistan and Pakistan's tribal areas, Taliban militants have beaten women and prevented them from going out of their homes without the accompaniment of close male relatives," he told Pakistan Forward.
The militants are also shamefully killing innocent women and children, he said.
Taliban militants killed 1,662 civilians and wounded 3,581 in the first six months of 2017 in Afghanistan, including many women and children, the journalist added, citing a UN report from July.
In one particularly horrific incident, Taliban and the "Islamic State of Iraq and Syria" (ISIS) August 5 jointly massacred as many as 60 men, women and children in remote Sayad District, Sar-e-Pul Province, Afghanistan.
In another attack on civilians, a suicide bomber killed at least 18 people, including three children, and injured scores, on October 5 at a Sufi shrine in Jhal Magsi District of Balochistan Province, Pakistan.
Militants show 'no mercy'
The memories of the December 2014 Army Public School massacre in Peshawar are also still fresh in residents' minds, Hussain said. TTP gunmen killed more than 140 children and teachers when they stormed the school.
"They don't have any mercy for humanity and kill women, children and the young and old alike in pursuit of their agenda," he said, adding that the main reason for dwindling of Taliban support is their treatment of women and children.
Such brutal acts show the "militants' attitude towards women and children," said Dr. Mushtaq Ahmed at the Lady Reading Hospital in Peshawar.
"In the past 10 years, we have received about 3,000 patients injured in bombings and suicide attacks, and half them were women and children," Ahmed, who works in the hospital's emergency department, told Pakistan Forward.
Scores of those victims have incurred disabilities and will not be able to lead normal lives, he said.
"Most of the market attacks struck markets frequented by women," he said. "Women and children have been assaulted inside their houses."
Cowardly acts against Islam
The merciless targeting of women and children by militants is condemnable, said Khalid Rehman, a sociologist at the University of Peshawar.
"This act is against Islam as well as the local norms, according to which women are held in high esteem," he told Pakistan Forward, adding that "Pashtun society respects women greatly".
In Swat District, Khyber Pakhtunkhwa, during the insurgent reign of terror in 2007-2009, militants barred women from venturing out of their homes and kept female nurses and doctors from working at hospitals, he said.
Children also are often the victims of Taliban attacks.
Muhammad Osama, 10, was seriously wounded in a land mine explosion in March in Khyber Agency. He lost both legs and will be bed-ridden for life.
"He was playing cricket with children and stepped on a land mine planted by militants," Muhammad Shaukat, the boy's father, told Pakistan Forward. "We rushed him to Hayatabad Medical Complex Peshawar, but his wounds were too serious ... he lost his legs."
Shaukat said he knows more than a dozen children in his locality who have lost limbs to land mines.
"People don't have any respect for terrorists who are frightening the children and women," he said. "[Militants] cannot fight the army face to face and target civilians -- which is not a sign of bravery."