PESHAWAR -- The Taliban's targeting of children in violent attacks shows their ruthlessness, cowardice and desperation, Pakistani doctors and security analysts say.
"It is highly condemnable that Taliban militants kill and wound children for no reason," said Dr. Muhammad Shaukat at the Lady Reading Hospital (LRH) in Peshawar.
The LRH has received 350 children injured in terrorist attacks over the past three years, he said.
In 2016, 923 children were killed and 2,589 wounded, says the UN Mission in Afghanistan.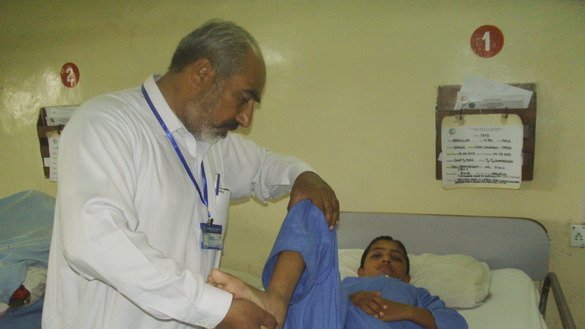 "Health professionals burst into tears when they receive children injured in bombings and suicide attacks," he told Pakistan Forward.
Militants kill, injure innocent children
In one recent incident, four children and five women were among 15 people killed April 25 when a remote-controlled roadside bomb blew up a passenger bus in central Kurram Agency.
Two months before that, Tehreek-e-Taliban Pakistan (TTP) faction Jamatul Ahrar on February 21 attempted a massive suicide attack at the courthouse in Tangi Tehsil, Charsadda District, Khyber Pakhtunkhwa (KP).
Police foiled the attack by killing two would-be suicide bombers before they could enter the court complex, but one bomber detonated his explosives.
The explosion killed 8 people and injured 16 others, including two-year-old Izna Bibi, who received injuries to her abdomen and lower limbs, Shaukat said. Her four-year-old brother was killed.
"She doesn't even know what happened to her," Shaukat said, adding that young Izna spent two days in the intensive care unit at LRH. She left the hospital after ten days, smiling, he said.
The story of Izna and her brother is heart-rending and an example of the Taliban's ruthlessness, Shaukat said.
Izna's father, Shakoor Khan, who suffered minor injuries, told Pakistan Forward that his daughter's physical wounds had healed but that the incident would stay with her for life.
"We know that she will be condemning militants in the future," he said.
"We appeal to the government to chase militants more vigorously and enable the public to live in lasting peace," he said. "I will not forgive the killers of my son and those who injured my young daughter."
Healing wounds
The International Committee of the Red Cross (ICRC) provided free rehabilitation and physical therapy to 12,224 residents of KP in 2016, including many children.
The beneficiaries received artificial limbs and physiotherapy as part of their rehabilitation, said Najum Abbasi, ICRC spokesman in Pakistan.
In addition, 63,503 people, including 37,273 children, were treated at the Bakha Khel camp for internally displaced persons in Bannu, he said. Another 12,360, including 8,804 children under 15, received services from the ICRC at the Torkham border crossing in 2016.
Such figures mostly "include children who sustained injuries in violence-related incidents," said Abbasi.
Lasting effects of violence
Ajmal Hussain, secretary of the KP branch of the Pakistan Medical Association, condemned militants for killing children, saying that the physical and emotional effects of violence will linger.
"It is a great tragedy because children need to be spared in war zones," he told Pakistan Forward. "Taliban militants should respect children, who don't know anything about war or peace."
Peshawar psychiatrist Mian Iftikhar Hussain blames violence for many mental illnesses suffered by people living in conflict zones.
"Children are the worst victims of terrorism because they develop psychological problems that become chronic illnesses in the future," he told Pakistan Forward.
The children of those killed in conflict-stricken regions face hardships in education and other mental and emotional problems, he said.
"Children may not be direct sufferers from violent acts aimed to frighten civilians, but they cannot stay unaffected," he said.
Safeguarding the future generation
Pakistan and the Taliban cannot co-exist, said Zohra Yousaf, chair of the Human Rights Commission of Pakistan.
"The assassination of over 120 children in the attack on the Army Public School in Peshawar in December 2014 was a grim reminder of the Taliban's brutalities," she told Pakistan Forward.
"No religion, norms of armed conflict or common decency permits targeting of children," she said.
"The killers as well as their masters who approve killing children do not have any respect for religious commandments or for the norms of decent behaviour," Yousaf said.
The war against the Taliban is a fight to save children's lives and to secure for them a future safe from barbaric cruelty, she said.
"We must continue to make efforts for peace to safeguard our future generation," she told Pakistan Forward.
Wars are no solution to the problems that Pakistan faces, said Aziz Ur Rehman, a final-year student at the Institute of Peace Studies, University of Peshawar.
"The efforts to establish peace must go on, and we must eliminate everyoe creating [instability and insecurity]," he said.
"Militants cannot fight [Pakistan's armed] forces bravely ... therefore, they hit children and women," Rehman said. "Killing and maiming children clearly indicate cowardice."
Taliban target children's health, education
Militants have become too weak to fight troops and have gone into hiding for fear of their lives, said Peshawar-based Brig. (ret.) Mehmood Shah, former security secretary for the Federally Administered Tribal Areas (FATA).
"However, they look for occasions where they can hit the innocent," he told Pakistan Forward.
The Taliban have special enmity for children, Shah said.
"Taliban militants not only target children with bombs, firearms and explosives but have damaged schools to deprive them of education," he said.
In 2012, the Taliban also stamped out polio vaccination in areas under their control, causing more than 250 children to become handicapped, he said.
"It is a good omen that the public now knows the real agenda of Taliban militants and doesn't trust them anymore," Shah said.
Soon militants will face complete defeat, he said, as both the military and the population are pursuing them.