PESHAWAR -- Taliban militants and religious fanatics are hampering anti-polio vaccination efforts in Pakistan and Afghanistan by forcing parents to refuse immunisation for their children.
Pakistan and Afghanistan recorded the only new polio cases in 2018 -- 21 in Afghanistan and 8 in Pakistan, according to the World Health Organisation (WHO).
"Religious fanatics and militants have been campaigning against the oral polio vaccine (OPV) in order to handicap children," Babar Atta, Prime Minister Imran Khan's focal person for polio, told Pakistan Forward. "They are a real threat to the WHO's Polio Eradication Initiative."
"Nearly half of the confirmed polio cases have not received any dose of OPV while the others had a few doses, which did not protect them against the virus," he said.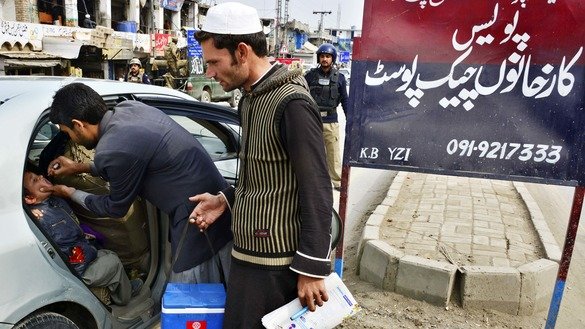 Pakistan recorded 306 cases of polio in 2014 due to the Taliban's intimidation and outright murder of vaccination workers. After military Operation Zarb-e-Azb ousted the Taliban from the tribal areas, nationwide cases dropped to 54 in 2015, and 20 each in 2016 and 2017.
Countering anti-vaccination propaganda
The overall situation, however, remains dire and will not improve in the face of endless propaganda against OPV, officials warn.
In Khyber Pakhtunkhwa (KP), for instance, there were more than 51,000 vaccine refusals in 2018, mainly due to the opposition of religious groups, according to Jawad Khan, a KP doctor associated with the anti-polio campaign.
"Parents defy immunisation for different reasons, which makes children vulnerable to the crippling childhood ailment," he said. "In Peshawar, 30,000 children didn't get a vaccination in areas [influenced] by various religious groups."
The Ahl-e-Hadith religious movement is one of the groups vehemently campaigning against vaccination.
"The group argues that treatment is not allowed in Islam prior to the occurrence of any illness, causing parents to refuse OPV," Jawad said.
Tehreek-e-Labaik Pakistan, an Islamist political party, also discourages families from allowing health workers into their homes to administer the polio vaccination. It spreads various falsehoods about immunisation, including the claim that vaccination is a Western plot.
"This situation has put our children on the razor's edge," Jawad said. "We are vaccinating 7 million children in every campaign in KP and tribal districts, but a few unvaccinated children are causing our efforts to fail."
Government, religious scholars committed to ending polio
"Religious fanatics and militants are adamant about not seeing our children grow healthy," Federal Minister for Health Services, Regulation and Co-ordination Aamir Kiani told Pakistan Forward.
"In the past, militants have destroyed schools and health facilities to deprive the public of education and health treatment, but we are also committed to eradicating polio in accordance with the global commitment" against the disease, he said.
Over the past five years, Taliban militants have issued edicts against polio vaccination in addition to killing at least 60 anti-polio workers, he said.
"But we are undeterred by threats and want to do away with this vaccine-preventable ailment," Kiani said.
"We have enlisted the support of top religious scholars who are telling the public that it is the religious responsibility of the parents to safeguard their sons and daughters against diseases," Kiani said, adding that the number of parents who refuse to allow their children's vaccination is declining.
Maulana Abdul Waheed, a Peshawar-based religious scholar, said he has been urging the public to accept vaccination as it is essential to safeguard children against diseases.
"It is the basic duty of parents to ensure that their children get an immunisation, not only against polio but against all other childhood sicknesses," he told Pakistan Forward.
This public advocacy has proved effective as local residents reject militant and extremist propaganda against vaccination.
"We need to administer OPV to 25 million children under the age of five in every campaign so they can stay guarded against any disability in the future," Waheed said, adding that vaccination has the backing of international religious scholars.
The Islamic Advisory Group (IAG) for Polio Eradication "reiterated its trust in the safety and effectiveness of all routine childhood vaccinations ... and acknowledged that it conforms to Islamic Shariah", the consortium said in a statement November 14 after meeting in Jeddah, Saudi Arabia.
"Despite the fact that the polio threat has shrunk to such a small size that we can count and investigate each of the remaining cases, we cannot afford to be complacent for these are not just numbers," said Dr. Yousef al-Othaimeen, secretary general of the Organisation of Islamic Co-operation, according to the statement. "These are human beings and every human being counts."
Afghanistan working to stop polio
Terrorists have been behind the perpetuation of the polio virus in parts of Afghanistan, according to Afghan Minister of Public Health Ferozuddin Feroz.
"Taliban militants aren't allowing health workers to give polio drops to children," he told Pakistan Forward. "They argue that OPV is designed to render recipients sterile and to reduce the Muslim population, which is untrue."
Afghan authorities also have involved religious scholars to persuade the population about the safety of vaccination, he said.
"We haven't been able to vaccinate about 500,000 children out of the target population of 6 million, but we hope that with the decline in the Taliban's influence, the situation will improve," Feroz said.
Un-immunised children endanger other members of society who have legitimate medical reasons for not receiving an immunisation, such as newborn infants and individuals with compromised immune systems.
"We are committed to ending polio," said Feroz, adding that working with Pakistan is essential to curb the cross-border transmission of the virus.
"We have set up transit points on the border where children receive the drops," Feroz said. There are 484 permanent transit points near high-risk border areas where children receive OPV, he said.
"We must all give our best on this last mile to eradicate polio once and for all," WHO Director-General Dr. Tedros Adhanom Ghebreyesus said in a statement published January 8, after a four-day visit to Afghanistan and Pakistan. "My wish for 2019 is for zero polio transmission."