URUZGAN -- Taliban militants have obstructed polio vaccination in Uruzgan Province in retaliation for Afghan National Defence and Security Forces (ANDSF) ground and air operations against the militant group.
The ANDSF launched the ongoing operations July 1, which led to the reopening of a number of roads that the Taliban had closed.
As a reprisal, Taliban militants warned local clinics to stop providing polio vaccination in the province, putting the lives of hundreds of thousands of children at risk, according to Uruzgan's Department of Public Health.
"Because of this decision made by the militants, 180,000 children in Uruzgan were deprived... of polio vaccination," Khan Agha Miakhil, the head of the department, told Salaam Times.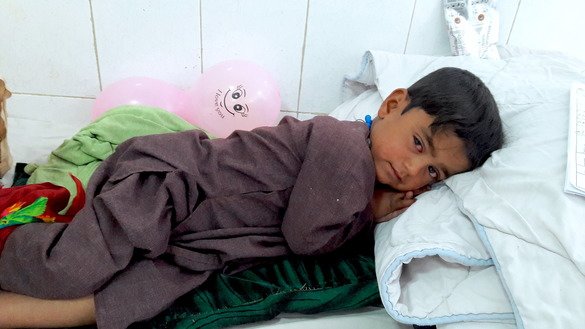 "The Taliban have said in indirect talks that they did so for security reasons, and they are not letting the vaccination process be implemented in areas under their control," he said.
Tribal elders and religious scholars have begun talks with the Taliban to resolve this issue, Miakhil said. "So far, we have not reached an agreement."
Taliban ignorance
Local residents are denouncing the Taliban's obstruction of polio vaccinations.
"Polio vaccination is not dangerous, and it was given here for the past few years," Aziz Ahmad, a 34-year-old shopkeeper in Tirin Kot, told Salaam Times.
"However, for around two months, [the Taliban] have been saying that it is dangerous," he said.
"The Taliban do not know the benefit of this vaccine," he said. "If they knew, they would not have banned it."
"The Taliban should know that, if children are not vaccinated, they will become disabled and that is harmful," Ahmad said, adding that the vaccination campaign "should be implemented".
Karimullah Agha, 35, a resident of the Garmak area, agreed with Ahmad.
"When vaccinators come to the villages, the residents bring all their children... because vaccinations prevent tuberculosis, measles and polio," he told Salaam Times.
"We have seen the benefits of this vaccination. It's why some children do not become paralysed," he said.
Endangering children's lives
Nine known cases of polio have occurred in Afghanistan this year, the highest number in the world. Three are in Helmand, five in Kandahar and one in Uruzgan.
Polio is endemic in only three countries now -- Afghanistan, Nigeria and Pakistan.
The latest polio patient registered was a three-year-old boy in Nad-e-Ali District of Helmand Province. Officials say he was among more than 900,000 children in Helmand, Kandahar and Uruzgan who missed vaccination during campaigns in May because of Taliban threats to vaccinators.
Mutiullah Hemat, 22, a resident of Uruzgan who studies in Lashkargah, is disabled by polio.
"One of my legs is affected by polio," he told Salaam Times. "There are people whose both legs were affected by polio, and it threatens the lives of children."
Blocking polio vaccinations "is another side [effect] of the war, and the militants should not do it", he said.
Failure to vaccinate a community causes the whole community to come under polio's threat, he said, adding, "This disease makes people hopeless."
"I ask the groups involved to let the children get polio vaccines and not to endanger their lives," he said.
Taliban 'do not respect lives of Muslims'
Mawlawi Samiullah Khalid Akhundzada, a member of the Uruzgan Ulema Council, condemned the Taliban for preventing vaccinations.
"Religious scholars have decided that the polio vaccine is legitimate," he told Salaam Times.
"According to Islam, vaccines that benefit humanity should not be prevented at all," he said.
The Koran states that saving one person's life is tantamount to saving all of humankind, he added.
"If the Taliban are [preventing the vaccination campaign], it means that they do not respect the lives of Muslims," he said.