HERAT -- A dreaded disease is seeing a resurgence in Afghanistan, aided by the Taliban's ignorant battle against public health.
The Taliban make the vaccinations impossible in areas they hold by threatening to kill the door-to-door teams, and they also tell the public that vaccines are a Western conspiracy aimed at sterilising Muslim children or that such programmes are an elaborate cover for Western or Afghan government spies.
The Afghan Ministry of Public Health and the Global Polio Eradication Initiative recorded 56 cases of wild poliovirus type 1 (WPV1) in 2020 across Afghanistan -- a major increase from the 29 cases recorded in 2019.
Most recent infections were recorded in Afghanistan's southern provinces, where the Taliban have a strong presence, but a resurgence also occurred in the western part of the country.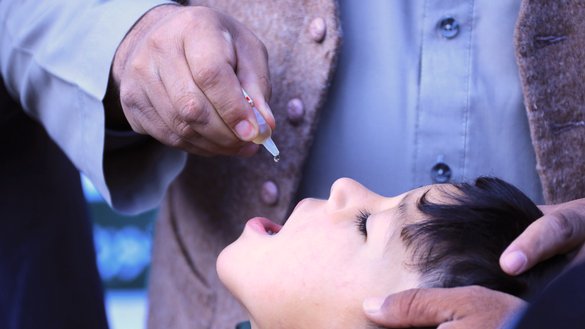 Last year, the Taliban obstructed door-to-door polio vaccination in some districts in the western region, and as a result, eight children were infected, said Dr. Abdul Wahid Rahmani, who heads the National Polio Vaccination Programme in the western zone.
"Currently we have eight positive polio cases in the western region: two in Herat province, two in Badghis province, and four in Farah province," said Rahmani.
"With deteriorating security and the Taliban's 'ban' on the door-to-door polio vaccination campaign in some districts, the number of positive polio cases in western provinces is increasing," he added.
Warning against the dangers of impeding vaccinations, Rahmani said, "All positive polio cases have been recorded in areas under Taliban control."
Obstructing vaccine campaign
A nationwide polio vaccination campaign began across Afghanistan on January 18, targeting 10 million children under the age of five. The Taliban have said they would support the campaign and would not restrict access to vaccines.
However, about 3.3 million children will not receive the vaccine, estimates the Ministry of Public Health, citing safety concerns and the Taliban's continued obstruction of door-to-door vaccinations.
This number includes more than 175,000 of the 1.2 million children in the western region of the country, say National Polio Vaccination Programme officials.
Because of the Taliban, "health teams cannot go door to door in remote villages to vaccinate children," Rahmani said. "But the polio vaccination campaign is running in all district health centres for several days."
"Families can bring their children to these health centres," he said.
In reality, families living in remote villages are likely unable to do so.
By impeding the polio vaccination campaign in parts of some districts in Herat, the Taliban endanger children and in some cases destroy their lives, said Herat deputy governor Noor Ahmad Haidari.
"In remote areas of the Shindand, Gulran and Keshk Kuhna districts of Herat province, the Taliban prevent door-to-door polio vaccination," he said. "Because of Taliban threats, health teams cannot go to these areas."
Without the Taliban's interference, no child would be deprived of polio vaccination in Herat, he said, as the government has all the means to inoculate children.
Herat city resident Nargis Aimaq, a mother of three, called on the Taliban to stop blocking the polio vaccination campaign.
Families should be allowed to vaccinate their children "so they do not become paralysed" she said, urging parents to "get their children vaccinated".
Polio paralyses children, she said, and once they are infected, there is no cure.
'Religious duty to fight polio'
Religious scholars in Afghanistan's western provinces called the Taliban's ban on door-to-door polio vaccination un-Islamic and inhuman.
No one has the right to obstruct polio vaccination or impose obstacles to saving children under the guise of Islam, said Abdul Khaliq Haqqani, Herat province's director of Hajj and Religious Affairs.
"Polio is a dangerous and contagious disease that does not recognise politics, religion or borders and threatens all children," he said.
"It is better for the Taliban to facilitate the implementation of polio vaccination rather than preventing it, so that children do not suffer this incurable disease."
It is the duty of all Muslims to fight polio and to save their children and others from the ravages of the disease, Haqqani said.
"Preventing polio vaccination has no religious justification," he added. "This is completely contrary to the values and instructions of Islam."
"Vaccination eradicates [the] deadly polio disease. Whoever stops this work commits an un-Islamic and inhumane act," said Mawlawi Khair Mohammad Niazi, a religious scholar in the Badghis provincial capital of Qala-e-Naw.
Preventing the polio vaccination campaign from reaching impoverished and deprived villages is an unforgivable crime, he added. "Islam has instructed all Muslims to protect themselves from diseases."