KUNDUZ -- The Taliban are preventing thousands of girls in Kunduz Province from studying beyond the sixth grade in areas under their control.
Over the past two years, students at more than 20 girls' schools in Chahar Dara, Dasht-i-Archi, and Qala-e-Zal districts of Kunduz Province have not been able to attend classes because of Taliban threats, said Amruddin Wali, a member of the Kunduz Provincial Council.
"Serious measures need to be taken to reopen the schools that are being shut down and those that are under security threats," Wali told Salaam Times.
"Based on the information we have received from these districts and areas near Kunduz city, the Taliban have warned families not to send their daughters to schools, claiming that their girls will be brainwashed if they go to school," he said.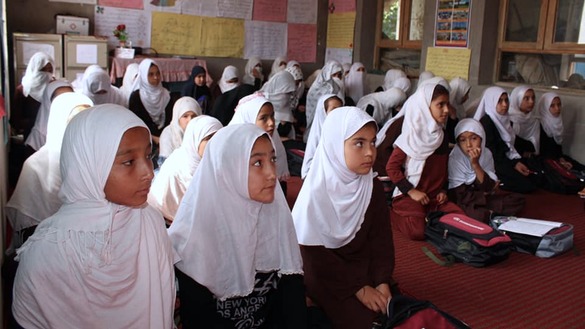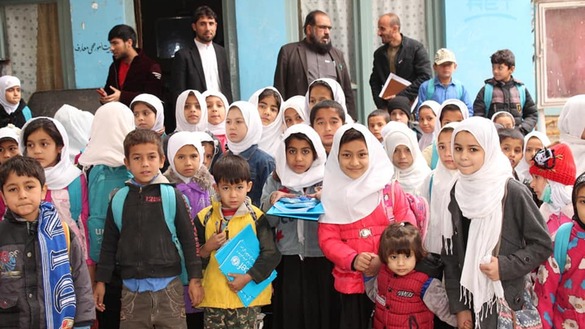 "It is truly a crime against our people, and especially against our sisters, whose rights are being violated," Wali said. "Education is the girls' right of which the Taliban have deprived them."
"In addition to preventing girls from attending school, the Taliban hire and fire teachers and educators, monitor school attendance and teach their own curriculum in schools in areas they hold," he said.
Boys' schools are also under threat, according to Inayatullah Khaleeq, director of the Kunduz Province Association of Civil Society Organisations.
The Taliban control the curriculum at boys' schools in Dasht-i-Archi, Chahar Dara, Gultapa and Kulbad districts, as well as in areas surrounding Kunduz city, he said.
"This is one of the main cases of human rights deprivation in Kunduz," he told Salaam Times. "We hope the Taliban realise that education is also a religious matter."
"The disastrous consequences of the Taliban's threats are that girls cannot study beyond the sixth grade," he said.
"The government is responsible for clearing up these areas so that girls can resume going to school," said Khaleeq.
2,000 girls out of school
"The problem of girls being prevented from attending schools is often prevalent in such remote districts as Dasht-i-Archi, Chahar Dara, Gul Tepa, Kulbad and others, and less so in the schools at the centre of Kunduz Provoince," said Najiburrhman Saqeb, director of the Kunduz Education Department.
Saqeb did not provide the exact number of girls the Taliban is preventing from attending schools.
However, according to Rustam Ahmadi, a predecessor of Saqeb's, almost 2,000 schoolgirls in 15 schools in Taliban-held areas have been deprived of an education.
"We asked the Taliban time and again to allow the children to get an education and to compete with the children of neighbouring countries, but they have repeatedly denied our requests," he said last April.
Some families from remote parts of Kunduz Province where the Taliban have great sway have moved closer to Kunduz city to enable their children to attend school, said Pashtun Nahzat, headmaster of the Bibi Khadija al-Kubar girls' high school in Kunduz city.
"As far as we know, the Taliban are even preventing first-grade girls from attending school," she told Salaam Times.
"Many of the older pupils who were in Chahar Dara District have moved to schools in the city in order to continue their education," she said.
Determined to get an education
Girls are at least as interested in education as boys are, said Rashin Habibi, 25, a teacher in Kunduz.
"During the Taliban regime, girls were deprived of their education and were confined to their houses," she told Salaam Times. "Was that not enough suffering? Why are the Taliban again going to prevent girls from learning and becoming educated?"
In recent years, women's interest in education has exceeded that of men, Habibi said.
Stressing that men and women should enjoy the same rights, she called on the government to provide women with the necessary facilities so that no group can prevent them from attending school.
Saqeb, director of the provincial education department, confirmed an increased interest among women and girls in education.
"Women are more interested in becoming educated than men, and this is evident in the higher number of schools, training centres and educational courses available for women," he told Salaam Times.
"We even know of some women who, regardless of age, are increasingly interested in learning and seeking education," he said. "We help them contact schools."
"My motivation to go to school is to become educated and to advance myself in society with the desire to serve as an effective member in my community," said Ruqia Sangin, 22, a student at the Fatema al-Zahra girls' school in Kunduz city.
"I want to build my knowledge through education and to be seen as a bright, educated woman in society," she told Salaam Times.
Security measures
Afghan security agencies, including the police, army and National Directorate of Security, are engaging in winter operations to expel the Taliban from insecure and vulnerable areas in Kunduz Province, said Inamuddin Rahmani, a spokesman for the Kunduz Police.
"The government is committed to clearing the areas that are under Taliban influence," he told Salaam Times, adding that the winter fighting will prepare the ground for subsequent spring operations.
"We are determined to clear up the troubled areas in order to allow students to seek an education," he said.