KUNDUZ -- Weary of suffering and violence, women in Kunduz Province are joining forces to call on the Taliban to heed the public's calls for peace.
About 500 women and women's rights activists gathered December 1 in Kunduz city to join other Afghans in their calls for peace and put an end to the war.
The gathering, called "The National Consensus of Afghanistan's Women for Peace," was organised by Afghanistan's High Peace Council (HPC), bringing hundreds of women to rally under the the slogan: "Enough with the War!"
United for peace
Over the past four decades, women have suffered immensely, many of whom made sacrifices and lost their loved ones to the Taliban's war, Nahid Asefi, the acting director of the Kunduz Province Department of Women's Affairs, said at the gathering.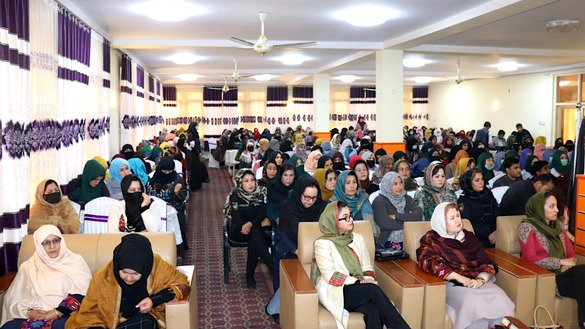 "Now an opportunity to engage in peace talks has been provided, and the women support this process," she said.
"We, the women, are weary of the war," she said, asking, "How long must we go through the war and destruction? Let's hold each other's hands to bring peace to our country."
"Women's role should be highlighted in peace talks, and there has to be serious efforts so that our male counterparts do not overlook women's rights," Asefi noted.
Women have suffered greatly because of the war and violence, agreed Shamila Sahebzada, a women's rights activist in Kunduz.
"We, the women of Kunduz, support any and all efforts to bring peace to Afghanistan," she said at the gathering. "Women have sacrificed a lot."
"The brutal war has isolated women and girls in the society to the extent that women in many parts of the country have been deprived of education, health services, and political and social participation," she said.
"The neighbouring countries must realise that peace in Afghanistan is in their interest and they can never reach their goals through war and violence," Sahebzada explained.
HPC member Laila Jafari pledged to support women's ideas to realise peace.
"We listen to and collect Kunduz women's ideas and plans in writing regarding the peace process and share them with the High Peace Council and use them as agenda items in our future meetings," she told the participants of the gathering.
Women persevere under shadow of war
Ever since Taliban militants overran Kunduz city twice -- in 2015 and 2016 — sporadic battles between the Taliban and Afghan security forces have intensified.
"Despite the fall of the provincial capital into the hands of the Taliban, women continue to play a vital role in public offices, especially in education, health and police," Habiba Gulastani, 37, a women's rights activist in Kunduz, told Salaam Times.
"As the flames of war continue to flare, women of Kunduz are working in various sectors alongside men," she said.
"Every morning when I leave home to go to my office, I realize I may not return home," said Malalai Saad, 43, another women's rights activist in Kunduz.
"There are hundreds of other Kunduz women like me who work in such a situation outside their homes," she told Salaam Times. "In spite of that, we long for peace day in and day out and wish for the day when war is completely over in our country."
Saad recalled with fondness the temporary ceasefire between the Taliban and the Afghan government during Eid ul Fitr in June.
"For three days we felt relaxed and calm," she said, urging "the Taliban to accept women's calls for peace".
Taliban cause misery, destruction
Peace is among the greatest aspirations of the Afghan people, especially of Afghan women, and the government is hard at work to establish it, said Kunduz provincial governor Abdul Jabbar Naimi.
"Today's youth migration to other countries, unemployment, poverty, injustice and challenges to society caused by the conflict will all require hard work to solve," he said at the gathering.
The Taliban's war has been the leading cause of misery, psychological and behavioural problems, and economic and developmental degradation, he noted.
"The Taliban carry out suicide attacks in mosques where Muslims gather for prayers," he said. "We now have disabled individuals, orphans and widows in every household."
"This is all due to the war."