HERAT -- More than 200 women participated in a ceremony September 21 in Herat to celebrate the International Day of Peace, calling on the Taliban to lay down their weapons and refrain from killing more innocent Afghans.
Nafisa, 29, a resident of Injil District, called on the parties involved in the Afghan conflict to prevent further bloodshed.
"I call on all the parties involved in the war, especially the Taliban, to allow the people of Afghanistan to live in peace, so that Afghans will not have to migrate and Afghan women will not have to suffer anymore," she told Salaam Times.
Suraya Ahmadi, 21, a student at Herat University, said her only wish is to see peace, security and prosperity prevail in Afghanistan.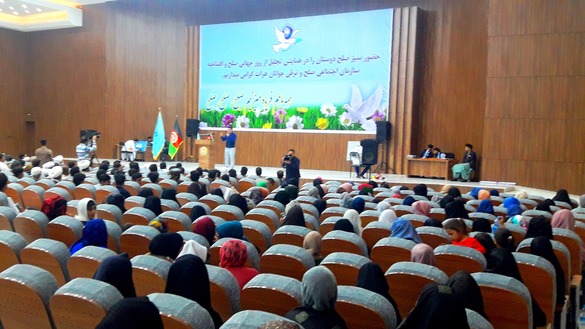 "I call on the Taliban to stop the war and bloodshed, to come and join the peace process, and to live together with their people," she told Salaam Times. "We no longer want to see Afghans living in war and poverty. We want the people of Afghanistan, like other peoples of the world, to live a prosperous life in a safe and peaceful environment."
"We call on the Taliban to choose peace over war so that our children may comfortably go to school and that our country may see progress, so that our husbands will no longer be forced to go to neighbouring countries in order to feed us," Asefa, 48, another resident of Herat city, told Salaam Times.
Women victims of war
Every stratum of Afghanistan's society has become victims of the brutal war, especially women, who have long been marginalised and have no weapons to defend themselves.
"Those who stand to get hurt the most in conflicts are unarmed [civilians] who cannot defend themselves," Gulsoom Sediqi, a women's rights activist in Herat, told Salaam Times.
"In addition to losing their fathers, brothers and husbands on battlefields, women are getting killed in insecure areas," she said. "Women are forced to do hard labour, and insurgents despise and disrespect them."
"Women are the ones who stand to lose the most," she said.
"Becoming a victim of war is not just about dying," Sediqi said. "While men are killed in battles, the war-torn women have no choice but to endure extremely difficult conditions both during and after the war, until they are dead or after they leave their country."
"Women die and die again every moment," she said.
Women 'tired of war'
Herat women and men have a long history of calling for peace and denouncing the Taliban's violence.
The women who participated at the International Day of Peace celebrations say they are optimistic about reaching permanent and comprehensive peace in Afghanistan.
"Afghan women are tired of war and want peace," said Zainab, 25, a resident of Herat city.
"The purpose of our participation in this ceremony is showing that women are the messengers of peace," she told Salaam Times.
In addition to its casualties, the war in Afghanistan has left hundreds of thousands of orphans and widows to endure extreme hardship day in and day out, said Sakina Hussaini, a member of the Herat Provincial Council.
"I, as a people's representative in the Provincial Council and as a woman, call on the government's opposition [the Taliban] to join the peace process and not to miss this opportunity, so that the number of casualties, widows and orphans will not rise again," she told Salaam Times.
"Women play an important role in encouraging the Taliban to join the peace process in Herat," Ghulam Sarwar Barakzai, chairman of the Herat Provincial Peace Committee, told Salaam Times. "The Taliban are more likely to accept their mothers' requests and advice, and therefore, we consider the role of women to be very important."
"The people of Afghanistan are religious and have the utmost respect for their mothers," he said. "In fact, many Taliban members have joined the peace process based on their mothers' requests."