HERAT -- More than 100 residents of Herat Province took to the streets last week to urge the Taliban to give up violence, chanting slogans in support for peace.
The protesters, many of whom were disabled by terrorism and the ongoing war, called on the Taliban to stop fighting and join the peace process.
Calls to end the fratricide
Afghans are exhausted by war, said Abdullah Azizi, 25, a civil society activist who took part in the rally July 21.
"We ask our unhappy brothers to stop fighting," he told Salaam Times. "We beg you! Please, for the sake of all that is holy, stop murdering the people of Afghanistan."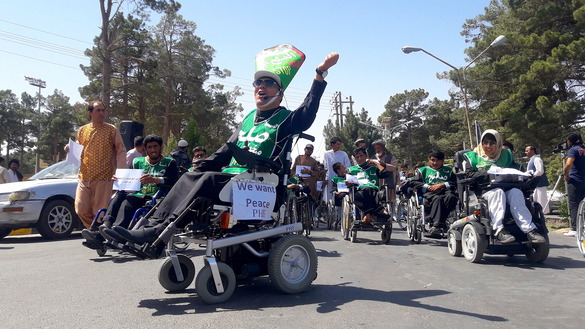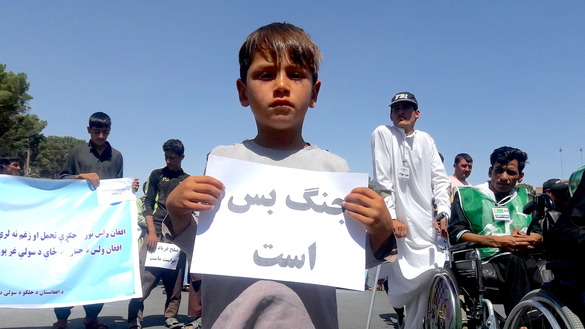 "Herat's disabled, who are the main victims of wars, along with other [Afghans], have come to streets to announce their hatred of wars and of warmongers, to say, 'We want peace. We hate war. We want peace and we need security,'" Abdul Ali Nudust, 50, director of a sanatorium for disabled individuals in Herat, told Salaam Times.
Ruqia Haidari, 32, another civil society activist who participated in the rally, called on the Taliban to stop their oppression and fratricide.
"We are fed up with wars and insecurity," she told Salaam Times. "We do not want our country to be further destroyed. We ask the Taliban to stop fighting."
The conflict has brought sorrow upon the homes of all Afghans and this grief must end, said Zalmay Fazli, a resident of Helmand Province and a member of the People's Peace Movement who has travelled with many other peace seekers to Herat.
"We ask involved parties, both the Taliban and the Afghan government, to accept peace because Afghans are tired of fighting," he told Salaam Times. "They no longer want fratricide and want the war to end."
Taliban disobey leaders' orders
Some Taliban members have become more interested in the peace process over the past month, after the rise of popular peace movements and a ceasefire.
"We are in contact with some groups of Taliban," Mawlawi Ghulam Sarwar Barakzai, chairman of the Herat Provincial Peace Council, told Salaam Times. "[We know that] some Taliban have disobeyed their leaders' orders and refused to go to the battlefields, saying that [they] will no longer fight."
Hopes for peace in Afghanistan have risen following a change in the strategy of the peace process, which gives a greater role to the public, he said.
Meanwhile, local officials in Herat say that the Afghan government is supporting popular peace-seeking movements and has responded positively to their requests.
"In response to popular demand, we are ready to hold peace talks with the Taliban under any condition," Jilani Farhad, a spokesman for the Herat provincial governor, told Salaam Times.
Abdul Qader Kamel, a political analyst based in Herat, praised the effectiveness of popular peace movements.
"Armed opponents of the government [militants], regional and international players -- both official and non-official -- and the Afghan government have no choice but to accept the calls for peace in response to public opinion," he told Salaam Times.
"The continuation of these peaceful movements and of the outcry for peace will eventually reach those who want to hear them out, and the missing piece of the peace puzzle will be found," he said.
Illegitimacy of Taliban's fight
The Taliban have always portrayed their war in Afghanistan as a religious war. Religious scholars, however, contend that the Taliban are fighting a proxy war that has no justification in Islam.
"The war is not permissible from the point of view of Islam and of its scholars," Sayed Mohammad Shirzadi, director of the Herat provincial department for religious affairs and the Hajj, told Salaam Times.
International pressure on the Taliban is necessary to bring them to the negotiation table, he said, adding that an international consensus must be reached on the subject of peace in Afghanistan.
"A religion that prohibits us from wasting even a drop of water in vain surely forbids us from shedding even one drop of blood," said Shirzadi.