KABUL -- Hundreds of Taliban fighters have not returned to the battlefields after visiting with family in cities and towns during the three-day ceasefire for Eid ul Fitr, Afghan officials and residents say.
Rather than returning to their ranks, these Taliban fighters have laid down their weapons, rejoined their families and adopted a normal life, according to the Ministry of Defence, provincial officials and Kabul residents.
Taliban return home
"During the ceasefire, many members of the Taliban came to the areas controlled by the government in Paktia Province," Abdullah Hasrat, a spokesman for the Paktia governor, told Salaam Times. "Dozens of these war-weary Taliban members, who have realised the truth, have not returned to their combat bases and battlefields."
"Taliban members were the targets of false propaganda, which distorted their mentality towards the Afghan government and population," he said. "However, the truth was revealed to them once they entered areas controlled by the government during the ceasefire."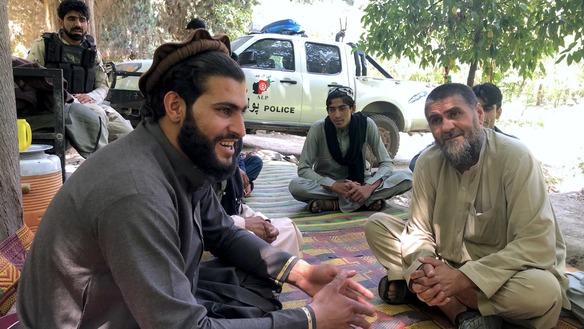 "Another reason why the Taliban did not return to the battlefield was that they returned to their homes and their families after a long time," Hasrat said. "Their families pressured them to quit the fighting because the war waged by the Taliban is illegitimate and fratricidal."
"Large popular movements have been established in Paktia Province, demanding the creation of safe areas to hold peace talks with the Taliban," he said.
"One [pro-peace] gathering was convened on June 27 in Gardez, capital of Paktia Province, in which hundreds of tribal elders from Paktia, Paktika and Khost participated," Hasrat told Salaam Times July 3. "They called on the Taliban to extend the ceasefire and begin intra-Afghan negotiations."
"If someone doesn't accept the request for peace and ceasefire, it means that he's against the people and they will stand against him," he added.
'Fed up' with war
"Those Taliban militants who came into cities and districts over the three-day Eid ceasefire met with provincial peace committees of Afghanistan's High Peace Council (HPC)," HPC spokesman Ehsan Taheri told Salaam Times.
"It was clear from their conversations that they were extremely fed up with the war," he said.
"These Taliban militants told our provincial peace committees that they would gladly deliver this message to the Taliban leadership, so that they extend the ceasefire in order to end the war and to hear the voices of the public."
"After the ceasefire and following the statements made by the Imam-e-Kaaba, hundreds of Taliban members renounced war, laid down their weapons and started living ordinary lives," Kandahar Governor Zalmai Wisa said June 26 at a gathering of religious scholars and tribal elders.
During a Friday prayer sermon June 22 in Saudi Arabia, Sheikh Abdul Rahman al-Sudais, the imam of the Grand Mosque in Makkah, called on the Taliban to extend the ceasefire so that the ground could be prepared for an intra-Afghan dialogue.
Welcoming those who embrace peace
"A large number of Taliban came to our cities during the days of ceasefire, with nearly 2,400 Taliban members entering the city of Kabul alone," Gen. Mohammad Radmanesh, a spokesman for Afghan Ministry of Defence, told Salaam Times. "Half of those Taliban members who had come to cities and districts have not returned to battlefields, and some of them have already joined their families."
"During the days of ceasefire, when the Taliban militants entered our cities, they were embraced by our soldiers and civilians, and this made [the Taliban] emotional," he said. "They were saying that the phrase 'There is no god but God, and Mohammad is His messenger' is written on both sides' flags, and hence, the war in Afghanistan is inadmissible."
"We were previously engaged in fighting in 20 provinces, where we were carrying out military operations," Radmanesh said. "Now, however, with the increasing calls for peace talks and ceasefire, the war has become less intense and war and insecurity is now limited to only 9 or 10 provinces."
"Taliban militants who had come to their districts and villages during the three days of Eid, met with civilians and even with security forces," Mushtaq Alizada, 26, a resident of Kabul Province, told Salaam Times.
"Contrary to what they had thought, they saw with their own eyes that all Islamic and Afghan principles are being properly implemented and observed in areas under government control," he said. "They saw many facilities and amenities, and witnessed that everyone lives like brothers and works for the development of their country."
"As a result, the Taliban who had initially come for the duration of the three days ceasefire did not return to war," he said.
"The warm, brotherly welcoming hands that were extended to Taliban by civilians, as well as the good conduct of Afghan public and security forces, have led the Taliban to realise their past mistakes and to prefer their families and normal life over war and fighting," Alizada said.
Taliban leaders portray 'false image'
"Taliban leaders portrayed a false image of the government and security forces for their fighters, such as saying that [Afghan government and security forces] are infidels and mercenaries of foreigners who do not implement Islamic laws, and dozens of other misconceptions, in order to persuade their subordinates to fight against the security forces," said Yunus Rahmati, 28, a Kabul resident and a student at Dunya University of Afghanistan.
"Once the Taliban fighters came to the cities during the days of ceasefire, however, they realised that all that their leadership had told them was incorrect," he told Salaam Times.
"And, contrary to what they had said, the people of Afghanistan and the Afghan security forces are stronger believers in Islam and are more committed to Islamic values than the Taliban."
"Taliban militants are weary of war," Rahmati said. "Most important, when they came to our cities and saw that all the security forces come from the Afghan population and are fighting for peace and stability in their country -- and not for foreigners and other countries -- that was when these Taliban militants said 'No' to war and violence."