KABUL -- Afghans exhausted by a nearly 17-year war that is older than many of the country's citizens breathed a sigh of relief Saturday (June 9) after the Taliban announced its first cease-fire since 2001 -- but some remain wary.
The decision to suspend fighting for the first three days of Eid later this week took many in the war-weary country by surprise.
"All the mujahideen are directed to stop offensive operations against Afghan forces for the first three days of Eid ul Fitr," the Taliban said in a WhatsApp message to journalists.
But it added that "if the mujahideen are attacked, we will strongly defend [ourselves]".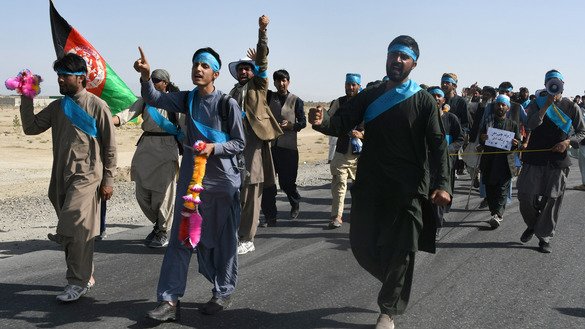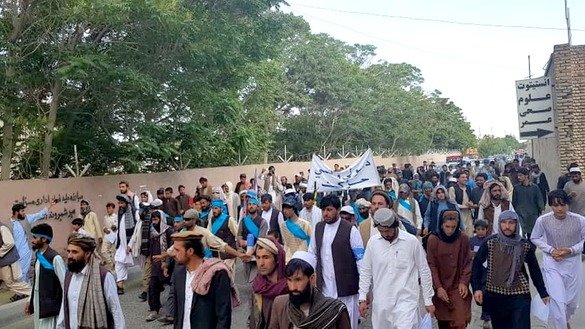 The Taliban said "foreign occupiers are the exception" to the order sent to its fighters around the country.
"Our operations will continue against them; we will attack them wherever we see them," it said.
A stepping stone towards peace
President Ashraf Ghani, who last week declared a unilateral cease-fire, welcomed the Taliban's move.
The government's temporary cease-fire with the Taliban will last "from the 27th of Ramadan until the fifth day of Eid-ul-Fitr", Ghani tweeted June 7, indicating it could run from June 12-19.
"We are pleased that the Taliban have accepted our cease-fire declaration for Eid. This is the first break in 23 years and we ask for your support to utilise the window for moving forward with intra-Afghan peace talks," he said via Twitter, referring to 1995, when the Taliban militia rose to power.
Defence Ministry spokesman Mohammad Radmanesh told TOLOnews he hoped the "cease-fire continues".
UN Secretary-General Special Representative for Afghanistan Tadamichi Yamamoto said in a statement he hoped the cease-fires would "serve as a stepping stone" towards peace talks between the Afghan government and the Taliban.
Hopes for lasting peace
Afghans flooded Facebook with messages of hope that the unprecedented cease-fire could lead to a longer-lasting peace deal.
"It is a good move by the government and Taliban. Anyone who has lost someone to this war will welcome it," wrote Mohammad Najeeb.
Shah Jahan posted: "I hope this is a step towards peace. I also hope other terrorist groups such as [the 'Islamic State of Iraq and Syria' (ISIS)] don't disrupt it."
"I still cannot believe they [the Taliban] accepted the cease-fire offer. This is the very first cease-fire I have witnessed since I was born," wrote Karwan, whose profile had only one name.
"For as long as I can remember it has been war, war, war."
Baktash Mobarez said the Taliban's announcement had "brought so much hope and happiness" to a country worn down by four decades of conflict.
"Imagine if one day all of the 20 terrorist groups active here stop fighting," he said.
Deadly prelude to cease-fire
Others expressed doubts over the Taliban's sincerity, pointing to the dozens of Afghan security personnel killed in a spate of attacks claimed by the group in the hours leading up to the announcement.
Militants launched two separate assaults in Herat (Friday, June 8) and Kunduz (June 9) provinces, killing at least 36 soldiers and police, officials said.
The group also claimed responsibility for attacking an Afghan military base in Kandahar Province the night of June 8-9.
At least 23 soldiers were killed and another nine wounded in the raid, Shah Wali Kot District police chief Padshah Khan told AFP.
The casualty toll could not be immediately confirmed.
"It makes no difference; they have already started killing loads of people before the cease-fire," wrote Hashim Akbari.
"They have killed dozens of people in Herat and Kunduz in one day. They will kill more to make up for their cease-fire days."
A woman in Kabul told AFP that three days was not enough and instead "we should reach for a sustainable peace throughout the country".
'Tired of war and bloodshed'
Civilians have paid a disproportionate price in casualties as a result of the protracted conflict.
More than 10,000 civilians were killed or wounded in 2017, down 9% from the previous year, UN figures show.
But casualties from suicide bombings and attacks were up 17% last year as the Taliban and ISIS ramp up assaults in urban areas, particularly Kabul.
After many fits and starts with past peace initiatives, some Afghans pleaded for a higher power to resolve the conflict.
"May God turn this cease-fire into a permanent cease-fire between the Taliban and Afghanistan," Faridullah Talash wrote on Facebook.
"We are tired of war and bloodshed."