KABUL -- The Taliban refused to extend their ceasefire beyond Sunday night (June 17), dampening hopes for peace after jubilant scenes over the Eid ul Fitr holidays in Afghanistan.
Kabul extended its ceasefire with the Taliban by 10 days but said security forces would defend themselves if attacked, President Ashraf Ghani said in a statement June 17.
Ghani also requested the Taliban halt hostilities, but the militant group said fighting would resume.
"The cease-fire ends tonight and our operations will begin, inshallah. We have no intention to extend the cease-fire," Taliban spokesman Zabiullah Mujahid told AFP in a WhatsApp message.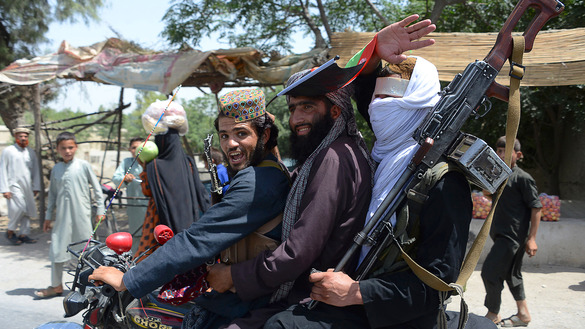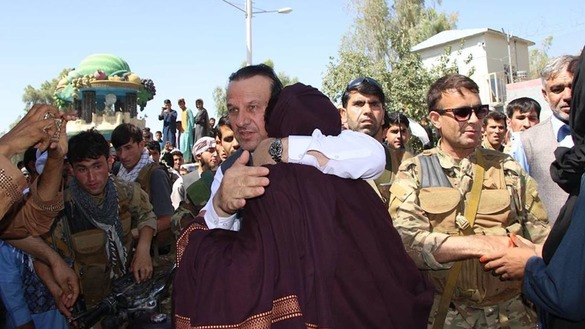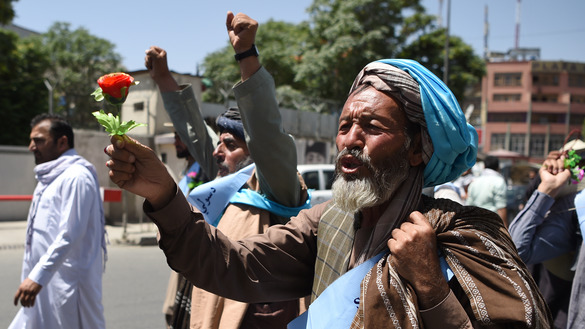 He made no reference to Ghani's announcement.
Ghani's extension of the government's eight-day ceasefire, which had been due to expire Tuesday night (June 19), drew immediate international support and calls for the Taliban to follow suit.
The Taliban had agreed to a truce but only for the first three days of Eid -- June 15-17 -- promising not to attack Afghan soldiers or police. They would, however, continue attacking US-led NATO troops.
There have been "very few" reports of fighting since the government extended its ceasefire with the Taliban, said Defence Ministry spokesman Mohammad Radmanesh.
"We hope the Taliban accept the Afghan nation's call for peace," he told AFP.
3 days of hope, jubilation
Despite the attacks, the first formal nationwide ceasefire since the collapse of the Taliban in 2001 was widely welcomed across the country as Afghans -- Taliban, security forces and civilians -- celebrated Eid ul Fitr.
Taliban fighters and security forces embraced and took selfies with each other over the first two days of the holiday.
Civilians also flocked to greet the militants, who had left their posts or areas under their control to celebrate the halt in hostilities, fuelling hopes among war-weary Afghans that peace was possible.
"I am here to offer greetings to our brothers in the police and army," Taliban commander Baba told AFP on June 16.
"We have held the ceasefire well so far. Everyone is tired of war, and if our leaders order us to continue the ceasefire, we will hold it forever."
"Look, they are brothers," Said Hasibullah posted on Facebook under a photo purportedly showing a Taliban fighter and Afghan soldier having a cup of tea together.
"If their leaders come, sit and talk just like their soldiers, we will have peace tomorrow," he said.
For others however, the Taliban's refusal to extend the truce raised concerns over the number of militants who have taken advantage of the ceasefire to enter cities around the country, including Kabul, and may still be there when the truce ends.
"Seeing all the strange face(s) on the streets of Kabul, I am concerned. I hope there is not deception at work," Mohammad Saber wrote on Facebook.
A user who goes by the name Kargar posted: "There is word that hundreds of Taliban fighters have come to Kabul, but only a small number have left. Can Kabul police guarantee our security?"
"Despite the Taliban militants having committed crimes and many killings, Afghans welcomed the same criminals for three days because of their hunger for peace," Mohammad Rahimi, 29, a Kabul resident, told Salaam Times.
"But the group wants to ruin Afghanistan and Afghans by declaring war once again. This demonstrates that they have no faith in peace and Islamic principles," he said.
"After this, any Afghan who is killed, and any road, school, hospital or public institution that is destroyed, [Taliban supreme leader Mullah Haibatullah Akhundzada] will be responsible," Rahimi said.
Demanding peace
Meanwhile, dozens of pro-peace protesters arrived in Kabul Monday (June 19) after walking hundreds of kilometres from Lashkargah, Helmand Province, to the capital.
Exhausted after their 700-km trek, most of it during Ramadan, members of the People's Peace Movement walked double file through the Afghan capital shouting "We want peace!" and "Stop fighting!"
"We want our people to stay united for peace and get rid of this misery for the next generation," Mohammad Naikzad, one of the marchers, told TOLOnews.
"I am calling on both sides -- the government and the Taliban -- for God's sake... find a way for peace and reconciliation."
Fellow peace marcher Karwan urged the Taliban and the government to work together to "bring lasting security in this country".
"Enough blood has been shed. So many [Afghans] have been martyred in this ongoing conflict," he told TOLOnews.
"All Afghans including political and civil institutions are demanding negotiations and peace, but the Taliban respond ... with weapons and violence," Habibullah Janebdaar, a Kabul-based political affair analysts, told Salaam Times.
"[The Taliban] must know that they have made their biggest historic mistake by not extending the ceasefire and by continuing the fighting," Janebdaar said.
"The extension of the ceasefire by the government is a human and moral act. We urge the government and the public to continue their peaceful call and military pressure until the group accepts negotiations and peace," he said.
"The Taliban showed that by not extending the ceasefire and resuming war that they are not committed to any rule of law, human values and Islamic principles," said Janebdaar.
ISIS attacks leave dozens dead in Nangarhar
The Taliban announcement came after an "Islamic State of Iraq and Syria" (ISIS) suicide attack Sunday in Jalalabad, Nangarhar Province, killed at least 18 members of a crowd celebrating Eid -- the second assault in as many days to mar the unprecedented ceasefire.
Nangarhar provincial health director Najibullah Kamawal put the toll from the blast outside the provincial governor's office, at 18 dead and 49 wounded.
"Some of the wounded are in serious condition," he said, suggesting the death toll could rise.
The governor's spokesman, Ataullah Khogyani, put the death toll slightly higher at 19.
He said a bomber on foot blew himself up among a crowd of Taliban fighters, local elders and civilians leaving the governor's compound after attending a special event for Eid.
On Saturday, a suicide assault on a gathering of Taliban, security forces and civilians in the province killed at least 36 people and wounded 65, Kamawal told AFP.
ISIS, which was not part of the truce, claimed responsibility for both attacks.
Following Saturday's attack in Nangarhar, the Taliban ordered their fighters to avoid gatherings of security forces and civilians.
"There is a chance of more such bad incidents happening," the group's spokesman, Mujahid, said in an earlier message.
[Sulaiman from Kabul contributed to this report.]