LASHKARGAH -- Following a 50-day sit-in at a tent in Lashkargah, a number of People's Peace Movement members have decided to do more to raise awareness for their cause with a walk from Helmand to Kabul.
A group of young men launched the movement by erecting a tent in the provincial capital March 24, a day after a car bomb blew up outside a local sports stadium, killing at least 17 civilians and wounding 55.
While no group claimed responsibility for the blast, the protesters are urging the Taliban to make peace and stop killing civilians.
In the nearly two months since its start, the People's Peace Movement has expanded to include tribal elders, civil society activists and relatives -- including women -- of Afghans killed in the country's ongoing violence. It also has the support of the Afghan High Peace Council, Afghan Ulema Council and political leaders.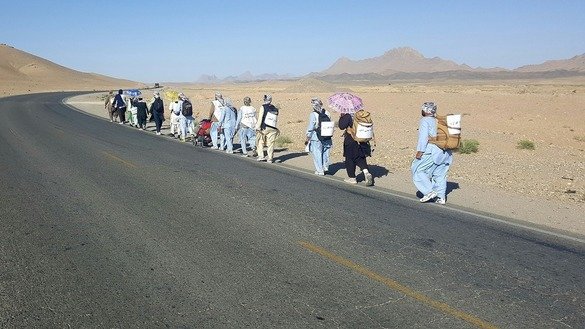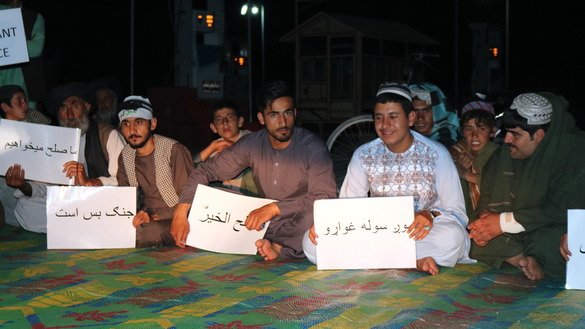 The movement spread to other parts of Helmand Province, and residents of Kandahar, Zabul, Uruzgan, Farah, Bamiyan, Balkh and Nangarhar provinces have set up tents in support of the movement and its call for peace.
Marching to Kabul
Now the group is taking its message to Kabul, about 630km away, step by step.
Eight members of the peace movement left Lashkargah on May 13. They passed through Kandahar on May 19, where six more participants joined the march, and the group arrived in Shahr-e-Safa District of Zabul Province on May 21.
"Death is a fact of life, but we do not want to be shamefully killed like this," Iqbal Khyber, 28, a member of the peace movement, told hundreds of listeners in Lashkargah before leaving. "We will raise the voice of peace, and we will deliver this voice to all corners of the world."
The protesters are walking to the capital in order to show the international community that Afghans want peace, Khyber said.
Sardar Mohammad Sarwari, 25, a polio survivor, is among the trekkers.
"We will go from Helmand to Kabul by foot, and we will show that we want peace," he told Salaam Times.
"We do not want our schools to be destroyed, our brothers to be killed, our bridges to be destroyed and suicide attacks to be carried out," he said.
"We don't want any more land mines to explode on us on the highways or our legs and arms cut off or our sisters and mothers killed," he said.
Tired of war
Bacha Khan Mauladad, 32, another member of the group making its way to Kabul, hopes that more people will join them on the way.
"Others might join us in the provinces," he told Salaam Times. Whether others come or not, we will deliver this voice of peace from home to home."
Laal Mohammad, 52, originally from Sangin District, said he moved to Lashkargah because of insecurity in his home area.
He was not among those walking to Kabul, but from the Lashkargah sit-in, he called on the Taliban to lay down their arms and join the peace process.
"Our children, women and youth were hit by cannons and mines. They are killed and disabled by this war," he told Salaam Times.
"We are tired of war. We are crushed, and we want peace, and for this reason, I joined [the sit-in]," he said.