KABUL -- Afghan President Ashraf Ghani issued an ultimatum to the Taliban Tuesday (June 6), warning them to embrace peace or "face consequences".
The president made a strong plea for peace at the Kabul Process, an international conference on Afghanistan attended by representatives from about two dozen countries.
"We are offering a chance for peace, but this is not an open-ended offer," Ghani said.
"Time is running out... this is the last chance: take it or face consequences."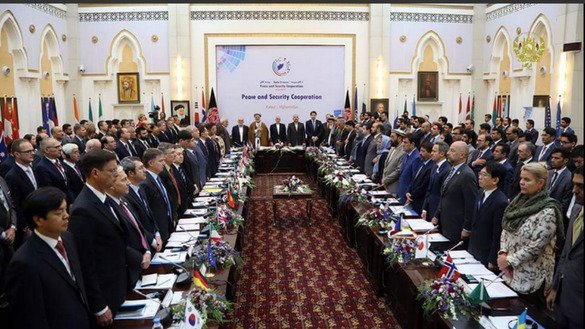 Ghani offered the Taliban the opportunity to open a representative office, adding that he was flexible about the location of future talks.
Afghan government Chief Executive Officer Abdullah Abdullah set a similarly tough tone in his remarks.
"To those who use suicide and terrorism as a means, be aware that you will eventually fail," he said, according to his Twitter account.
'We are a nation of survivors'
The conference, which aims to build international support for ways to restore security in Afghanistan, came just days after Kabul's deadliest attack since 2001.
Kabul has been on edge since the massive truck bomb May 31 ripped through the city's highly fortified diplomatic quarter, home to the presidential palace and a host of foreign embassies.
"Over 150 innocent Afghan sons and daughters were killed, and more than 300 wounded were brought to hospitals with burns and amputations," Ghani told the conference.
Officials had previously placed the death toll at 90.
"We are a nation of survivors. Terrorists can shed our blood, but they cannot break our will," Ghani said.
No group has claimed responsibility for the attack, which the Afghan government has blamed on the Taliban-allied Haqqani Network.
The Taliban have denied involvement, but analysts say the group often does not claim attacks that kill large numbers of civilians.
'Afghans are tired of war'
"Afghans are tired of war and they really need peace," Safora Elkhani, an Afghan parliamentarian from Bamiyan Province, told Salaam Times. "It is up to the Afghan government and its leaders to seriously follow peace talks and find a solution for the Afghan conflict."
It is too soon to say whether the Kabul Process would succeed, she added.
"But we are optimistic because it has international support as well," she said.
"The Afghan people every day pay the cost of the war against terrorists," said Aminullah Amin, 27, a University of Kabul student.
"It is time for the Afghan government and its international allies to [stop those] who support terrorist groups in Afghanistan and finish this war," he told Salaam Times.
A step towards peace
Previous international efforts to bring the Taliban to the negotiating table have failed, but Afghan officials and foreign diplomats in Kabul hailed Tuesday's conference as a stepping stone to peace.
"The Kabul Process is meant to reach a consensus with the region and the world for peace in Afghanistan," presidential spokesman Shah Hussain Murtazawi said Monday (June 5).
The Kabul Process is "an important marker for each and every country in the region to show its true support for Afghanistan's aspirations for peace", said British Ambassador to Afghanistan Dominic Jermey on Monday.
"This includes taking steps to tackle the challenges posed by terrorist networks and to prevent terrorists receiving support, whether from states or individuals," he said.
"The conference will be a visible reminder to all those who seek to harm Afghanistan that the Afghan people are never alone," US Ambassador to Afghanistan Hugo Llorens said in a statement Saturday (June 3).
[Najibullah from Kabul contributed to this report.]