LASHKARGAH -- A peaceful protest that began last week in Lashkargah is spreading to other parts of Helmand Province alongside growing public support throughout Afghanistan, according to local news reports.
Dozens of Helmand Province residents set up a tent in Lashkargah March 24, a day after a car packed with explosives blew up outside a sports stadium in the city, killing at least 16 civilians and wounding 55.
Frustrated by incessant terrorist attacks, the protesters are urging the Taliban to make peace and stop killing civilians.
The demonstrators, including civil society activists and relatives of victims killed in violence, had planned to march more than 100km to Taliban strongholds in the province and try to persuade the militants to stop fighting.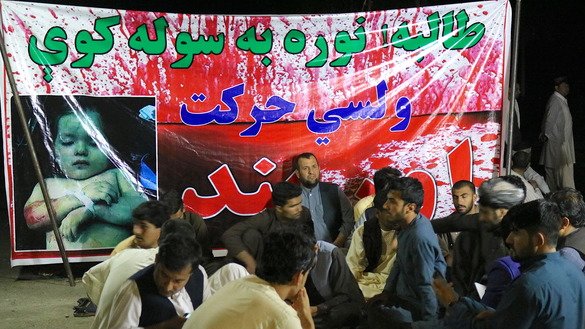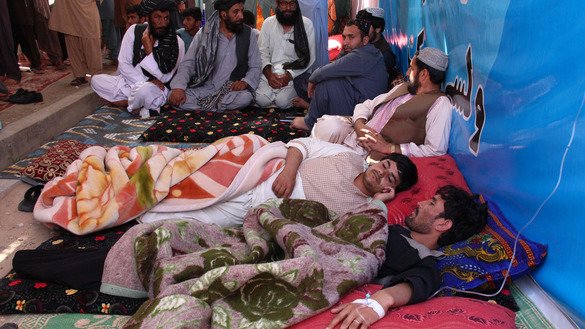 The sit-in comes amid growing calls for the Taliban to take up President Ashraf Ghani's offer last month of peace talks. His proposal received renewed international support at a conference March 26-27 in Tashkent, Uzbekistan.
So far the Taliban have not directly responded to the offer.
'Without peace life is impossible'
Some of the demonstrators began a hunger strike Thursday (March 29) after their demands for a cease-fire between Afghan security forces and the Taliban were not met.
Four participants were hospitalised Friday night (March 30), including two who were "in a terrible condition", Helmand public health director Aminullah Abed told AFP.
Two men wearing oxygen masks and hooked up to saline drips were lying in their hospital beds when an AFP photographer visited Saturday (March 31).
"I was unconscious when I was brought to the hospital; otherwise, I didn't want this saline drip," said 27-year-old Qais Hashemi. "If they save my life today, tomorrow I will die in a suicide bombing."
At the sit-in, men and children held signs reading "Without peace life is impossible".
While the sit-in continued, organisers said they had called off the hunger strike Saturday after the intervention of religious leaders.
"Tens of Afghan ulema came to our camp," Iqbal Khaibar, one of the protest organisers, told AFP. "We have ended our hunger strike conditionally, and we asked the ulema to support us in the peace talks."
The religious leaders assured demonstrators that peace talks with the Taliban would take place, he said.
"We strongly support the voice for peace in Helmand," said Abdul Karim, a religious scholar who visited the camp, TOLOnews reported. "Recent attacks in the province have ended the public's patience."
Growing support for peace, protesters
To show support for the Lashkargah pro-peace protesters, residents of Nawah District, Helmand Province, started their own sit-in Monday (April 2), TOLOnews reported.
On Tuesday (April 3), members of the Afghan High Peace Council (HPC) and Afghan Ulema Council declared support for the protests as they gathered in Kandahar for the HPC's general assembly.
"We salute the Helmand citizens calling for peace and cease-fire," HPC chairman Mohammad Karim Khalili said at the event.
Members of the Helmand Ulema Council over the weekend formed a committee to work with protesters in Lashkargah in a bid to help advance their demands for a cease-fire.
Ulema promised participants they would talk with the Taliban to end the violence in the province and would encourage more Afghans to join the sit-in for peace, according to TOLOnews.
Members of civil society institutions in Balkh Province, more than 600km away, announced their own support of protesters in Helmand.