KABUL -- Afghanistan was waiting Monday (August 20) for a Taliban response to President Ashraf Ghani's proposal of a three-month ceasefire after nearly 17 years of war.
Ghani unveiled the government's latest gambit during an Independence Day address late Sunday (August 19), saying security forces would observe the truce beginning this week -- but only if the militants reciprocated.
The move followed an extraordinarily violent week in Afghanistan that saw the Taliban carry out a blood-soaked rampage of Ghazni and other attacks across the country, with estimates suggesting hundreds of Afghans may have been killed.
It also came just hours after an air strike against a Taliban convoy in the north of the country that, according to Afghan National Army spokesman Maj. Mohammad Hanif Rezayee, killed about 100 militant fighters.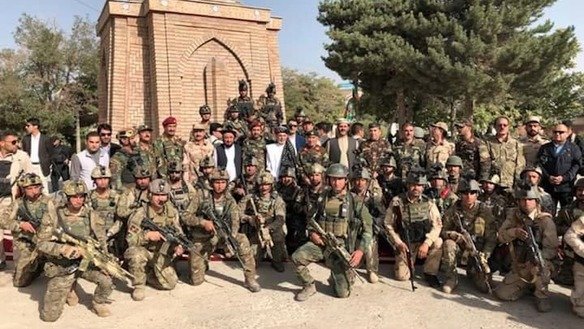 The president said his office had cleared "all obstacles" to peace with the announcement following consultations with religious scholars, political parties, women, youth and civil society groups.
"We call on the leadership of the Taliban to welcome the wishes of Afghans for a long lasting and real peace, and we urge them to get ready for peace-talks based on Islamic values and principles," Ghani tweeted.
Prisoner release by Taliban possible
The Taliban did not immediately respond to Ghani's proposal but vowed to release "hundreds" of "enemy prisoners" to mark Eid ul Adha, which is set to start August 21.
It was not clear to which prisoners they were referring.
A senior Taliban member based in Pakistan told AFP the leadership had yet to issue a formal response to the ceasefire but suggested fighting may be restrained during Eid even if no announcement is made.
Presidential spokesman Haroon Chakhansuri later slammed reports the Taliban may reduce fighting without formally declaring a truce.
"Any unofficial ceasefire or restraint in some parts of the country is not a ceasefire," he told reporters, adding that military operations were continuing in several provinces in the absence of a deal. "If they announce it officially, we will hold it as long as they continue."
If the militants accede to the ceasefire, it would be just the second nationwide truce since 2001.
Truce in June raised hopes
The first, for just three days during Eid ul Fitr in June, saw thousands of insurgents pour into cities across Afghanistan, eating ice cream and posing for selfies with security forces to celebrate.
The brief respite spurred hopes that a new path was opening for possible peace talks in the country.
Prior to the Ghazni attack, there had been tentative signs that diplomatic efforts to kick-start peace negotiations were starting to bear fruit.
Ghani's proposal received a warm welcome by both NATO and the United States, with US Secretary of State Mike Pompeo calling on the Taliban to take part.
It is not yet clear if US-led NATO forces will participate in the ceasefire.