KABUL -- Afghan religious scholars, human rights activists and regular citizens are reeling from a blood-soaked week, condemning in the strongest terms the Taliban's destruction in Ghazni.
Taliban militants attacked Ghazni last week, besieging the city for days until Afghan forces with coalition air support pushed them out Wednesday (August 15).
The destruction was devastating: the Taliban killed and wounded hundreds of civilians, including women and children, burned houses and businesses, and committed heinous crimes against humanity, local residents told Salaam Times.
'Hell on earth'
"The Taliban had no mercy for anyone when they attacked Ghazni," said Haji Hassan, a resident of Ghazni who on the third day of fighting was able to escape to Kabul with his family.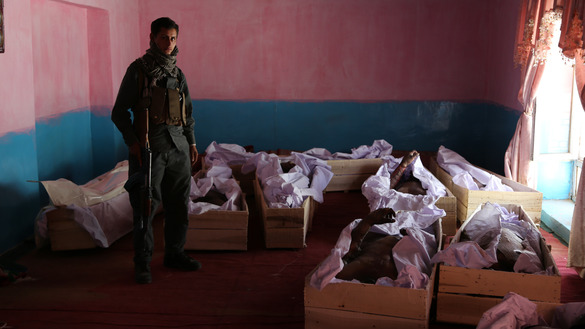 "They killed women and children, executed men by firing squad, burned houses, plundered and stole property and assets, and turned parts of Ghazni city into a hell on earth," he told Salaam Times.
"Dozens of bodies of the Taliban's victims were left on streets for days with no one around to bury them," he said.
"The Taliban inflicted the greatest casualties and financial losses on the residents of Ghazni," Enayat Nasser, a civil society activist in Ghazni Province, told Salaam Times.
"During their short, days-long presence in Ghazni city, the Taliban burned down more than 1,000 shops and caused tens of millions of [US] dollars in damage," he said.
"Both the laws of Afghanistan and international laws prohibit targeting of civilians," Nasser said. "The Taliban, however, have targeted civilians, spread terror and horror among Ghazni residents, and destroyed the lives of hundreds of families, all of which violated national and international laws as well as Islamic principles."
"The Taliban ... turned Ghazni into a slaughterhouse," said Khaliqdad Akbari, a member of the Ghazni Provincial Council who fought on the front lines against the Taliban for four days. "Ghazni's alleys and streets stank of the flesh of those whom the Taliban killed."
"The situation that the Taliban brought upon Ghazni is not acceptable in any religion, especially in Islam," he told Salaam Times. "The Taliban are not related to any religion or sect; rather, they are savages of the century."
"The Taliban's actions in Ghazni were both inhumane and anti-Islamic," Salem Hasani, a Kabul-based religious scholar, told Salaam Times. "The Taliban in Ghazni acted contrary to Koranic verses, which ban killing and harming the innocent. Their crimes forever remain unforgivable and condemned according to the Koran."
War crimes
"Targeting civilians, blocking highways, destroying civilians' houses and public places, and besieging civilians are contrary to the international laws of war and are gross violations of human rights," said Bilal Sediqi, a spokesman for the Afghanistan Independent Human Rights Commission (AIHRC).
"What has happened in Ghazni is an example of war crimes," he told Salaam Times.
President Ashraf Ghani visited Ghazni Friday (August 17) to assess the security situation after the battle.
"Ghazni's historic sites that have been damaged will be immediately repaired, and special assistance will be provided to the families of the martyrs and wounded," he said in a meeting with Ghazni tribal elders, according to a presidential press release.
He emphasised the need for more co-ordination among Afghan forces, saying that the Afghan National Defence and Security Forces (ANDSF) will scrutinise the Ghazni attack in depth and will reveal any weaknesses in security they find.
He also directed security officials to create more police districts in the city for better security.