KABUL -- An hours-long battle in Kabul involving rocket attacks and military air strikes ended Tuesday (August 21) with the death of two militants, authorities said.
The assault came as President Ashraf Ghani was making a speech marking the first day of Eid ul Adha, days after he offered the Taliban a conditional three-month ceasefire.
"Islamic State of Iraq and Syria" (ISIS) took responsibility via its media outlet Amaq.
"Two attackers were involved. The enemy was firing mortars," Gen. Murad Ali Murad, commander of Kabul's garrison, told a news conference.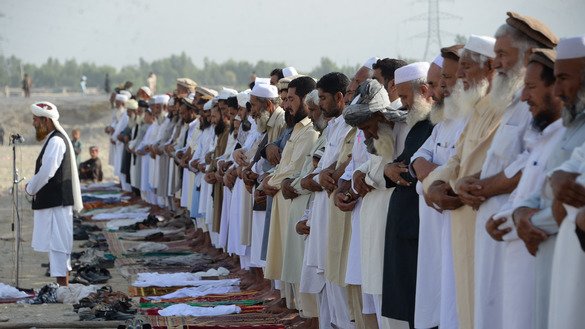 They were killed and at least six civilians or security force members were injured, he said.
An Afghan army helicopter swooped in low near the Eidgah Mosque and fired a rocket at a militant position during the battle, sending a plume of dust into the sky.
Shoppers who moments earlier had been buying livestock for Eid sprinted for shelter as cars swerved in the road to flee the fighting.
The mosque is near the presidential palace where Ghani was making his speech, which was airing live on Facebook when the attack began.
The president pauses as multiple blasts are heard in the background, some sounding nearby, before stating: "This nation is not going to bow to these rocket attacks."
Ceasefire offer
Ghani unveiled the government's latest ceasefire offer during an Independence Day address late Sunday (August 19), saying security forces would observe the truce beginning this week -- but only if the militants reciprocated.
The Taliban have not yet officially responded to Ghani's proposal.
The truce proposal came after an initial three-day ceasefire in June, when thousands of insurgents eager to celebrate poured into cities across Afghanistan, eating ice cream and posing for selfies with security forces.