HERAT -- The true nature of the "Islamic State of Iraq and Syria" (ISIS) once again has come front and centre as the terrorist group celebrates this year's Eid ul Adha with bloodshed.
Two terrorist attacks in the past two days in Herat city killed at least four and injured 17, said local and security officials in Herat Province Friday (July 31).
All the victims were civilians, said Herat governor's spokesman Jilani Farhad.
ISIS claimed responsibility for the bombing of a bus Wednesday (July 29) in a Shia-dominated area in Herat city. A terrorist attached a magnetic bomb to the vehicle.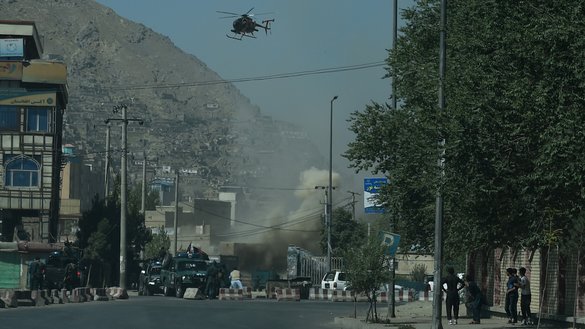 "Four civilians were killed and three others were injured in an attack that targeted a bus carrying civilians, including women and children," Farhad said. "Women and children were among those injured."
The terrorists have lost the ability to fight security forces and therefore have resorted to killing more civilians, Herat provincial police chief Col. Obaidullah Noorzai told Salaam Times.
Last November, the local wing of ISIS, known as the ISIS Khorasan branch (ISIS-K), admitted defeat when hundreds of its fighters surrendered to Afghan forces in Nangarhar Province, and the leader of the group, Aslam Farooqi, was captured by Afghan forces in April.
Despite the setbacks, the group has been able to carry out terrorist acts, most notably the March massacre at the Sikh gurdwara in Kabul, where worshippers were offering morning prayers.
"There were no government employees on the bus; all of them were civilians, including women and children. Terrorist groups have no achievements in Afghanistan, and they kill innocent people to show their presence," Noorzai said.
In a separate attack July 31, at least 14 civilians were wounded after a bomb exploded as crowds shopped ahead of Eid ul Adha in Herat city.
"On the morning of the first day of Eid ul Adha, a bomb exploded among civilians while they were buying livestock, injuring 14 people," Farhad said.
As of this writing, no group has claimed responsibility, yet all signs point to ISIS, and other militant groups have denied involvement.
"One of my relatives lost his life in the passenger bus attack, and we are extremely saddened during this Eid. There were several terrorist attacks in our area in the past, including on mosques and passenger vehicles, all of which have been claimed by Daesh," said Muhammad Reza Amini, a resident of Herat city, using another name for ISIS.
"Daesh is a terrorist group that aims to create division among Muslims. Our message to the group is that it will never achieve its goals in our country," Amini said.
History of Eid terrorist acts
Sadly, ISIS has a history of targeting Afghans during Eid.
Most notably was the ISIS mortar bombardment on Kabul in 2018 when President Ashraf Ghani was making a speech marking the first day of Eid ul Adha, days after he offered the Taliban a conditional three-month ceasefire.
At least six civilians were killed.
The president, who was speaking live on television, paused as multiple blasts were heard in the background, and said, "This nation is not going to bow to these rocket attacks."
Afghan forces were fortunate that year to have arrested a seven-member ISIS cell that was planning to bomb Eid ul Adha celebrations in Jalalabad.
Two months before, on Eid ul Fitr, ISIS carried out a suicide attack in Nangarhar Province, killing at least 25 people and wounding 54.
ISIS has not limited its carnage during Eid to Afghanistan. Since the rise of the group, it has perpetrated countless massacres during Islamic holidays throughout the world.
One particularly bloody event was in 2015, when an ISIS suicide bomber detonated a car bomb among Iraqis celebrating Eid ul Fitr, killing at least 90 Iraqis, including dozens of children.