HERAT -- A series of bloody attacks on mosques and schools in several provinces during the final days of Ramadan put Afghans on edge as they celebrated Eid ul Fitr.
The "Islamic State of Iraq and Syria" (ISIS) on Sunday (May 1) claimed responsibility for the bombing of a passenger bus in Kabul that killed one woman and injured three other passengers, according to police.
The bombing was the second in the capital in as many days after 10 people were killed when a bomb ripped through the Khalifa Sahib Mosque in western Kabul during Friday prayers.
ISIS on Saturday took responsibility for that bombing.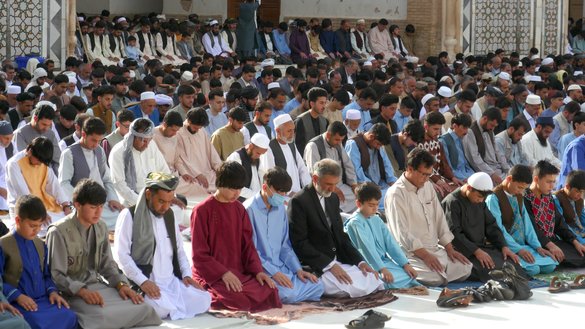 It appeared to target members of the minority Sufi community who were performing rituals after completing Friday prayers, an official said.
United Nations Humanitarian Co-ordinator for Afghanistan Ramiz Alakbarov condemned the mosque attack, calling it "yet another painful blow to the people of Afghanistan, who continue to be exposed to unremitting insecurity and violence".
Grisly images posted on social media showed survivors running out of the mosque, with some carrying victims including children. Patches of blood could be seen on the floor of the mosque compound.
At least 10 people were killed, said police spokesman Abdul Nafi Takor, while other Kabul police said another 30 were injured.
Friday's blast came a day after two bombs on separate minibuses killed at least nine Afghans in Mazar-e-Sharif, targeting Shia passengers heading home for iftar.
A bomb at a Shia mosque in Mazar-e-Sharif a week earlier killed at least 12 worshippers and wounded scores more.
Meanwhile, millions of residents of 11 provinces faced blackouts Saturday after two power transmission towers were blown up just west of Kabul, authorities said.
Two pylons in Parwan province were toppled late Friday, cutting off electricity to the capital and neighbouring provinces ahead of Eid ul Fitr, which started Sunday.
"The enemies... have blown up two electricity pylons with bombs," Hekmatullah Maiwandi, a spokesman for the state-run DABS electricity company, said in a video statement.
Five teams from the firm have been deployed to carry out repairs, he added.
"The pylons are installed on top of mountains, and our teams are trying to fix them," Maiwandi said.
The repairs are not yet complete.
Fear of ISIS attacks
The latest ISIS attacks killed and injured scores of Afghans, including children, leaving all those families in mourning during Eid.
Several Afghans described their alarm and disgust with ISIS's terrorism.
ISIS turned the happiness of Eid into grief for Afghans, said Abdul Karim Azizi, a resident of Herat city who came to the Grand Mosque on Sunday to perform Eid prayers.
"We have come to the mosque -- to God's house -- with fear of ISIS attacks," he said. "ISIS has violated the sanctity of mosques and has blown up God's house."
"Although Eid ul Fitr is an occasion of happiness for Muslims across the world who celebrate it with joy, ISIS has taken this happiness away from Afghans," he said.
Azizi said that although he is afraid of a possible ISIS attack on the Herat Grand Mosque, he came to Eid prayers to show the unity and solidarity of Afghans.
ISIS attacks in Kabul and other provinces have left all Afghans in mourning, said another Herat resident, Abdul Wahed Hanafi.
"Until the prayer was over, every moment I was thinking that there would be an explosion or a security threat," he said of a worship service he attended recently.
Terrorist groups have always used the name of Islam in Afghanistan and have taken many lives in the country, said Herat resident Safiullah Ishaqzai.
"When I came to the mosque, I asked those who were searching the worshippers to search me a little more closely," he said. "Because of ISIS threats, we don't have security or peace even in the mosque."
The purpose of carrying out terrorist attacks in mosques is to create divisions among Muslims, said Ishaqzai.
ISIS is the enemy of Muslims, said Jalil Ahmad Ghulami, a resident of Herat city.
"By blowing up mosques and schools and killing worshipers and students in the holy month of Ramadan, ISIS demonstrated its utter inhumane nature," he said.
"ISIS is a foreign terrorist group acting on the orders of foreign intelligence organisations to terrorise and massacre Afghans," he said.
Threat to global security
The recent attacks demonstrate that ISIS is trying to expand its influence in Afghanistan, security analysts say.
Because of the security vacuum created in Afghanistan, ISIS has shifted its focus from Iraq and Syria to Afghanistan, said Hamza Baloch, a military analyst in Zaranj, the provincial capital of Nimroz.
The threat of ISIS is growing in Afghanistan, while the necessary military and intelligence capabilities to tackle this threat do not exist right now, he warned.
"Tactically and operationally, ISIS is very well trained," he said. "It requires a professional fighting force equipped with good intelligence to neutralise the ISIS threat."
"The international community must pay attention to the situation in Afghanistan," Baloch said. "If ISIS becomes strong in Afghanistan, it will threaten security across the world."
ISIS will likely conduct more attacks to fuel factional divisions and create fear among Afghans, the victims of which will be mostly innocent and defenceless civilians, he added.
ISIS has now become an overt enemy of Afghans, openly challenging the security of Afghanistan, said Mohammad Naim Ghayur, a military analyst in Herat.
"ISIS considers Afghanistan a safe haven for itself," he said. "It has moved most of its professional forces from the Middle East to Afghanistan and has committed bloody attacks with the help of local terrorists in recent days."
"ISIS receives strong support from intelligence agencies in the region who had a major role in the killing of Afghan civilians and security forces in the past 20 years," he said, adding, "ISIS alone does not have the capabilities to conduct such bloody and complex attacks."
ISIS's Khorasan branch (ISIS-K) has gained much strength lately, Ghayur warned. If not stopped quickly, it will make the entire region insecure.
Preparations for Eid
Because of ISIS threats and severe economic difficulties, Afghans cautiously prepared to celebrate Eid ul Fitr.
A large dry fruits and sweets market was opened in Herat a week before Eid, where hundreds of temporary shops were set up.
Nazir Ahmad Sarwari, a resident of Herat city and a father of three, said he bought new clothes for his children and dry fruits to welcome guests.
"No matter what, we follow our Eid traditions and customs," he said. "Eid is a good reason to greet and meet our friends and relatives. [We] enjoy the three days of Eid."
"Afghans have made fewer preparations this year for Eid because of economic challenges, but everyone tries to celebrate it," he said.
Sarwari said he hopes ISIS will not kill celebrating Afghans during Eid and turn families' happiness into grief.
Safiullah Frotan, a dry fruit seller in Herat city, said hundreds of residents of Herat city and districts visited his shop during the last week of Ramadan for their Eid shopping.
"Depending on their purchasing power, they bought dry fruits and sweets for Eid," he said. "Some bought less and some more, but everyone purchased to celebrate Eid."
"Security threats existed in the past 20 years, and they exist this year too, but they cannot stop Eid celebrations," he said.