HERAT -- Ramadan is one of the principal religious rituals for Muslims, and Afghans view it as a month dedicated to observing peace and tranquility.
Consumption of certain fruits and other foods increases during the observance.
Those who fast eat watermelon during suhoor so that they can remain hydrated during the day, while a variety of sweets such as jelabi, a type of Afghan pastry, are consumed with tea, usually following iftar.
Organising public feasts that feed impoverished families is one of the main traditions during Ramadan.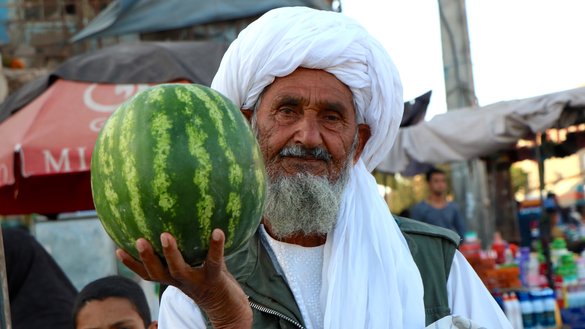 Businesspeople and others give away food and meals to families in need, while helping the disadvantaged and families who are victims of war is a priority for many Afghans during the holy month.
As they conduct such rituals, Afghans are calling on the Taliban to stop the killing of innocents.
The Taliban should seek peace rather than attack those who observe the holy month, said Muhammad Ibrahim, a 65-year-old resident of Herat city.
"Ramadan is a sacred month when all the Muslims are busy worshipping," he said. "I call on the Taliban to lay down their weapons for the sake of this month and not hurt the Afghan people any longer."
"Afghans must not be frightened by the suicide bombings and explosions in mosques during the month of Ramadan," he added. "What do the Taliban want to achieve ... ? Is it logical to commit killings in mosques and other places of worship?"
Attacks by militants during Ramadan show they have no mercy and that their fight goes against the teachings of Islam, said another resident of Herat city, Wakil Ahmad.
"We expected that the Taliban would at least agree to a ceasefire in the month of Ramadan and refrain from the killing of innocents and of security forces," the 36-year-old said.
While the Taliban call themselves Muslims, they kill innocent civilians everyday, which ignores the orders of God and the teachings of Islam, he added.
Security measures
During the month of Ramadan, security forces have increased their efforts to prevent the Taliban from attacking worshippers and religious rituals.
They neutralised a number of land mines that the Taliban planted in various parts of Herat during Ramadan, with the intention of targeting security forces and civilians.
Security forces are well equipped and have adequate measures in place to ensure public security during Ramadan, said Abdul Ahad Walizada, a spokesman for the Herat provincial police department.
"The security forces are on duty in every mosque in the city and district capitals to make sure that civilians can perform their worship and religious rituals without the fear of suicide bombings and explosions," he said.
"Our security forces are committed to protecting the public, as well as to fasting and praying themselves," he said.
"The Taliban had plans to spread violence by launching suicide bombings and explosions in Herat city and its districts in the month of Ramadan, but the security forces remained alert" at all times, which foiled the militants' plans, Walizada added.