HERAT -- Despite rising anxieties over an increase in "Islamic State of Iraq and Syria" (ISIS) attacks on mosques and other places of worship, Afghans have continued to observe Ramadan by going to mosques to perform taraweeh prayers at nighttime.
Many of them have condemned the recent terrorist attacks carried out by ISIS and stressed the need to unite against the extremist group.
Herat residents say ISIS attacks on mosques and schools indicate that the terrorist group operates contrary to Islamic principles and Afghan values and is taking commands from outsiders to massacre the Afghan people.
ISIS is the enemy of Islam and humanity, said Mawlawi Sayed Ahmad Mohammadi, a religious scholar in Herat city.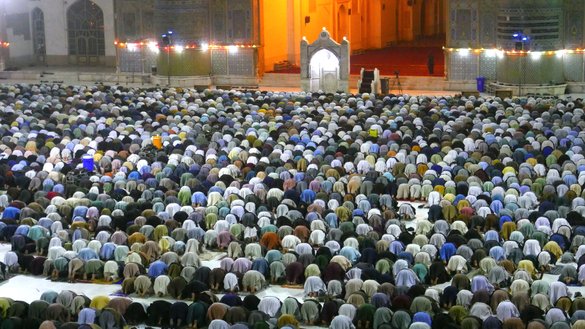 "While people are performing prayers and fasting during Ramadan, ISIS brutally massacres innocent Muslims in the house of Allah Almighty," he said.
"No matter how hard ISIS tries to divide and terrorise Afghans, Afghans are united and will stand together to defeat this puppet and terrorist group," he added.
Other Ramadan activities have continued unabated, such as iftar meals provided by mosques during Ramadan.
With rising poverty, aid organisations, business owners and some private donors have increased aid -- in the form of food and cash -- to help destitute Afghans fast and perform their prayers with peace of mind during Ramadan.
Aid to more than 6,000 families
The Ahmad Shah Faqiri Social and Welfare Foundation, one of the charities in Herat, has provided aid to more than 6,000 families during Ramadan.
The charity mostly has assisted poor women and families of fallen members of the former government's security forces.
"Hundreds of tonnes of food including rice, flour and oil have been purchased from a personal contribution made by an Afghan businessman to help these vulnerable families," said Mir Ahmad Bahra, executive director of the Foundation.
"These destitute families have already been under the foundation's permanent coverage, but we have provided them with additional aid during Ramadan," he said.
Gul Bibi, 41, a mother of four whose policeman husband was killed four years ago, said the assistance she has received from the foundation will be sufficient for her family's needs for three months.
"The assistance has relieved my concerns about going hungry during the holy month of Ramadan," she said. "The aid provided by the businessmen and private donors has saved the lives of many vulnerable Afghans."