HERAT -- Afghan National Police (ANP) Lt. Jalil Ahmad Akbari, who is stationed at a security outpost in Guzara district, Herat province, has been ensuring no weapons or explosives pass his checkpoint during the holy month of Ramadan.
Akbari is one of many members of the Afghan security forces who are protecting worshippers and religious sites during Ramadan, even as they observe the fast themselves.
"We will not let the Taliban disrupt the public's tranquility during Ramadan," Akbari said. "We want to reassure Afghan Muslims so they can perform their prayers in mosques with peace of mind."
Ramazan Mohammadi, an ANP officer in the Badghis provincial capital of Qala-e-Naw, is responsible for providing security at the city's main mosque.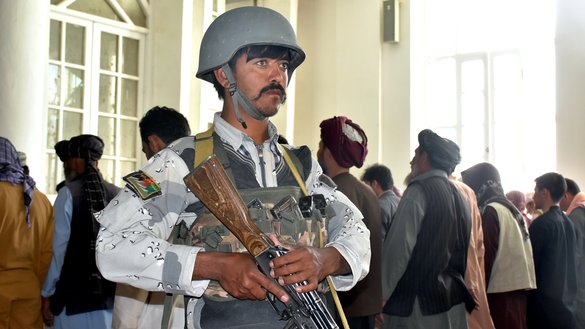 "I keep watch around the mosque day and night to make sure the Taliban do not attack the worshippers," he said. "Like other Muslims, I am observing Ramadan and offering prayers."
"Worship during Ramadan is the duty of every Muslim, but the Taliban's terrorist attacks and suicide bombings have prevented civilians from performing their religious activities peacefully," he said.
Security forces are ready to provide security in cities and districts day and night, and they will spare no efforts in repelling attacks, Ramazan said.
Khan Mohammad Oryakhail, who is serving with the Afghan National Army (ANA) in Herat province, said he has been fasting during Ramadan while carrying out his duties at a security checkpoint.
"Our aim is to provide security for the public so that it can go to mosques and offer its prayers," he said, adding that security forces will not allow the Taliban to target innocent civilians.
'Stop shedding Muslim blood'
"Security forces are fighting to protect Afghans' rights and defend their country," said Mawlawi Ali Mohammad Rahmani, a religious scholar in Qala-e-Naw.
"As we move towards building a durable peace amid the foreign forces' withdrawal from the country, there is no excuse for waging war, and the Taliban's claim of jihad is false and baseless," he said.
"I call on the Taliban to stop shedding the blood of their Muslim brothers."
The Taliban's fight against the security forces has no religious justification, said Abdul Khaliq Haqqani, Herat province's director of Hajj and religious affairs.
"Muslim scholars from around the world recently issued a fatwa saying the ongoing fighting in Afghanistan is not justifiable, and therefore, the Taliban cannot declare their war as jihad," he said.
"Fighting in Afghanistan is between Muslims, and the only victims are Muslims," Haqqani added, noting that Islam prohibits Muslims from fighting each other.
"With the announcement of a timeline for the withdrawal of foreign forces, the Taliban have no legitimate reason to continue their war," he added.
"The continuation of the Taliban's war clearly indicates they disobey the teachings and values of Islam."
Ignorance of Islamic principles
"The Taliban call themselves Muslims and consider their war jihad, but it is not true because their hands are stained with the blood of the innocent Afghans every day," said Herat province resident Mohammad Qasim Alizada.
"Although civilians fast and visit mosques to pray, the Taliban think only they are Muslims, and everyone else is Afghanistan is not, and they kill civilians and don't allow them to worship in peace," he added.
The Taliban do not adhere to Islamic teachings, because they ruthlessly target and kill innocent Afghans during the month of Ramadan, he said.
They cannot justify their war and the killing of innocents, he added, noting that they commit such acts as they are unfamiliar with basic Islamic principles.
The Taliban's bloodshed during Ramadan is a crime, said Mawlawi Mohammad Ibrahim Dawlatyar, a religious scholar in the Ghor provincial capital of Firoz Koh.
"The security forces and the Afghan people are all Muslims, and it is not permissible to kill them," he said. "The continuation of the war and of killing by the Taliban is an un-Islamic act."