KABUL -- Afghanistan's Ministry of Defence is distributing food aid to the families of fallen Afghan National Army (ANA) soldiers as part of a Ramadan campaign.
The campaign kicked off March 31 and will be implemented in three phases across the country during the holy month of Ramadan, Defence Ministry spokesman Fawad Aman said.
"We are distributing food packages to the families of the martyrs of the ANA, especially those who are in great need," he said.
Baghlan province resident Abdullah Rahimi said he was "grateful to the Ministry of Defence for providing support to my martyred brother's family".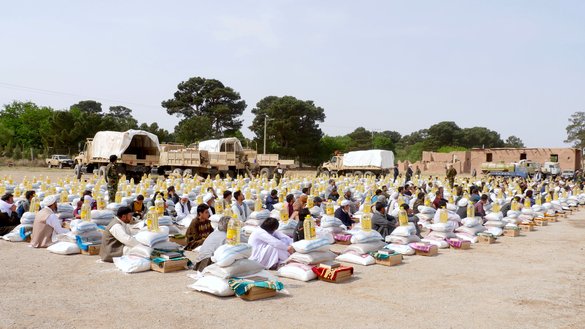 Rahimi's brother, an ANA soldier, was killed fighting the Taliban in Helmand.
"Unfortunately, most Afghans, in particular families without a breadwinner, face economic hardships and poverty," Rahimi said. "We are thankful to the government for supporting destitute families."
Meanwhile, Afghan troops say they remain ready to protect their nation.
"God willing, we are ready to bravely defend our homeland and serve our people," said a commando lieutenant who gave his name as simply Jalaluddin, during a March 2 graduation ceremony for commandos in Kabul.
Speaking at the same ceremony, Maj. Gen. Kheyal Nabi Ahmadzai, deputy commander of the Special Operations Corps, noted that in recent months, Afghan forces "have been able to break into several insurgent prisons".
These operations have resulted in the rescue of imprisoned civilians and members of the security forces, he said.
So far this year, Afghan commandos have rescued at least 139 captives from Taliban prisons and destroyed land mine factories, along with Taliban bases and training centres, he said.
They have killed key members of the insurgent group in targeted operations.
"The enemy recently wanted to bring some areas under its control," Ahmadzai said. "But with our efforts, commando units suppressed them."
Little concern for the poor
The government's efforts to help the poor stand in stark contrast to the Taliban's theft and diversion of humanitarian aid intended for the Afghan people.
In some Taliban-controlled areas, the militants have ordered those who received aid from Dastarkhwan-e-Meli, a 22.2 billion AFN ($288 million) government aid initiative, to pay them a 10% equivalent in cash, officials and locals say.
More than four million families in 34 provinces benefit from the initiative, which the government launched in July as part of its novel coronavirus (COVID-19) relief efforts.
"The Taliban have made demands of or threatened locals in Kunduz, Ghor, Logar and some other provinces," said Fraidoon Azhand, a spokesman for the Ministry of Rural Rehabilitation and Development.
"If the Taliban are not paid, they will prevent the implementation of any [aid] project in areas under their control," said Gul Zaman Nayab, a member of the Wolesi Jirga from Ghor province.
"It is not only in Ghor but anywhere in Afghanistan. It is almost impossible to implement any project... unless the Taliban receive at least 10% of what they call their share," he said.
The Taliban show little concern that the recipients of the aid are vulnerable Afghans, he added.
Before the Taliban knew about the distribution of aid under Dastarkhwan-e-Meli, the government had provided food packages through local shuras in 38 villages across Kunduz province, said Dost Muhammad Raihan, director of the Kunduz Rural Rehabilitation and Development Department.
"A problem that we grapple with in our villages is that the Taliban have voiced their opposition to the programme and sent out letters to local villagers," Raihan said.
"They previously asked for a percentage of the money, but we did not give them anything," he said. "But the Taliban's demand later went beyond asking for money."
"They said that aid should not be distributed through local shuras because supposedly it would empower the local shuras, who will stand against them," Raihan said.
Taliban intimidation
"The Taliban snatch their so-called share directly from civilians or indirectly through their families," said Maidan Wardak provincial council member Nafisa Saili Wardak.
"This is a very harsh punishment of poor Afghans," she said, referring to the Taliban's claim of a share of aid provided via Dastarkhwan-e-Meli.
"The Taliban have stopped distribution of food packages through Dastarkhwan-e Meli in Logar," said Nazar Wali Ahmadzai, a former resident of Logar province, who now lives in Kabul.
The Taliban demanded at least 10% of the total project budget, which was categorically rejected by the locals, he said.
"Because of the Taliban's intimidation, some families prefer not to get government aid, because they fear the Taliban might enter their house at nighttime and punish them for receiving government assistance," Ahmadzai said.
"The essence of providing aid is to reach those in dire need," he added, noting that the Taliban either create obstacles that prevent vulnerable civilians from receiving help or demand part of the assistance for themselves.