HERAT -- In a daring overnight raid Wednesday (March 3), Afghan commandos broke into a Taliban prison in Adraskan district, Herat province, and rescued 34 prisoners from the mistreatment they faced at the hands of the militants.
The operation was launched with air support in the mountainous village of Karuchi, security officials in the western region said.
The commandos rescued 11 Afghan National Army (ANA) soldiers, seven Afghan National Police (ANP), three members of the air force, seven government employees, five civilians and one member of the public uprising forces.
The security forces killed six Taliban militants during the operation and destroyed some of their weapons and ammunition, said Col. Fardin Sepah, commander of the 2nd Commando Brigade in the western region.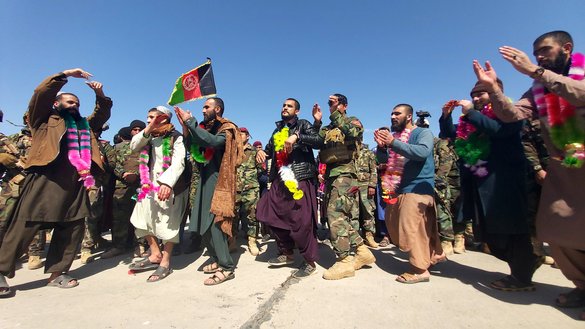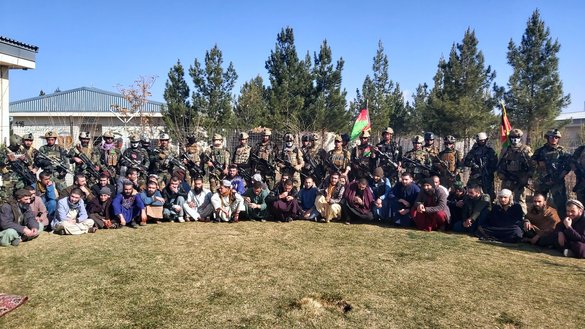 "After rescuing the prisoners, security forces demolished the Taliban prison," he said during a press conference in Guzara district. "It was a very dangerous prison secretly built in a mountain."
"The Taliban had been threatening and extorting money from the families of these prisoners, claiming that it is for the prisoners' expenses," he said.
"The Taliban would not even give them enough food or water, pocketing the money they used to get from their families for themselves."
"We attacked the prison of this terrorist group to rescue our comrades and our people," said 1st Lt. Khairullah, an ANA commando officer who gave only one name.
The operation was a success "without any harm to security forces or the prisoners", he said.
The rescued prisoners "will happily join their families", he added.
Torture of the prisoners
Some inmates had spent up to eight months in the prison and shared bitter stories of the Taliban's oppression, torture and mistreatment.
ANP officer Sharafuddin, who gave only his first name, said he did not see the sun during his six months in the Taliban prison.
"The Taliban tortured me a lot and beat me up so much," he said. "The Taliban kept us underground and would give us very little food and water."
The Taliban did not allow prisoners to make ablution and pray, he added, describing their treatment of prisoners as "un-Islamic".
"If we confided in a fellow inmate for a minute, the Taliban would cuff our hands behind our back and lock us in a small and dark bathroom for a couple of days," he said.
The Taliban gave the prisoners just enough food and water to keep them alive, said Herat resident Firoz Ahmad, who was held by the Taliban for five months.
"We suffered greatly. They would lock the door at night and would not open it until morning," he said. "They would not listen, no matter how much we begged."
Ahmad said he had not seen the sun in five months while he was imprisoned, and that he and fellow prisoners had suffered psychological torture.
Public uprising group member Zalmai Noori, who spent six months in prison, said he had experienced unbearable torture at the hands of the Taliban.
"I did not even have enough food to eat," he said. "They would come and beat us up without any reason."
"The Taliban would tie the legs of inmates together and beat them with iron rods," he added.
"We thank the commandos for rescuing us from the Taliban oppression and giving us a new life," Noori said.
'Anti-Islamic and inhumane'
The Taliban's treatment of prisoners constitutes a crime against humanity, said Abdul Aziz Mubarez, a human rights activist in Herat city.
"Under international laws and human rights principles, torture and mistreatment of detainees is prohibited," he said. "No group has the right to torture prisoners or totally cut off their contact with their families."
"Taliban sentence security personnel and civilians to [various] prison terms in their kangaroo courts," he said.
They do not have the jurisdiction to conduct prosecutions, he added, and neither do they have an appropriate facility in which to hold the prisoners.
From Islam's perspective, prisoners of war have specific rights and should not be tortured while in detention, said Mawlawi Mohammad Ali Karimi, a religious scholar in Badghis province.
In the early days of Islam, he noted, non-Muslims captured in battles were treated very well.
"Mistreating and torturing prisoners of war are prohibited in Islam," he said, adding that the Taliban's oppression and torture of prisoners indicate a lack of awareness about the precepts of Islam.
The real defenders of Afghanistan
Afghan security forces are the real defenders of Afghanistan as well as of Islamic and national values, religious scholars say.
It is haram for the Taliban to kill those who serve in the security forces, said Mawlawi Mohammad Hussain Azimi, a religious scholar in Herat city.
"The real defenders of this land are security forces," he said, adding that they always have the prayers of religious scholars and the people.
"Security forces are the hope of Afghans," he said. "The people of Afghanistan, including religious scholars, have always supported the security forces."
If there are mosques, education and progress in Afghanistan, the credit goes to the hard work of security forces, who have been able to maintain security, Azimi said.
"The consensus among religious scholars is that security forces are the real mujahideen of this country, defending Islamic and national values of Afghans," he said.
Security forces bravely defend the country and its people day and night, said Mawlawi Rohullah Sadiqi, a religious scholar in Herat city.
"We defend our security and defence forces," he said. "Security forces are the lifeblood of the country and sons of this land."