HERAT -- In a throwback to the Taliban's oppressive rule of 1996-2001, the militants acted as judge, jury and executioner when they fatally shot two civilian men in Farah Province after declaring them guilty of theft in a kangaroo trial.
Taliban spokesman Zabiullah Mujahid confirmed the executions in Dewar-e-Surkh village of Khak-e-Safid District, which occurred May 3 in the presence of hundreds of locals.
The Taliban seized the two men, accusing them of robbery and extortion, he said in an audio message sent to reporters.
The incident took place in an area under Taliban control, said authorities in Farah.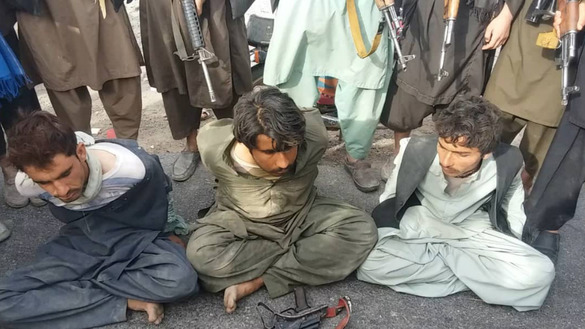 The Taliban trial, which had no legal basis, received fierce reactions from Afghans.
"The reason behind these killings is still not clear to us," Mohibullah Mohib, a spokesperson for the Farah Police, told Salaam Times. "This kangaroo trial proves that the Taliban have no mercy ... and will kill someone for any reason."
"Security forces will punish those involved in this kangaroo trial during their clearing operations," he said.
"The Taliban arrested two individuals on the Herat-Kandahar Highway, and they shot them to death at the order of their kangaroo court," Shah Mahmud Naimi, deputy chairman of the Farah Provincial Council, told Salaam Times.
"This act of the Taliban is worrisome, and the government must prevent such incidents," he said. "All Afghan citizens [accused of crimes] should be tried based on the laws of the land -- not in kangaroo courts."
"The Taliban have killed civilians several times for a variety of reasons in Bakwa District too at the order of their kangaroo court," he added.
Crimes against humanity
The killing of the two civilians aroused outrage from the Afghanistan Independent Human Rights Commission (AIHRC), which said that this was not the Taliban's first spurious trial and that the Taliban have killed several civilians -- including women -- as a result.
"The position of the Independent Human Rights Commission is clear with regard to the kangaroo trials, and we are against processing of any legal issue through illegal and informal channels," Abdul Qader Rahimi, director of the AIHRC's office for the western region, told Salaam Times.
"All legal issues need to be channeled through Afghanistan's judicial and legal system so that justice can prevail," he said.
"The Taliban have no authority to commit killings based on the orders of their kangaroo courts, as their victims receive no justice," Rahimi said. "We condemn this act of the Taliban. Civilians must no longer be the victims of the Taliban's kangaroo courts."
"The government should prevent this sort of lawlessness," he added. "Efforts need to be put into ensuring justice in legal matters. Those who disobey Afghan laws and turn to killing others should be suppressed and punished."
"Afghans in remote areas still don't have access to justice," Sayed Ashraf Sadaat, a civil society activist in Herat Province, told Salaam Times. "Kangaroo trials are still taking place in the western region, and this is really an issue of grave concern that has to be prevented."
"We call on the international community to condemn these acts of the Taliban and send those involved ... to courts of law," she added.
The Taliban trials reflect the group's violent aims, said Gulsoom Sediqi, another Herat Province civil society activist.
"A kangaroo trial is a clear breach of Afghan laws by the Taliban," Sediqi told Salaam Times. "These kangaroo courts reveal the original position of the Taliban, which is keeping up violence instead of the rule of law in the country."
"Countries that support the Taliban and arm them should look at the atrocities they inflict on Afghans," she added. "They should know that the Taliban use any sort of violence on the innocent and can commit any crime against them."
"We don't know whether individuals who are shot dead based on the Taliban's kangaroo trial have committed any crime," Sediqi said. "The Taliban several times have brutally killed innocents without reviewing ... their cases."
An un-Islamic act
For religious scholars, special rules and regulations determine whether to issue death sentences based on the teachings of Islam. Not everyone has the authority to give such orders.
Religious scholars, who have condemned the Taliban's kangaroo courts, insist that the country's laws should be the only ones used in courts and that no one has the right to conduct an illegitimate trial in the name of applying Sharia law.
"Cutting off a hand is a clear punishment in Islam for stealing," Mawlawi Sayed Muhammad, a religious scholar in Herat, told Salaam Times. "Islam has said that if a man or a woman steals something, his or her hand must be cut, but there are rules."
The stolen item has to be of a certain [high] value and "enough proof must be produced so that there should be no doubt that the stealing has taken place", he said.
"If anyone turns to stealing something that isn't of high value out of hunger and desperation, his or her hand may not" be cut off, he added. "But if anyone has stolen something" of high value "and there is enough evidence to prove it, the worst punishment for this condition based on Islam" is cutting off his or her hand, he said.
"Islam condemns kangaroo courts," the religious scholar added. "In order to exercise justice and apply Sharia, a judge who has been appointed by the government needs to issue a legal decision."