HERAT -- The Taliban publicly whipped a young woman in Herat province as part of punishment handed down by a kangaroo court for having a romantic relationship, say local officials.
A video clip that emerged April 14 on Afghan social media shows a woman wearing a burqa being brutally flogged by Taliban fighters who take turns beating her in front of hundreds of men.
The exact date of the incident is unknown, but local officials say it took place between April 7 and 10 in Obe district, Herat province.
The video clip has raised concerns among women's rights groups, said Anisa Sarwari, director of the Herat Department of Women's Affairs.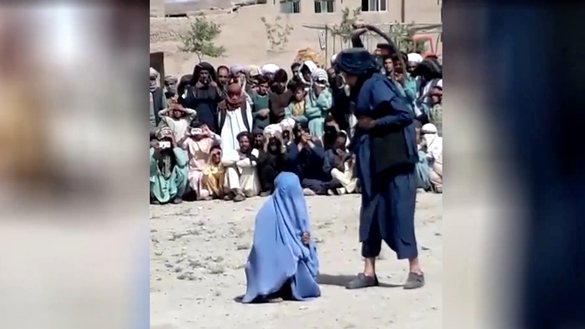 "Based on our information, this incident took place in the Gereshk area of Obe district," she said, adding that the woman was apparently punished for having a romantic relationship with a man.
"Women are deeply concerned that if the Taliban join a power-sharing government or return to power, they will violate women's rights and that the achievements of the last two decades will risk being lost," Sarwari said.
Abdul Rahim Salehi, a member of the Herat provincial council, confirmed the incident, calling it contradictory to the principles of Islam.
"The flogging by the Taliban is not in accordance with sharia," he said. "They violently tortured that woman."
"How can you whip a woman in front of hundreds of men? Where in Islam has this been instructed?"
Increasing brutality
By torturing a woman in front of hundreds of men, the Taliban proved that they do not believe in the religious and cultural values of Afghans, said Fatima Farahi, a women's rights activist in Herat city.
"The Taliban still have the spirit of the dark era of 20 years ago," she said. "They have an anti-woman mentality and never want women to work, study or have access to their rights in a society."
"Since the start of [peace] negotiations one year ago, the Taliban have not expressed their views towards women," Farahi said. "This shows that their hostility towards Afghan women and girls continues and that if they take power again, they will impose restrictions on women."
"I hope that if the Taliban return to Afghanistan, they return with a reformed mentality," she said. "Not with a mentality of torturing a woman in front of men while chanting 'Allahu Akbar'."
The sham court trying this woman is among the hundreds of crimes that the Taliban commit against the people of Afghanistan on a daily basis, said Munesa Hasanzada, deputy governor of Herat.
"The current Taliban mentality is the same as it was before 2001. They have even become more extremist and violent," she said.
"The daily crimes of the Taliban show the height of their brutality and prove that, like wild animals, they shed daily the blood of Afghans."
While negotiations are ongoing and everyone is waiting for security, the Taliban have turned Afghans' hopes for peace into despair with their kangaroo courts, suicide attacks and explosions, Hasanzada said.
Haram kangaroo courts
The Taliban's so-called courts have no place in Islam, say religious scholars.
Islam rejects anything that has not been fully investigated, said Abdul Khaliq Haqqani, Herat province's director of Hajj and Religious Affairs.
"Investigations are not done in kangaroo courts, with no evidence to prove the crime. Therefore, it is rejected and forbidden," he said. "It has been observed that innocent defendants have been tortured and killed in kangaroo courts."
In terms of implementing sharia law, only an authorised court is allowed to issue and execute a sentence, he said.
"In case of a crime, only after a thorough investigation and evidence where there is no impediment to enforcing the punishment, even then, a court of authority must enforce the ruling," Haqqani said.
From Islam's perspective, kangaroo courts are forbidden, and no one may have personal courts to punish others as they please, said Maulawi Abdul Basit Sarem, a religious scholar in Qala-e-Naw city, the Badghis provincial capital.
"Islam has imposed very strict conditions when it comes to enforcing rulings, and these rulings may not be implemented if there is even the slightest doubt," he said.
Under sharia law, unless the case is 100% proven, a verdict cannot be issued, he said.
"Kangaroo courts are conducted by those ignorant of Islam," Sarem said. "These actions have no place in Islam and in divine laws and have no justifications."
"Using kangaroo courts to torture and kill is a crime against humanity, and its perpetrators will be punished in this world and thereafter."