HERAT -- Local residents in Jawzjan province are rallying against the Taliban after one of their commanders raped a 16-year-old girl and then shot her to death in Darzab district.
Speaking at the rally Tuesday (April 6), which saw hundreds of residents of Qush Tepa and Darzab districts gather in angry protest, Jawzjan Governor Mohammad Hashim Raees said a Taliban commander raped 16-year old Aimama and then brutally killed her months later.
Qudratullah, also known as Gorg -- or "wolf" in English -- is a Taliban commander who formerly was a member of the "Islamic State of Iraq and Syria" (ISIS), said Raees.
Qudratullah joined the Taliban once ISIS was defeated in Jawzjan, Raees added.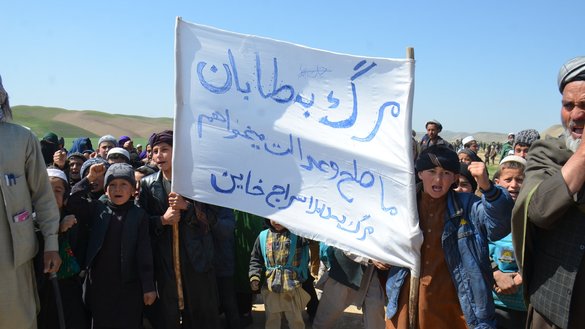 "He committed many crimes and harassed locals when he was a member of [ISIS], and his latest crime as a Talib is the killing of an innocent girl after rape," he said.
"This Taliban commander wanted to marry 16-year-old Aimama against her will," Raees said, adding that the Taliban forcibly entered the girl's house and then abducted and imprisoned her for two and a half months after the rape.
"The Taliban imprisoned her for fear that she would disclose their identity to the media, and during this time she refused to move in [with her rapist]," he added.
The Taliban have yet to return Aimama's body to her family, he said.
The Taliban imprisoned her parents too for filing a complaint against Qudratullah in a Taliban court for raping their daughter, relatives of Aimama confirmed.
Aimama's uncle, Bahauddin, said that his brother and sister-in-law have been in Taliban custody for the past two and a half months. "The Taliban have detained the couple to cover up their crime," he said.
"Two and a half months ago, a Taliban commander, Qudratullah, came to my brother's house as a guest, and after eating a meal, he raped Aimama and then forcibly took her away," Bahauddin said.
Aimama's father complained about Qudratullah to the Taliban, but they ignored him and instead locked him and his wife up. "Although local elders went to the Taliban, they did not release them," said Bahauddin.
"The Taliban brutally killed Aimama and did not return her body... because her father complained that his daughter was raped," Bahauddin added.
Women deprived of all rights
"If the government supports us, we will fight [ISIS] and the Taliban, and even if it doesn't, we will still fight them because we have no choice," said Mohammad Daud, a resident of the district.
"The Taliban have no sympathy for women, so they will never have mercy on us [men] ... because we have firmly stood against them," he added.
Women and girls are deprived of all their rights in areas under Taliban control, Muslima Ataiee, director of the Jawzjan Women's Affairs Department, said Thursday.
The Taliban do not allow women to go out, and if they see a woman unaccompanied by a male, they will beat and torture her, she said.
"Women and girls do not have access to education and health services in areas under Taliban control," she added.
In Taliban-controlled areas, women may not seek justice for any injustices they face and are denied "access to their legitimate human rights". They also cannot choose whom they wish to marry for fear of punishment by a Taliban kangaroo court, according to Ataiee.
"We record about 10 murders of women in Jawzjan Province annually, the majority of which are committed by members of the Taliban or by those who committed the crime and then joined the Taliban," Ataiee added.
Most of those who commit violence against or murder women in cities and district centres flee to Taliban-controlled areas, where they are supported by the Taliban, said Halima Beg, a women's rights activist in Jawzjan Province.
"The Taliban never hold accountable those who harass or kill women," she said.
An illegal and anti-Islamic act
The rape and murder of Aimama by the Taliban are crimes against humanity and unforgivable, un-Islamic acts, say religious scholars.
Raping women is an illegal act and Allah Almighty will strictly punish those who commit it, said Mawlavi Khalil Rahman Ahadi, a religious scholar in Firoz Koh city, the capital of Ghor Province.
"The person who tortured, raped and then murdered this innocent girl must be arrested and severely punished," said Ahadi. "The punishment of this murderer will not end only in this world, but he will also be severely punished on doomsday.
"The killing of an innocent person for no reason is a great sin, and the murderer will never be forgiven. Based on Islamic principles, murdering an innocent person is like murdering all of humanity," he added.
Taliban members who torture and harass women will be cursed and will never be forgiven, according to Ahadi.
In Islam, women have a particular place in society, and nobody may undermine their rights or commit violence against them, said Mawlavi Abdullah Anas, a religious scholar in Qala-e-Naw city, the capital of Badghis Province.
Respect for women is the tradition of the Prophet of Islam. Therefore, Muslims are obliged to respect women as mothers, sisters, daughters and wives, Anas added. Those who commit violence against women and do not follow Islamic guidance will be punished by Allah Almighty.
"The rape of a woman or a girl is a great crime according to the holy religion of Islam," he noted. "The punishment for someone who rapes and murders a woman is death."