HERAT -- Since the Taliban were toppled in 2001, a new generation of educated Afghans has emerged that has never experienced life under the group firsthand and knows it through only through what it has heard or seen on television.
Unlike the generation that grew up during the Taliban's rule and was forced to comply with its harsh interpretation of Sharia, this new generation has fought ferociously for gender equality and has made significant progress.
Today, girls can go to school and earn university degrees, and women can work outside the home. Women also hold office as ministers and governors and serve as judges, police officers and soldiers.
Yet the Taliban's history of discrimination against women is still cause for concern. Some fear women's rights could be a casualty of the intra-Afghan peace talks, should the Taliban become part of the government.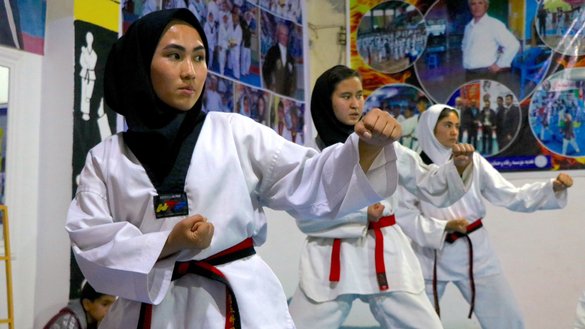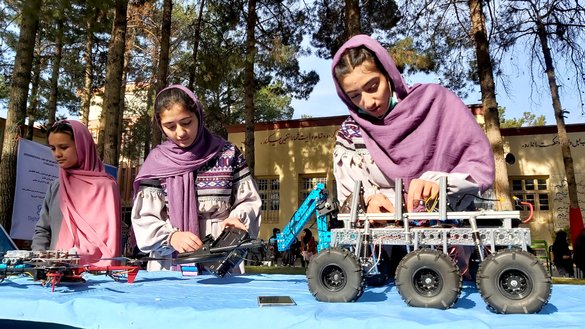 If this happens, the Taliban "should not return [us] to the dark times of their rule", said Sumaya Farooqi, 17, a member of the Afghan all-girls robotics team.
"Afghanistan has changed, and the country has had many achievements over the past 20 years," she said.
The robotics team has achieved international recognition in recent years, and the team members, hailed as "ambassadors of technology", have met with world leaders while traveling to take part in international competitions.
Once the Taliban re-enter Afghan society, the robotics team is ready to embrace the Taliban's daughters and teach them how to build a robot and design computer games, Sumaya said.
The Taliban's way of thinking has no place in Afghanistan today, said Farzana Khawari, 19, a member of Afghanistan's national taekwondo team.
"When I was born, their rule had ended and there were no Taliban fighters in our area," she said. "I have seen them only on TV."
"I have had good opportunities for growth during my life," she added. "Now, I go to university and play sports. I hope when the Taliban return, they accept our conditions and that we don't go back to the dark years."
The United States on March 23 vowed to protect progress made in Afghanistan on women's rights over the past 20 years, as it pushes for peace in the country.
"Any agreement must preserve their gains if Afghanistan wants to ensure the international community's continued political and financial support. We will not give an inch on this point," the US ambassador to the United Nations, Linda Thomas-Greenfield, told the UN Security Council during a debate on Afghanistan.
Taliban must accept 'new reality'
Educated Afghan girls who have been instrumental in changing their society insist that the Taliban, should they join the government via the peace process, do not disregard women's achievements and their role in society.
Girls will never accept the kind of peace that takes them back to the past and confines them to their homes, said Zakia Khudadadi, 18, a member of Afghanistan's para-national taekwondo team.
"The Afghan people, especially women, have made achievements in various areas, and they are making more progress," she said. "Therefore, the Taliban should accept the current conditions instead of restricting women and girls."
All Afghan youth hope for long-term peace so they can study and play sports with peace of mind, she said.
"If the Taliban want to return to power under the guise of peace and stop the advancement of girls, that kind of peace is unacceptable for us," said Elham Mansoori, 17, a member of the robotics team.
"We will fight for our achievements," she said.
"Peace will be sustained only if it can preserve the rights and achievements of women. The Taliban have no option but to accept this new reality," she added.
"I have never seen the Taliban from up close, but hope that if I do, they won't be restricting my education and work," said Florans Poya, 16, another member of the robotics team.
Afghanistan and the rest of the world have changed over the past 20 years, she said, noting that if the Taliban have not changed as well, "they will fail."
Achievements 'cannot be compromised'
Preserving the achievements of girls and women is the government's "red line" in its talks with the Taliban and these achievements cannot be compromised, insist local authorities in Herat province.
"Women in Herat province and the entire country have raised their voices to safeguard their achievements in the peace talks, and no one can silence [them]," said Herat deputy governor Munesa Hasanzada.
Preserving women's achievements and rights is the "red line" set by the government and the Afghan people in the peace talks, she said.
The Taliban must not be allowed curtail women's work, education and political and social activities, she added.
"Women's achievements in various areas over the past two decades shouldn't even be a matter of discussion in the peace talks," said Herat provincial council member Sakina Hussaini.
"No one has the right to make a compromise on women's fate and curb their activities," she said.
"Afghan women's achievements over the past 20 years have cost us greatly," she added. "We have lost thousands of our security personnel for these achievements."
"Thousands of our sisters have become widows, and thousands of children have become orphans," she said. "Women like us have progressed because of the bravery of our security forces."