HERAT -- More than 5,000 residents of Herat province participated in a protest Monday (February 8) in Herat city that condemned the Taliban for leaving the negotiating table in Doha, Qatar, for meaningless visits to Iran and Russia.
The protesters slammed the Taliban for continuing to kill innocent Afghans in order to achieve their goals as well as those of the countries supporting them, while the Taliban's political leaders enjoy their stays at luxury hotels in Moscow and Tehran.
The Taliban have gone to their supporter countries to receive their next orders instead of sitting at the negotiating table with Afghans to put an end to the war, said Sadiq Islamyar, a resident of Herat city.
"They should sit at the negotiating table and make peace instead of touring one country after another to stuff their bellies with full-course palaw," he said.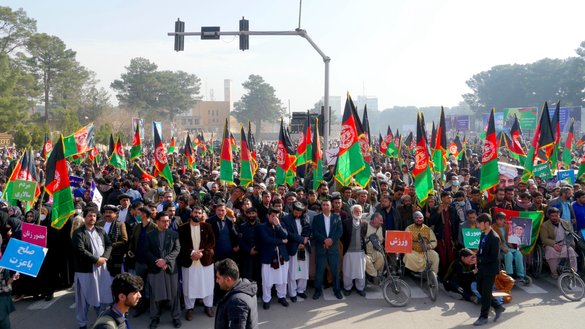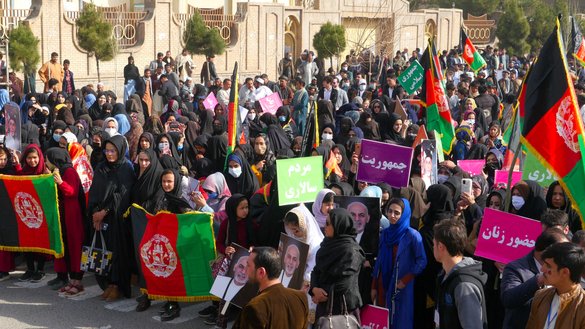 The Taliban delegation headed by Abdul Ghani Baradar, chief of the group's political office in Qatar, visited Tehran on January 26 on official invitation from the Iranian regime.
Two days later, another Taliban delegation headed by Sher Mohammad Abbas Stanekzai, deputy chief of Taliban's political office, visited Moscow on official invitation.
Another Taliban delegation visited Turkmenistan for talks on February 6.
The Taliban have shown that they put the interests of their financial supporters over the Afghan people's demands for peace, said Wahid Ahmad Daqeeq, a civil society activist who took part in the gathering.
"As the new administration assumed power in the United States, the Taliban and their supporters have become concerned, and therefore, the Taliban have traveled to these countries to seek their advice," he said, noting that their need to consult with them on "every decision they take" proves that "the Taliban are not independent".
"If the Taliban don't involve Russia and Iran in the peace process, these countries will stop their support to the group and the Taliban will lose their ability to continue fighting," he added.
Continuing Taliban violence
Meanwhile, the ongoing violence in Kabul and other cities continues to kill innocent civilians on a daily basis.
At least two people were killed and five wounded after multiple bomb blasts rocked Kabul early Wednesday, police spokesman Ferdows Faramarz told reporters.
Interior Affairs Ministry spokesman Tariq Arian told AFP that one of those killed was a district police chief in the capital.
An AFP photographer at the scene said the bomb had ripped through the rear of what appeared to be an armoured vehicle.
Minutes earlier, another blast targeting a vehicle in the same district wounded four people, Faramarz said.
A third blast targeted a police vehicle in Paghman district on the outskirts of Kabul.
The blasts come a day after militants shot dead four government employees in an ambush in Kabul, the latest in a string of targeted assassinations of journalists, civil servants and activists.
Afghan and US officials have blamed the Taliban for the wave of violence, but the group has denied the charges.
Calls for an immediate ceasefire
The Taliban must agree on a ceasefire with the government rather than keep up their terrorist attacks and bloodshed of innocent people, said Muhammad Qazizada, a civil society activist in Herat city.
"All Afghans have been fed up with war, and they call for a comprehensive ceasefire," he said. "Such a ceasefire would rescue the country from war and unrest and provide a platform for national reconciliation."
Peace will never come to the country until a ceasefire is enforced, said Abdul Qayyoum Karimyan, a resident of Guzara district and a participant in the gathering.
"Innocent people are killed on a daily basis in our country," he said. "We call on the government and the Taliban to compromise as soon as possible and declare a ceasefire."
"After a comprehensive ceasefire is enforced, it will provide an opportunity for peace," he said.
"All Afghans are thirsty for peace," Karimyan added. "The Taliban should stop presenting excuses that create obstacles to the peace process. The Taliban, the security forces and the people are all Afghans, so why do we continue to engage in war?"
Women reject return to the past
Hundreds of women and girls who participated in the Monday gathering said their rights and achievements are not up for compromise in peace negotiations.
"We won't leave our government alone, and we call on the government not to abandon us either," said Gulsoom Rahimi, a resident of Herat city.
"Women have had a lot of achievements over the past 20 years that should never be overlooked," she said. "We won't return to the dark past, and we'll fight for our rights and stand against anyone [who wishes to destroy our fate]."
Afghan women and girls today stand up against the Taliban, said Sumayah Adil Niazi, a sportswoman and member of Afghanistan's Taekwondo Poomsae team who participated in the protest.
"The Taliban have promised many times in the past that they would make peace and reduce violence, but the group hasn't delivered on its promises and instead increased the level of violence," she said.
"Even if the Taliban pledge that they won't restrict women, we won't trust them, and we call on the international community to monitor their actions," she said.
Dream of the 'Islamic Emirate' over
"The Taliban haven't achieved anything with war; they have only killed innocent people," Niazi said. "They should forget about their dream of reinstating the 'Islamic Emirate', and return to the negotiating table so they can seek shared power through peaceful means."
Ongoing fighting will achieve nothing but the destruction of Afghanistan's infrastructure, she said.
"No country or international entity recognises the Taliban's 'Islamic Emirate', and the use of the [term] by Taliban leaders and members is shameful," said Abdul Qader Kamel, a political affairs analyst in Herat city.
"The Taliban have always wished to assume power in Afghanistan and declare their own government," he said, but Afghan citizens reject that idea because they have witnessed the acts of that regime.
"The Taliban must have learned a lesson from the past 20 years, and therefore, they should forget about their Islamic Emirate," he said.
"They have to embrace the new system in Afghanistan, which is based on international laws."