HERAT -- Afghans are demanding the Taliban agree to a ceasefire with the Afghan government as soon as possible as a precondition to dialogue and lasting peace.
In separate gatherings last week, religious scholars in Baghlan Province and residents of Herat Province urged an end to violence and the start of intra-Afghan peace talks.
Peace is the only solution
"War is not the solution," said Maulawi Sayed Baqir Hashemi, a member of the Baghlan Ulema Council, at a gathering January 23 in Pul-i-Khumri, the provincial capital.
"Peace is the key for all the problems; therefore, all Afghans should make efforts to ensure lasting peace in the country," he said.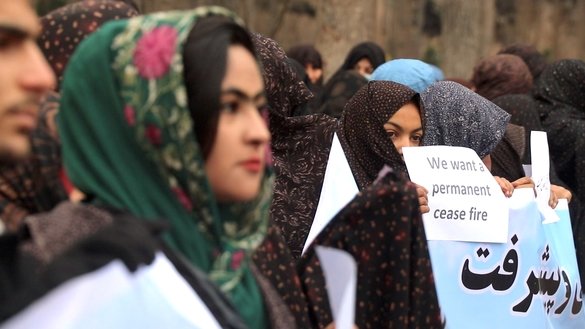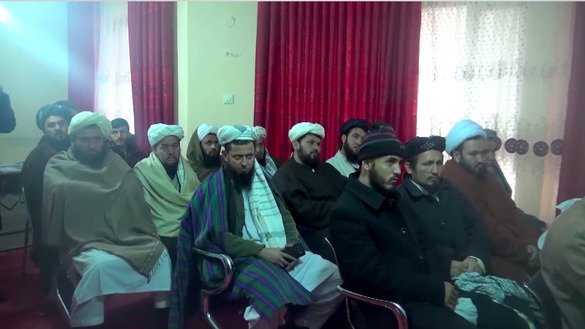 "We request that the government's armed opposition agree to a ceasefire and enter into direct talks with the Afghan government," Hashemi said.
The Taliban must declare a broad ceasefire before they start intra-Afghan talks, said Maulawi Muhammad Yasin Mehdyar, another religious scholar from Baghlan.
"If the Taliban are Afghans, they should stop fighting and create an opportunity to talk with Afghans," he said at the gathering.
"Every day we see our children become orphans, women become widows, mothers and fathers lose their children, and a number of others lose their limbs," he said. "For how long will we see these miseries?"
Talks between US negotiators and the Taliban have reached a sensitive phase and a ceasefire now is required to reach the next level, said Masoom Khaleqi, a civil society activist in Baghlan Province.
"If you ask any Afghan citizen, they will tell you they are fed up with war," he said. "How long will the war and the killing of our brothers continue in our country?"
Herat residents rally for peace
At the rally in Herat city, more than 200 residents -- including women, civil society activists and young people -- called for an immediate ceasefire and an end to the war in Afghanistan as they protested on January 23.
Herat residents declared their support for US Special Representative for Afghanistan Reconciliation Zalmay Khalilzad's efforts to bring the Taliban to the negotiating table and urged the Afghan government to also participate in the peace talks in Qatar.
Most of the demonstrators are victims of war and they gathered to raise their voices for peace and to ask the Taliban to end the war and hold talks with the Afghan people, said Ferdaus Aasi, a resident of Herat city who participated in the rally.
"We have raised our voices, and we want [the Taliban fighters] engaged [in war] to join the peace process as they are also children of this country," he said. "I believe that the Taliban's legitimate demands will be achieved in peace talks."
About 70% of the protesters were women, according to participants.
"I want the Taliban to declare a ceasefire as we can no longer tolerate war, blasts and suicide attacks in our country," said Shabnam, a resident of Herat city who uses one name. "We want peace in our country so that Afghanistan can prosper like other countries."
Afghan women and girls want to get an education and progress in life with peace of mind, said Shabnam.
Afghans have witnessed conflict and the killing of innocent civilians daily, said Mubin Saqib, a resident of Herat city and one of the protesters. All these people have raised their voices hoping the bloodshed will stop and that the Taliban will renounce violence.
"We call on both parties in the conflict that the war is not a solution, and they should resolve their problems through dialogue," he said.
"Ongoing peace talks are a good opportunity that the Taliban and government can benefit from," he said. "The Afghan people are tired of war, and they can no longer tolerate the killing of their fellow citizens."
A warning to the Taliban
The government has kept the door open for the Taliban to lay down their weapons and make peace, said Baghlan Police Chief Gen. Wais Ahmad Samimi.
"Fighting is not the solution, and it doesn't benefit any party," he said. "I ask them to stop killing Afghans."
"The Taliban have lost their morale to fight as you can see they are killed every day in fighting with our forces and their bodies are left on the battlefields," Samimi said.
"If they continue fighting and violence, they will be destroyed," he added.
The government and people of Afghanistan have always demonstrated that they want peace, said Herat Governor Abdul Qayum Rahimi, who spoke among protesters gathered in front of his office.
The Taliban have continued to kill and massacre Afghans on a daily basis, he said.
The Afghan people want their achievements of the past 18 years to be preserved in any peace deal, Rahimi said.
"Until the Taliban declare a ceasefire, it means they don't want peace and they intend to continue killing Afghans," he said. "If the Taliban really want peace -- and they don't use the peace talks to throw dust in the eyes of the Afghan people and the international community -- they have to declare a ceasefire."
Afghan officials are pushing for a complete ceasefire from the Taliban before intra-Afghan peace talks can start, saying it is the most important and fundamental demand of the people.
The Taliban's commitment to anything less than a complete ceasefire will fail to produce the desired outcome in peace talks, said Sediq Sediqqi, a spokesman for President Ashraf Ghani.
"If the Taliban do not agree to a ceasefire, which is the demand of the Afghan people, we cannot put an end to war in Afghanistan," he told reporters in Kabul last week.