Afghan officials are pushing for a complete ceasefire from the Taliban before intra-Afghan peace talks can start, saying it is the most important and fundamental demand of the people.
US President Donald Trump told Afghan President Ashraf Ghani on Wednesday (January 22) that he wants to see a "significant" drop in violence by Taliban insurgents before "meaningful" negotiations can happen.
At the meeting of the two presidents in Davos, Switzerland, "Trump reiterated the need for a significant and lasting reduction in violence by the Taliban that would facilitate meaningful negotiations on Afghanistan's future", the White House said.
Washington for weeks has been calling for the violence to be reined in, posing it as a condition for resuming formal negotiations on an agreement that would see US troops begin to leave Afghanistan in return for security guarantees, after an almost two-decade fight.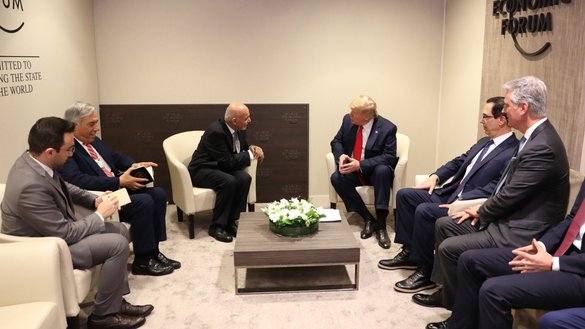 Insurgent sources told AFP last week they had offered to initiate a brief ceasefire.
"It is an offer for a ceasefire either for seven or 10 days," a senior Taliban official who requested anonymity told AFP. A second insurgent source, based in Pakistan, confirmed that the offer had been handed to the United States.
The Taliban has yet to release an official statement, and Washington has not said whether it has received any offer from the insurgents or what its response will be.
The Taliban are aiming to reach a withdrawal agreement with the United States by the end of January and are prepared to "scale down" military operations ahead of signing a deal, their chief spokesman said this week.
"We have agreed to scale down military operations in days leading up to the signing of the peace agreement with the United States," Suhail Shaheen told Pakistani daily Dawn in a report published January 18.
He added that the Taliban were "optimistic" a deal with Washington could be signed before the end of the month and that the reduction in fighting across the country would also include the targeting of Afghan forces.
Full ceasefire essential to lasting peace
But Sediq Sediqqi, a spokesman for President Ghani, said the Taliban's commitment to anything less than a complete ceasefire will fail to produce the desired outcome in peace talks.
"If the Taliban do not agree to a ceasefire, which is the demand of the Afghan people, we cannot put an end to war in Afghanistan," he told reporters in Kabul.
Sediqqi took particular issue with the Taliban's pledge to scale down or reduce violence, Voice of America (VOA) reported Wednesday.
"Does it mean that not 10 but five people will lose their lives? Or it means that there won't be 10 attacks but five daily?" he said.
"Reduction of violence" is a political term and has no legal bearing, said Abdul Subhan Misbah, deputy head of the Afghanistan Lawyers Union.
"According to the Constitution of Afghanistan, violence or any other criminal activity is a crime, and whoever commits a crime must be prosecuted," he told VOA.
Afghan and US officials are on the same page regarding a ceasefire, Sediqqi said.
Ghani and Trump discussed the issue extensively during the US president's visit to Bagram Air Base last November.
Ghani and US Special Representative for Afghanistan Reconciliation Zalmay Khalilzad also discussed the need for a ceasefire during a meeting in Kabul in December.
Khalilzad had been negotiating a deal with the Taliban on behalf of the Afghan government for about a year and the two sides were on the brink of an announcement in September 2019 when Trump abruptly declared the process "dead", citing Taliban violence.
Talks were later restarted in December in Qatar, but paused again following a Taliban attack near the US-run Bagram military base in Afghanistan that wounded more than 70 civilians.
"If the Taliban are not ready to stop violence, I will not allow them to return to power misusing peace negotiation opportunities with the United States," Ghani said at a side event of the World Economic Forum in Davos on Wednesday, Khaama Press reported.