GHAZNI -- Ten civilians, including four women and a child, were killed when their vehicle was hit by a roadside bomb in Jaghatu District, Ghazni Province, officials said Friday (December 13).
The explosion happened after the United States and Taliban paused ongoing peace negotiations on Thursday (December 12).
"Unfortunately, in the explosion 10 people, including four women and a child, were killed," Mohammad Arif Noori, spokesperson for the Ghazni governor, told AFP.
All the victims were civilians, he added, saying six others were wounded.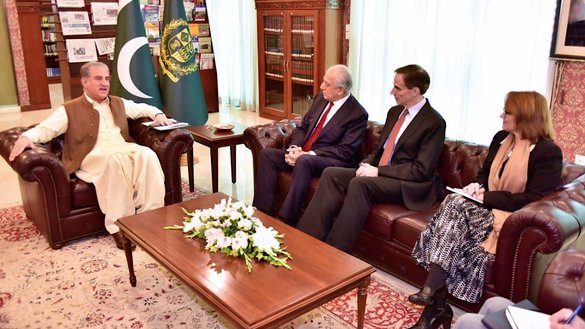 Marwa Amini, deputy spokesperson for the Interior Ministry in Kabul, confirmed the blast and toll.
No group has taken responsibility.
Just hours before the blast, Taliban spokesman Suhail Shaheen said insurgent leaders had held "positive talks" with a US delegation in Doha, adding the two sides planned to restart talks after a few days.
Earlier this week the Taliban claimed responsibility for an attack near Bagram Air Base, a major US military facility in Parwan Province, north of Kabul.
The attack Wednesday (December 11) killed at least two Afghan civilians, including one woman, and wounded at least 73 others, according to Interior Ministry spokesperson Nasrat Rahimi.
The destruction from a suicide bombing during the assault was massive, damaging houses up to 300 metres away, he said.
"The attack seriously damaged a hospital that was being rebuilt for the Afghan people," US Secretary of State Mike Pompeo told reporters on Wednesday. "This is precisely the kind of activity that we're working to reduce through the efforts that we're undertaking."
"The people of Afghanistan deserve an end to these senseless acts of violence," he said.
President Ashraf Ghani condemned the attack, calling it a "crime against humanity".
"The terrorists do not achieve their ominous goals by carrying out terrorist attacks on public facilities and health and service centres because our defence and security forces suppress them everywhere," he said in a statement released by his office.
US pauses talks with Taliban
Following Wednesday's attack, US Special Envoy for Afghanistan Reconciliation Zalmay Khalilzad announced a pause in talks with the Taliban.
"When I met the Talibs today, I expressed outrage about yesterday's attack on Bagram, which recklessly killed two and wounded dozens of civilians," Khalilzad tweeted on Thursday.
"Taliban must show they are willing and able to respond to Afghan desire for peace," he tweeted.
On Friday, Khalilzad was in Islamabad to brief Pakistani Foreign Minister Shah Mahmood Qureshi on the US-Taliban talks in Doha.
"We hope the US-Taliban negotiations will resume soon," Qureshi said, according to a Pakistani statement.
He reaffirmed Pakistan's resolve to continue to play its "facilitating" role in the Afghan peace process, Voice of America reported.
Khalilzad later conferred with Pakistani Chief of Army Staff Gen. Qamar Javed Bajwa in Rawalpindi.
"Regional security situation with particular reference to [the] ongoing Afghan reconciliation process was discussed," the army's spokesperson said.
Violence continues
US-Taliban negotiations began earlier this year, though US President Donald Trump suspended talks in September just as the parties were about to reach an agreement, citing an attack in Kabul in which an American soldier was killed.
According to September's draft agreement, the Taliban would be required to commit to certain security measures, agree to talks with the Afghan government and promise a reduction of violence in exchange for US troop withdrawal.
In announcing the resumption of talks during a surprise visit to Bagram on November 28, Trump insisted on the need for a ceasefire.
The Taliban have steadfastly refused any halt to their grisly campaign of violence, which they see as leverage.
Insurgents often use roadside bombs and land mines to target Afghan security forces; however, the lethal weapons also inflict heavy casualties on civilians.
Last month, 15 civilians including eight children were killed when their vehicle hit a land mine in Kunduz Province.
On September 2, a massive blast in a residential area of Kabul killed at least 16 and wounded 119 others, all civilians, according to the Interior Ministry.