HERAT -- Religious scholars, tribal elders and former mujahideen commanders in western Afghanistan are urging for peace and reconciliation with the Taliban.
More than 200 participants gathered December 10 in Herat city to declare their support for peace talks between the United States and the Taliban.
All religious scholars support the peace talks and expect an end to the war in Afghanistan, said Maulawi Khudaidad Saleh, the head of the religious scholar and clergy association in the western region.
"Peace is a word that the whole world supports," said Saleh. "Muslims, as well as all global citizens, want peace. We see the light of peace, and we're getting closer to peace in Afghanistan."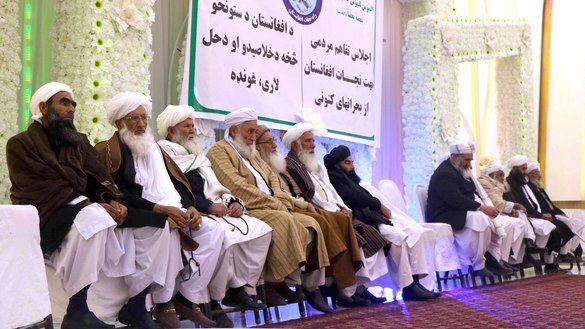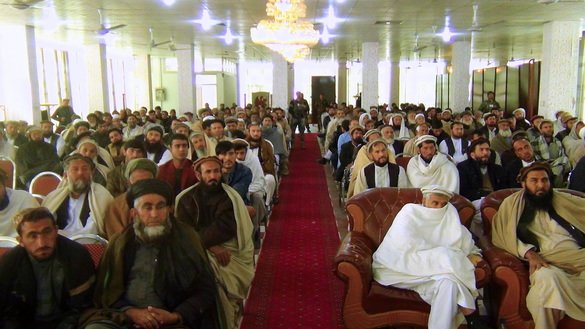 "All the religious scholars in the western region invite parties to the conflict to peace, and they call on everyone to make peace -- as God wants it -- and stop killing each other," he added. "Everyone should be part of peace -- no one should be left out."
Religious scholars support the peace talks and are trying to raise public awareness in districts and villages every day to encourage the Taliban and government to make peace, said Saleh.
The Afghan people have been suffering from war for more than 40 years and they can no longer tolerate the conflict, said Maulawi Muhammad Ali Ghordarwazi, a religious scholar in Herat city.
"Every day, innocent civilians and security forces lose their lives in war, and Afghans are counting down to peace," he said. "Peace means a dignified life for all Afghans."
"The Afghan nation cannot tolerate the war any longer" and everyone wants peace, said Ghordarwazi. "We want the peace talks to continue and reach a settlement."
Hopes for peace in Afghanistan
This time peace talks have a better chance of succeeding because the Taliban have realised that they must soften their position, said religious scholars and sources close to the Taliban at the Herat city gathering.
An unprecedented opportunity has arisen for peace in Afghanistan, said Sayed Akbar Agha of Kabul, leader of the High Council of Salvation of Afghanistan.
The Taliban have adjusted their previously intransigent position and are confident of reaching a peace settlement this time, said Agha, a Taliban-era (1996-2001) minister of justice who retains close ties to the Taliban.
"I stayed 15 days in Qatar, where I had many conversations with the Taliban's representatives and their committee," he said. "They were very confident that this time the peace talks would achieve a result that peace would be ensured in Afghanistan."
"After meeting with the Taliban's representatives and US Special Representative for Afghanistan Reconciliation [Zalmay] Khalilzad, I believe that a peace deal will be signed," added Agha.
The signing of the peace agreement will follow a ceasefire and an intra-Afghan peace dialogue, he said.
The Taliban and government should accept civilians' demands and put an end to the war so that Afghans can live in peace, said Maulawi Abdul Baqi, leader of the Ghor Province religious scholars' association.
"We are hopeful that the peace talks will achieve a settlement that will stop the killing and bloodshed in the country," he added.
The war achieves nothing other than killing; therefore, this war is illegitimate from the viewpoint of Islam, he said.
No option but peace
NATO and international forces will continue to stand with the Afghan people, said British Lt. Gen. Giles Hill, deputy commander of the NATO-led Resolute Support Mission in Afghanistan.
He made his remarks during a ceremony on December 11 at the Italian base in Guzara District of Herat Province to introduce a new Resolute Support Mission commander for the western region.
Afghan and coalition forces are fighting day and night to defeat the terrorists and create a better future for Afghans, he said.
"Everybody here is serving to protect the security of their country and nation, and we are united here to commit also to the security and peaceful future of this country," he added.
Afghan forces have enhanced their capabilities with support from forces of the Resolute Support Mission and NATO, and they now have the ability to protect their country, said Italian Brig. Gen. Giovanni Parmiggiani, former Resolute Support Mission commander in the west.
"We have witnessed the Afghan Defence and Security Forces recently achieve major goals as they defeated terrorists and ensured security, and these improvements are making us hopeful," he said.
"Afghanistan is in the most delicate moments of its history," said Italian Ambassador to Afghanistan Roberto Cantone.
"If peace is achieved, it will pave the way for development and growth. Current peace efforts provide the best opportunity for ensuring peace in Afghanistan, and we support them," he said.
"Afghan forces heroically fight against international terrorism, which is a threat to the entire world, and this isn't only a war of Afghans," said Herat Governor Abdul Qayum Rahimi.
Afghan and international coalition forces fight day and night, and will not allow Afghanistan to once again become a safe haven for terrorists, he said.
Islamic values
Meanwhile, in Laghman Province, about 250 religious scholars and tribal elders declared their support for the Afghan government and security forces during a gathering in Mehtarlam, the provincial capital.
Fighting against the state and its soldiers is illegitimate, they said.
"Our constitution is based on Islam, and our government is also Islamic," said Maulawi Najibullah, a religious scholar, in his speech to the gathering.
"It is surprising that foreigners don't wage jihad in their own countries where un-Islamic practices are common, but they instead come here to an Islamic state, to fight. They have continued to commit un-Islamic acts in the name of Islam," he said.
"Our soldiers embrace Islamic values much better than those of any other country," added Najibullah.
"We can't live [in peace] if we don't have these soldiers," said Sayed Baher, a tribal elder, while speaking to the gathering. "We are proud of them [the soldiers]. We kiss their hands for serving us and the country."
"They perform their prayers five times a day, observe fasting, serve the public, defend their country and expel invaders from their country. Is there a more sacred job than this one?" he asked.
"I, as a tribal elder, clearly state that anyone who says anything wrong to our security forces is my enemy, and I am proud of our soldiers," he said.
"I have seen many security forces who fight on an empty stomach during the operations, but they maintain exceedingly high morale," said Malak Abdul Raouf, another tribal elder.
"They fight even in wind or rain to protect their country and people, which is the same as defending the religion [Islam]," he said.
Afghan forces are evicting from Afghanistan those "who perpetrate un-Islamic things in the name of religion", he added.
"Let's send our children to the army and police, and further empower our army that protects the country from our adversaries," he added. "If we don't roll up our sleeves, we cannot build our country. We have to work hard and empower each other to achieve great results."
Laghman Governor Asif Nang thanked the participants for once again declaring their support to their state and their army.
"We are your servants," said Nang. "We don't ask you for anything in return [for our service]. It is our duty to bring the enemies of our country to their knees and deliver services to society."
"The security and defence forces take pride in serving the public. We will serve you the best we can. If we take a wrong turn, you can stop us and show us the right path," he said.
"Our adversaries have waged war in this country for 40 years, and they have used us for the interests of others," he added. "Fortunately, now everyone can differentiate his [or her] friends from enemies, and I am confident that this country and its army and society will be relieved from these miseries, and they will prosper."
[Khalid Zerai from Laghman contributed to this report.]