JALALABAD -- Hundreds of residents of Nuristan and Nangarhar provinces in two separate gatherings used the teachings of Islam and the principles of democracy to call on the Taliban to accept the Afghan government's proposal for peace.
About 500 Nangarhar residents, including religious scholars, gathered October 11 at Sherzai Stadium in the provincial capital Jalalabad, and speakers at the event said if the Taliban are committed to peace, Afghan values and Islam, they will end their war.
They blamed the Taliban for increasing violence that kills civilians -- including recent car bombings in Shinwari District of Nangarhar and in Laghman Province -- at a time when peace talks are under way.
A suicide attack targeting the Laghman provincial governor killed at least eight people and wounded 28 on October 5, according to local officials. The governor was not harmed.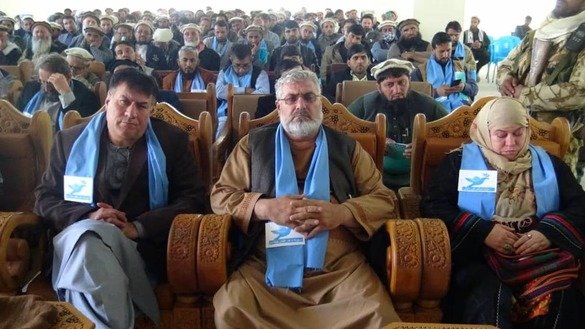 "We condemn the recent bloody car bombings in Nangarhar and Laghman that killed and injured many Afghan civilians, and we asked the Taliban to make peace and agree to a ceasefire," said Sulaiman Khpulwak, a participant at the gathering.
"If the Taliban had fought for bringing a Sharia-based system, they have to benefit from the opportunity now, accept the Afghan government's proposal for peace talks, which is based on the Koran and Islam, and make peace," said Muhammad Amin Sadaqat, a tribal elder.
'We want peace'
"We want peace in this country," said Muhammad Rafi Shinwari, another participant of the gathering.
"In our district, Ghani Khel, children who didn't know anything about the conflict lost their lives," he said. "They were students at school but were martyred in a car bomb attack. We want peace."
A suicide bomber detonated a vehicle full of explosives at the entrance of an administrative building that also housed some military facilities in Ghani Khel District on October 3, governor's spokesman Ataullah Khogyani told AFP.
Thirteen civilians, including one woman and four children, were killed, and 42 people, including four security force members, were wounded, he said.
On September 29, at least 14 civilians, including seven women and five children, were killed by a roadside bomb in Daikundi Province, said Ministry of Interior Affairs spokesman Tariq Arian.
Three children were wounded, he added, blaming the Taliban.
"I swear that all of us are tired and this war doesn't benefit us," Shinwari said. "We just get killed in this war."
On October 10, dozens of Nangarhar residents, in a symbolic move, buried a coffin with "the coffin of war" inscribed on it in Jalalabad city.
"We created this coffin and buried it at Sherzai Stadium to send a message to the Taliban and the government that they ought to put an end to the war ... and reach the kind of deal in Doha that can stop the killing of Afghans," Maulawi Habibullah Jalalabadi, one of the organisers of the campaign, told reporters.
"I want this war to end," said Hayatullah Hamidi, a civil society activist in Nangarhar who lost a family member in the war. "The Taliban must support the democratic system and help the peace talks to succeed."
Ending the bloodshed
Meanwhile, more than 300 religious scholars, tribal elders and women in Parun, the provincial capital of Nuristan, said at a gathering on October 6 that this may be the last chance for Afghans to make peace.
"How would you answer to God that my sister, my child, my elders and my leaders are being killed so mercilessly that has no precedent in history, why?" said Mawlawi Muhammad Hanif, a religious scholar in Nuristan. "Is the blood of a Muslim so worthless that you spill it without any religious ruling?"
Mawlawi Subhanullah Subhani also addressed the gathering, calling the Taliban's ongoing war illegal according to Islam.
"Sharia law has not given you the right to shed blood," he said. "There is no permission for a Muslim to kill another Muslim."
"If it continues like this, how much longer will the war go on? Until Afghans are finished? This cannot happen," he said. "The war has continued for 40 years. Every start has an end. Let's not miss this opportunity and try to end this war so that we can live a bit in peace."
"I heard the father of one of the victims of the explosion in Ghani Khel District, saying that he could find only his 3rd grade son's two legs two days after the incident," Hamza Nuristan, a tribal elder in Nuristan, said in his address to the gathering. "He buried the two legs while the rest of his body is missing."
"What had this little kid done that you blew him into pieces?" he said, addressing the perpetrators of the attack. "A mother who was going to a clinic was killed together with her two sons. She was someone's mother, someone's daughter, what was their fault?"
"It is enough," he said. "Let's end this war; otherwise, it will reach your homes too. I am telling this to those who further intensify the conflict."
Preserving women's achievements
On October 11, at a gathering titled the "National Campaign" held at the Nangarhar Department of Women's Affairs, women called on the parties engaged in peace talks in Doha to take into account women's rights.
"Nearly 300 women gathered at the department to participate in the National Campaign in support of the democratic system, and they called for preserving their rights and receiving more attention," said Fatana Azizi, director of the Nangarhar Department of Women's Affairs.
"We call for a ceasefire and stress that our economic, educational and other achievements over the past 20 years should not be ignored during political agreements," said Khatera Niamati, a participant of the gathering.
Zeba Karimi, another speaker at the gathering, called on the Taliban and the government to declare a ceasefire because women lose their children and family members on both sides of the conflict.
"Women will fight for their rights in the same strength they fight for peace and a ceasefire, and they won't allow anyone to make a political compromise on their achievements," said Shabana, a participant in the National Campaign gathering.