NANGARHAR -- Four months after taking over coalition bases in Nangarhar Province, Afghan National Defence and Security Forces (ANDSF) are proving they are capable of maintaining the security gains achieved after the defeat of the "Islamic State of Iraq and Syria" (ISIS), local officials and residents say.
Afghan officials declared the defeat of ISIS's Khorasan branch (ISIS-K) last November.
Coalition forces withdrew from the Alta Band area of Spin Ghar District toward the end of the month of Ramadan, leaving the Afghan National Army (ANA) in their place.
"We have been deployed here for the past three months," said 1st Lt. Hashmatullah, the commanding officer of a platoon deployed in the area, who disclosed only his first name.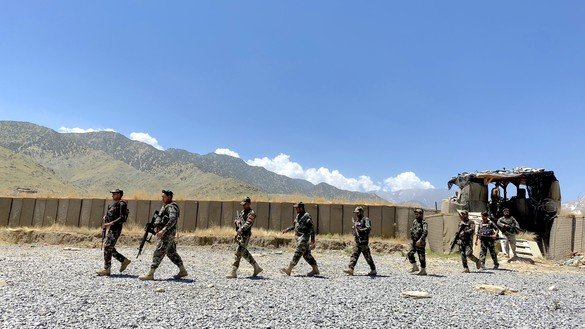 "ISIS used to operate here but not anymore," he said.
With the defeat of ISIS-K and the withdrawal of NATO forces, the ANDSF has taken over maintaining security of these areas, he said.
"We ask our people to have confidence in their security forces," Hashmatullah said.
The ANA has both heavy and light arms and can target enemies across the mountain range, he said. "We will suppress any armed group that tries to operate here."
"We have come here now and are committed to maintaining the security of residents and of the areas," said Zabiullah Nooristani, a soldier at the Alta Band base.
Security improves after defeat of ISIS
Shafiqullah Shinwari, a resident of the Momand Dara area of Achin District, said he feels safer and more secure than before.
"I moved my family back to my house four months ago," he said. "Now security is better."
"ISIS was here in the past, and we suffered greatly," he said. "ISIS beheaded our relatives. It committed crimes that I can't even talk about; I can't stop my tears."
"Now that our security forces are stationed here, we are safe and live our life without any worries," Shinwari said.
Rafiq Jan, a resident of the Gorgora area of Haska Mina District, moved with his family to Jalalabad after ISIS destroyed their house three years ago.
"I want to move my family back to my village," he said. "It is secured now. ISIS is eliminated and our National Army and border forces are based there."
"We will move back with total confidence and rebuild our houses," Jan said.
Since Afghan officials declared the defeat of ISIS-K, security has improved in Shinwari District, said Sohrab Qaderi, a member of the Nangarhar Provincial Council.
With the ANDSF in place "security has completely improved and civilians live in safety", he said.
"I assure residents that security is now good there and that your brave security forces will stand against any enemy," said Brig. Gen. Mohammad Karim Niazi, commander of the ANA's 4th Brigade in Nangarhar.
"We are armed with light and heavy weapons, ready to face any enemy," he said. "We will sacrifice until the last drop of our blood to defend our people and this land."
"The public should not worry; in fact it should be confident that we will destroy its enemies," he said.