KABUL -- The special training and attention that Afghan National Defence and Security Forces (ANDSF) have received from the government and its international allies has helped create a professional and capable security force, Afghan military officials and analysts say.
Afghanistan did not have any army, police, national security or commando forces until 2002.
Now, there are more than 300,000 well-trained forces in the Afghan National Army (ANA), Afghan Air Force, Afghan National Police (ANP), Afghan Local Police (ALP) and National Directorate of Security (NDS) prepared to combat terrorism and other threats to the nation.
"Better training and being equipped [with necessary supplies] have allowed the ANDSF to considerably improve their performance on the battleground," said Arif Kayani, a political and military affairs analyst in Kabul.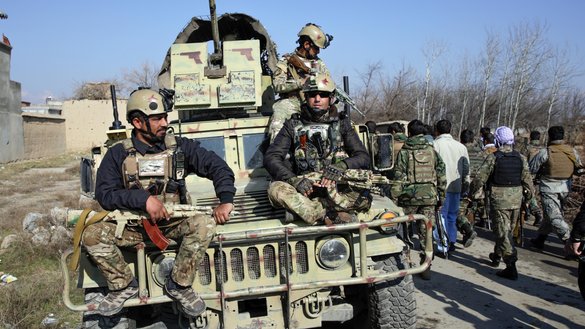 "Special Forces units have received excellent training and foiled most of the [enemy's] destructive military plans thanks to their skills and military training," he added.
"The ANDSF had no strength 19 years ago," Kayani said. "But today, thanks to the government's and its international allies' efforts and special attention, Afghanistan has well-trained and experienced forces who are able to conduct complex and large operations without support from coalition forces."
Elite forces
The ANA Commando Corps is a "professional and experienced force that is unique in the region in terms of its quality, combat experience, equipment, training and leadership," said corps commander Lt. Gen. Farid Ahmadi.
Part of what makes the Commando Corps unique is the rigorous recruitment and selection process, Ahmadi said.
"Only 1,000 out of 5,000 individuals are recruited after a series of tough tests and reviews," he said. "Literacy, suitable physical and psychological health, and the ability to operate under any circumstances are among the eligibility criteria to be selected for Special Forces units."
"Special Forces units operate in 90 locations around the country," he said. "They are equipped with leadership skills and are familiar with key tactics. They receive training and also conduct special operations."
The Commando Corps receive good benefits and they are well equipped, enhancing the appeal for new recruits, according to Ahmadi.
"Young people have a higher interest in joining this force," he said. "In the past year alone, 6,000 commandos received a professional education at the Camp Commando School of Excellence in the capital [Kabul] and professional commando training centres in the provinces."
Top-notch training
Last week, 74 Special Forces officers, including six women, completed military training in eastern Kabul.
"These forces with special training are armed with modern weapons and trained for special operations," Ahmadi said.
"Since 2014, women have been involved in conducting special night and day raids alongside other Special Forces units," he said.
The ANDSF have received training on new military tactics and international standards, said Fawad Aman, a deputy spokesman for the Ministry of Defence.
"They have learned the most recent military and combat tactics and skills and are now able to conduct ground offensives 100% by themselves and launch air strikes 80% independently," he said.
"The ANDSF are in a better situation in terms of capability, expertise and equipment, and their capabilities increase by the day," he said.
"Educating and supplying the ANDSF with necessary equipment have been a priority since their creation, and now our country has forces that are trained up to the standards of international forces," said Gen. (ret). Abdul Hadi Khalid, a former deputy interior minister and a military affairs analyst.
"The Special Forces units have received foundational military education," he said. "They have been taught about human values, ethics and international conventions."
"As Afghan forces are the children of this land and were born and have grown up in war, they fight the terrorists with [great] spirit," he said.
Capable and in demand
"The ANDSF have reached a level of training and preparedness that has encouraged other countries in the region to send their forces to Afghanistan for military training," said Ahmadi, the ANA Commando commander.
"Last year, during my presentation at CENTCOM, representatives of Central Asian countries asked me whether they could send their officers to Afghanistan to get training at the Camp Commando School of Excellence," he said. "The interest of neighbouring countries in sending their forces to Afghanistan for training is another example of the higher capability and capacity of the Afghan security forces."
"The ANDSF, and especially the ANA Commando Corps forces, are in better shape when compared with the enemy, and they have full confidence that they can destroy them," Ahmadi said.
"We support peace, but in the meantime, we have our full preparations in place to defend Afghanistan," he said. "Public trust in our forces has strengthened their morale."
ANA Commando Corps forces are armed with modern weapons and have sufficient experience and capability to fight against any terrorist and militant group, including the "Islamic State of Iraq and Syria" (ISIS) and the Taliban, Ahmadi said.
"ANA Commando Corps forces ... have conducted 1,600 special operations during the previous year alone in which 150 key figures from the enemy, commanders of [the Taliban's] Red Unit, mine planting groups and front-line commanders who led the war were killed," he said.
"Another example of our forces' capability is that we launched 18 special operations last year to liberate prisoners from the enemy's jails," Ahmadi said, adding the operations led to the release of more than 500 civilians and security personnel.
Beating back ISIS, Taliban militants
"The ANDSF, especially commandos and Special Forces units, have a world-class education, and as they have received education in a combat environment, their combat experience is better than that of the coalition forces," said Gen. (ret.) Dawlat Waziri, a military affairs analyst in Kabul.
"The security and defence forces in general have suitable capabilities, but Special Forces units are better qualified," he said. "In recent years, these forces annihilated 6,000 to 7,000 ISIS fighters, including their leaders, and destroyed their stronghold in Nangarhar, and they did not allow the Taliban to gain control of a single province."
NDS forces in co-operation with Police Special Forces Unit 222 captured Zia-ul-Haq (also known as Abu Omar al-Khorasani), the leader of ISIS for South and East Asia, along with Saheeb, his spokesman, and Abu Ali, his intelligence chief, the NDS announced May 11.
"They were also able to capture Abdullah Orakzai, aka Aslam Farooqi, leader of ISIS's Khorasan branch [ISIS-K], along with other prominent ISIS figures, and kill dozens of key Taliban fighters," said Waziri.