KABUL -- The Taliban's ability to fight is waning as the group loses key figures amid intensifying attacks by Afghan forces, say security officials and analysts.
"The enemy's key figures and fighters have been annihilated," said Rohullah Ahmadzai, a spokesman for the Defence Ministry.
"Tens of their key figures including their [shadow] governors, commanders of their 'Red Unit', their district governors and judges, and their tithe and zakat collectors have been killed," he said.
"Our operations will continue -- it doesn't matter whether it is winter or summer," said Ahmadzai.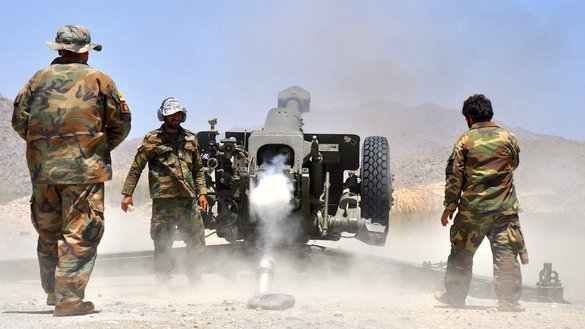 The Taliban's Al-Fatah offensive failed, said Acting Minister of Interior Masood Andarabi.
He made his remarks on October 21 at a ceremony marking the renaming of the National Police Academy after Gen. Abdul Raziq, the police chief of Kandahar Province whom the Taliban assassinated in October 2018.
"Afghan security and defence forces have taught tough lessons to the Taliban, and their Al-Fatah offensive has remained just a propaganda message," said Andarabi.
"Their leaders in Quetta and Qatar and those in provinces have no contact with the Taliban involved in fighting," he said.
"The contacts of the Taliban leadership have stopped with their fighters [on the ground], and their self-proclaimed governors are hiding in caves," said Andarabi.
"The shadow governors are hiding in one cave and the commanders in another, and only those who have been misguided continue fighting against the security forces," he added.
Leaders wiped out
More than 100 key figures of the Taliban have been killed in Afghanistan since the beginning of this year, according to statements from the Interior and Defence ministries.
For example, Qari Noor Muhammad, a Taliban judge, and Nematullah, a well-known commander, were killed alongside nine fighters in Dand-e-Shahab village of Baghlan Province, the Defence Ministry said on October 27.
In another recent incident, Qari Burhan, a notorious commander of the Haqqani Network and a mastermind of terrorist attacks, was killed in Mohammad Agha District of Logar Province, according to a ministry statement on October 25.
In October, security forces also killed Aminullah, the Taliban's shadow district governor for Nerkh District of Maidan Wardak Province, along with his guards, according to a list provided by a source in the Interior Ministry.
Sher Muhammad known as Ghazanfar, the Taliban shadow district governor for Sayad District of Sar-e-Pul Province, was also killed in October and one of his close comrades was captured.
Meanwhile, Herat officials in July confirmed the death of Taliban commander Safiullah Chapat in Obe District, Herat Province.
"During military operations by commandos in the Kafgan area, at least 37 Taliban militants, including Mullah Najibullah and Safiullah Chapat, were killed," Azadi Radio reported October 11, citing Jilani Farhad, a spokesman for the Herat provincial governor. "Mullah Najibullah was a Taliban Red Unit commander."
In a series of particularly devastating operations by Afghan forces, Taliban commanders Farhad Agha, Mullah Jabar, Mullah Agha Wali and Hijrat were killed alongside 55 fighters in Nawa, Nad-e-Ali and Nehar-e-Seraj districts of Helmand Province, according to a Helmand police statement released on September 3.
Afghan air forces also killed Taliban commander Haji Lala alongside nine fighters in air strikes in Shah Wali Kot District of Kandahar Province, the Kandahar governor's office said on August 30.
"Our national police forces, the 205th Atal Corps and the 03 Squad have conducted operations in Kandahar, Helmand, Uruzgan and Zabul provinces that inflicted heavy casualties on anti-government elements," said Baheer Ahmadi, a spokesman for the Kandahar governor.
"The Afghan armed forces have improved their capabilities and have conducted successful operations," said Gen. (ret.) Dawlat Waziri, a military affairs analyst and former spokesman for the Ministry of Defence.
"In my view, when commanders, leaders and governors of [the Taliban] are killed, it leaves an impact on the Taliban's morale and in general on the war," said Waziri.
"Commanders have a key role in recruiting and leading their fighters as well as raising finances, and when they die, everything becomes confused, and the process of recruiting and leading fighters is disrupted for a while," he said.
Peace is the only option
War is no solution and the Taliban should immediately agree to a ceasefire and enter negotiations with the Afghan government, according to Col. (ret.) Abdulghaffar Gardizi, a military affairs analyst based in Kabul.
"The Taliban are responsible for all the conflict as they don't accept peace... and the Taliban are also responsible for the emergence of groups like ISIS, which has brought terrorists from Tajikistan, Uzbekistan, Chechnya and Pakistan to Afghanistan," said Gardizi, referring to "Islamic State of Iraq and Syria."
"The Taliban must know that ISIS is also a threat to Afghanistan, but if they are Afghans, they should start talking to the government and not let ISIS infiltrate Afghanistan," he said.
"We would like to send [the Taliban] a message that they have to stop their crimes and murders, but if they continue to do the same, they will be annihilated," Gardizi said.
"All the Afghan people are tired of war, and they are looking forward to peace and stability that can stop the bloodshed," said Ahmad Zia Yaftali, a member of the Wolesi Jirga from Badakhshan Province.
"We put our efforts into ensuring security [to] civilians of the war and tragedy," he added.