KABUL -- Afghanistan's Defence Ministry says its forces have expanded targeted operations against Taliban leaders, killing dozens over the past month as part of a new strategy.
"Based on the new strategy and combat plan, key Taliban commanders, including their military chiefs and shadow governors, were the primary targets of the Afghan air and ground forces," Defence Ministry spokesman Ghafoor Ahmad Jawid told Salaam Times December 18.
"During the past 26 days, 15 Taliban shadow governors, military commanders, shadow district governors and the group's senior commanders have been removed in operations conducted by Afghan and international forces," Jawid said.
Some 40 Taliban members, including several Uzbek fighters, were killed "some time back" in Kunar Province, he said, adding that three commanders identified by their first names of Maawya, Ghaznawi and Ghazi were among the dead.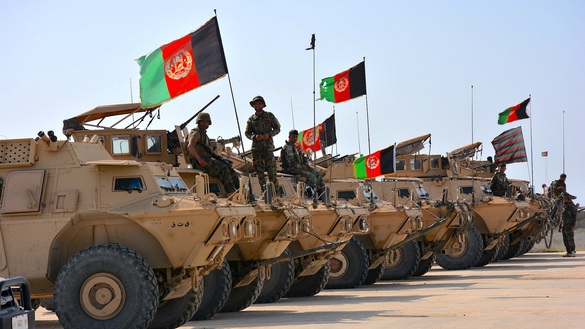 Such operations are continuing.
"Bilal Zadran, the commander of the Taliban Red Unit for Paktia, Paktika, Ghazni, Khost, Maidan Wardak and Logar provinces, was killed during the operations launched by the military's special forces in Paktika Province," said Jawid, referring to a raid on December 18.
"Mawlawi Keramuddin, the Taliban's military chief for Maiwand District, Kandahar Province, was killed alongside 34 fighters in air and mortar strikes," he added.
A winter strategy
"The Taliban's training, recruitment and administrative centres, as well as their financing sites (e.g., illicit drug production facilities), were targeted and demolished, weakening their financial sources," Jawid explained.
"Based on the new strategy, the targeting of the financial sources of this group will continue," he said
"The attacks of security and defence forces have already increased, and they will keep increasing during the winter," said Jawid. "Operations to defeat the enemy have been under way in Farah, Kunar, Helmand, Nangarhar, Kandahar, Faryab, Badghis and some other provinces, and the Taliban have seen heavy casualties in these provinces."
"More than 140 Taliban fighters have been killed in various provinces in the past two days alone," he added.
"Serious US efforts are currently under way to engage in peace talks with the Taliban, but those senior Taliban commanders who are against peace will be targeted," said Jawid.
Mohammad Hanif Rezayee, a spokesman for the 209th Shaheen Corps of the Afghan National Army (ANA), confirmed the operations targeting Taliban leaders.
"Many senior Taliban figures have been killed in the north and northeastern parts [of the country] in operations launched by Afghan forces with support from the Resolute Support Mission," Rezayee told Salaam Times December 19.
Qari Yusif, also known as Mullah Haqyar, chief of the Taliban's military commission in Khwaja Sabz Posh, Shirin Tagab and Dawlatabad districts in Faryab Province, and Mullah Mukhlis, the Taliban's shadow governor and military chief for Chahar Bolak District, Balkh Province, were among those killed, said Rezayee.
Others senior Taliban members recently killed by Afghan forces include Qari Rasool, the shadow district governor for Faizabad District, Jawzjan Province; Qari Tajuddin, a commander for Khwaja Sabz Posh District, Faryab Province; Abdul Rasool, a Taliban judge for Dawlatabad District, Faryab Province; and an unidentified commander of the Uzbek Taliban in Badakhshan Province, according to Rezayee.
Weakening the Taliban
Observers of the Afghan military support the new strategy and agree that targeting key Taliban figures and senior commanders will weaken the group.
"While Taliban fighters in the rank and file get killed on the battlefield, the commanders and senior leaders in the first, second and third levels often stay safe," Gen. Hadi Khalid (ret.), a Kabul-based military affairs analyst, told Salaam Times.
"The changes in tactics and the new combat strategy targeting senior enemy commanders are very important and useful," he said.
"Senior Taliban commanders play a large role in inviting and recruiting fighters and leading the war, and implementing this strategy will degrade the Taliban's recruitment and leadership capabilities," Khalid said.
"Taliban fighters and leaders often fight from residential areas, causing civilian casualties, so taking out their leaders is effective as it reduces civilian casualties," said Khalid. "The new strategy is, therefore, a successful one. As a former general, I welcome this strategy."
A push for peace
"Prominent Taliban commanders, military chiefs and shadow governors have played an effective role in organising the war in various provinces," Moqadam Amin, a Kabul-based political and military analyst, told Salaam Times.
"Targeting and killing these influential Taliban figures are the best option to weaken the Taliban on the battlefield and keep those figures from leading the war," he said, adding that doing so "during the winter increases the military pressure on the group".
"Some of the key Taliban commanders have made a fortune waging war, including through trafficking drugs and receiving financial assistance from neighbouring countries, and they continue to see an interest in prolonging the war," said Amin.
"Taking them out can greatly help the Afghan peace process," he said.
"Several prominent Taliban members have ties with the intelligence agencies of neighbouring countries, and they are against dialogue and peace," said Bashir Bijan, a political analyst in Kabul.
"Targeting and killing these [individuals] could accelerate peace talks," Bijan said.