KABUL -- Afghan and international forces are working to counter Taliban militants who are intentionally using civilians, including women and children, as human shields.
Showing complete disregard for Afghan civilians, the militants hope to protect themselves and to turn grieving Afghans who have lost loved ones against the security forces.
"We are taking this very seriously," Helmand Governor Mohammad Yasin Khan told Salaam Times.
"We have insisted in our military council [sessions] that civilian casualties be avoided, but the enemy always piles up ordnance and explosives in homes and uses those spaces as its bases and to make improvised explosive devices," he said.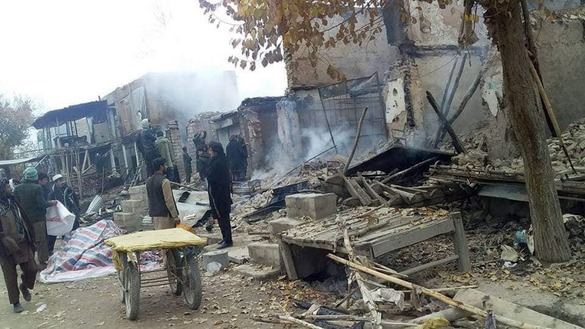 "When military operations kick off, [the Taliban] always fire at security forces from civilians' homes," he said, explaining that the militants use this tactic in an attempt to provoke security forces into returning fire in residential areas.
"We have tried hard to avoid civilian deaths," Khan said.
"It is obvious that if the Taliban had the ability to fight us, they would face us in places with no civilians, but they are weak and hide themselves among women and children," he said.
The Afghan government is working on a plan to minimise civilian casualties and to counter the militants' cruel tactics.
"In various provinces, the enemy always uses civilians' houses, residential areas and sacred sites to launch attacks, and they use women, children and public installations as shields and shelters," said Defence Ministry spokesperson Ghafoor Ahmad Jawid. "This has caused an increase in civilian casualties."
"Afghan security forces and our allies, the international forces, have been sacrificing themselves to save the lives of Afghans and never want to put their lives in danger," he told Salaam Times.
Precision air strikes
The latest figures released by the United Nations Assistance Mission in Afghanistan (UNAMA) show continuing record high casualties being inflicted on civilians. Between January and June 2018, UNAMA documented 5,122 civilian casualties -- 1,692 deaths and 3,430 injured.
The Taliban has been responsible for civilian deaths in Helmand Province for the past 17 years, said Mirza Hossein Alizadeh, a former member of the Helmand Provincial Council.
The Taliban has always attempted to "take shelter in civilians' homes and at mosques and even held its military training sessions and gatherings in residential areas", he told Salaam Times.
"International forces are conducting their air operations with much precision," Alizadeh noted.
However, the Taliban's use of human shields makes civilian casualties inevitable at times.
"In a recent air strike ... several civilians were killed because the Taliban used local residents as human shields," Alizada said, referring to a November 27 NATO air strike that reportedly occurred during a firefight between Afghan special forces and Taliban insurgents in Garmsir District, Helmand Province.
Security forces on the ground requested air support as the militants deployed heavy weapons and retreated into a nearby compound, said NATO.
"The ground force was unaware of any civilians in or around the compound; they only knew that the Taliban was using the building as a fighting position," NATO said in a statement.
"The Taliban continue to use civilians, especially children, as a protective measure," it said.
Disrespecting human lives
Helmand residents confirmed the Taliban's blatant disregard for innocent lives.
"There were instances where the Taliban turned houses into trenches in Nad-e-Ali and Garmsir districts, and that caused civilian casualties," said Safiullah Azizi, 25, a resident of Lashkargah city. "Government [forces] don't know whether there are civilians, so sometimes in military responses, civilians are killed."
"I appeal to the Taliban fighters not to use civilians' homes as battlegrounds," he told Salaam Times. "First, they should renounce violence and make peace, but if they're not willing to do so, they should fight in places far from where civilians live."
Noorullah Noori, 27, another resident of Lashkargah city, said the Taliban are the main party responsible for ordinary Afghans' deaths "because they have often tried to use civilians as shields to protect themselves and launch attacks from their areas".
"We call on the Taliban, for God's sake, to please respect a human's life," Noori told Salaam Times. "Don't jeopardise civilians' lives any longer. You don't sacrifice as much as they do."
"Civilians are killed in both cases -- when you attack government institutions and when government forces attack you, because you use local residents as human shields," he said.
The Taliban has used a similar tactic in Paktia Province.
A confrontation in Zurmat District on December 1 led to 12 civilian casualties, including women and children, according to Muhammad Ismail Zazai, a tribal elder from Paktia Province.
"One of the major reasons for civilian casualties was that [the Taliban] had taken shelter in their homes using them as human shields," he told Salaam Times.
In the face of protests by residents, "the Taliban have obtained shelter in residential areas by using their weapons to make death threats," he said.
"The Taliban intentionally fire on security forces from civilians' homes so that the Afghan and international security forces fight back and kill civilians, and attempt to incite the public to rise up against security forces," he said.
Paktia Deputy Governor Abdul Wali Sahmi confirmed that civilians were killed in an operation December 1. "Mostly people's houses are used as shields by militants, which is wrong," he said, according to TOLOnews.
Taliban war crimes
The Taliban's strategy of using human shields serves two purposes: to protect the militants from air strikes and to maximise the risk of civilian death, according to Gen. Sikander Asghari, a Kabul-based military affairs analyst.
"When local residents are affected in [operations], they may turn against the government and international security forces, and this makes it easier for the Taliban to recruit fighters from the local population," he told Salaam Times.
"The main cause of civilians being killed and affected in air strikes are the Taliban because they use local residents as human shields," Asghari said.
Launching attacks from residential areas and using civilians as human shields are considered war crimes, according to Bilal Sediqi, spokesperson for the Afghanistan Independent Human Rights Commission (AIHRC).
"There are numerous reports that armed anti-government elements use civilians as human shields, and the AIHRC condemns this act of the armed opposition," he told Salaam Times.
"Taking refuge in residential areas and using civilians as shields by anti-government elements are the main causes of the increase in civilian casualties during armed clashes," Sediqi said.
"We appeal to the Taliban and other parties to the conflict to obey the laws of war and international human rights," he said. "They should refrain from taking refuge in residences and from using civilians as human shields and should stop committing more war crimes."
[Zia Samar from Helmand contributed to this report.]