KABUL -- Tribal elders, religious scholars and residents of Kandahar and Herat provinces have reaffirmed their support for the Afghan National Defence and Security Forces (ANDSF).
The latest commitment from Kandahar Province came at a gathering December 17, 2017, at the headquarters of the 205th Atal Corps.
"The security forces sacrifice themselves to protect Afghanistan and its people, and to protect our security, our lives and our property," Haji Hadayatullah, a tribal elder from Kandahar, told Salaam Times. "They stand against the Taliban and other terrorists using their chests as shields, so that we can live in peace and security."
"It is our Islamic as well as our Afghan duty to support these forces against terrorists," he said.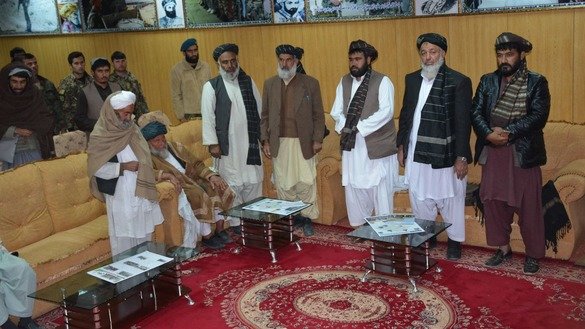 "The security forces have taken up arms to carry out their religious obligations and to defend their homeland and their compatriots," Mawlawi Fayzurrahman, head of the Council of Scholars in Kandahar, told Salaam Times. "Religious scholars throughout Kandahar Province support the [ANDSF]."
"The war fought by the Taliban and other terrorist groups is illegitimate," he said. "In fact, all their activities are un-Islamic and contrary to Afghan culture."
"I call on the Taliban to stop this fighting and fratricide and to join the peace process," Fayzurrahman said.
Terrorists lose ground, members
"More than 2,600 terrorists have been killed and thousands have been wounded in the southern zone over the first nine months of [solar Hijri year 1396]," Gen. Emam Nazar Behbud, commander of the 205th Atul Corps, told the gathering on December 17, referring to a period roughly between March and December 2017.
"This year, the movements of terrorists have been diminished while the operations of security forces have increased," he said. "[The Afghan] National Army [ANA] forces are in an offensive and aggressive position. Our plan is to increase the areas under our control on a daily basis."
"I ask the residents of Kandahar to co-operate with their security forces more than ever in the past, in order to bring peace and stability to Afghanistan," Gen. Mohammad Radmanesh, deputy spokesperson for the Ministry of Defence, told Salaam Times after attending the gathering.
"Popular support for security forces has increased all over Afghanistan. Such support has strengthened security forces' morale and motivation against the terrorists," he said.
Herat scholars pray for ANDSF success
In Herat Province, a number of tribal elders, religious scholars and residents December 21 gathered at 207th Zafar Corps headquarters to express their backing of the security forces.
"The Taliban's war against security forces is illegitimate, and the actions of this group have nothing to do with the religion of Islam," Mawlawi Sayyed Ahmad, a religious scholar from Herat, told Salaam Times.
"The security and calm present in most areas of Herat are the result of hard work by troops day in and day out," he said. "We, the scholars, want peace and security in the country, and we pray for the success of our security forces."
"We are pleased with the activities of our troops," said Abdulqader, a tribal elder from Herat Province.
"There is peace and security in any place under the control of security forces," he told Salaam Times. "On the contrary, wherever the Taliban are present, there exist oppression, murder and brutality. We support the security forces wherever they are."
Public support boosts troops' morale
"Throughout this year, dozens of military operations have been conducted against the terrorist groups in the country's western provinces," said Gen. Mohammad Naser Hadayat, commander of the 207th Zafar Corps, addressing the gathering.
"As a result, 1,239 in surgents were killed while 1,075 others were wounded," he said. "Moreover, 782 Taliban roadside mines were discovered and dismantled, while ten of their bases and three of their explosive caches were destroyed."
"Public support for the security forces has increased youth interest in joining these forces," Hadayat said. "This year, almost 1,500 young people joined the [ANA] alone."
"Security forces spare no effort to protect the Afghan people and to prevent terror attacks," he said. "The Taliban have been defeated in Herat Province thanks to our efforts and to public support."
"Air strikes against terrorist positions in the western zone have increased," Radmanesh said while speaking at the 207th Zafar Corps. He attended both events in Kandahar and Herat.
"Mullah Abdussamad, deputy shadow governor of the Taliban in Herat Province, along with 36 of the group's commanders, was killed in air strikes carried out by the country's air force," he said, referring to a strike conducted November 22.