NANGARHAR -- A group of seven Taliban members who were active in Khogyani District of Nangarhar Province surrendered their weapons to government officials on December 3, expressing regret for their fighting.
"I came with these six fellows, and we surrendered the weapons with the help of the National Directorate of Security [NDS] and [Afghan] National Army," Mullah Afsar, the leader of the group, said at an event marking the militants' surrender at the provincial government headquarters in Jalalabad.
"We have been fighting the government in the Wazir area of Khogyani District for the past ten years," he said, adding that other Taliban fighters under his command remain in the field. "We were destroying schools, and we were told that those working for the government were infidels. For this reason, we were carrying out attacks."
"But now we realised that all of them are Afghans, they are our brothers and they are Muslims, and if so, why should we fight them?" Afsar said. "Therefore, we came and joined the government."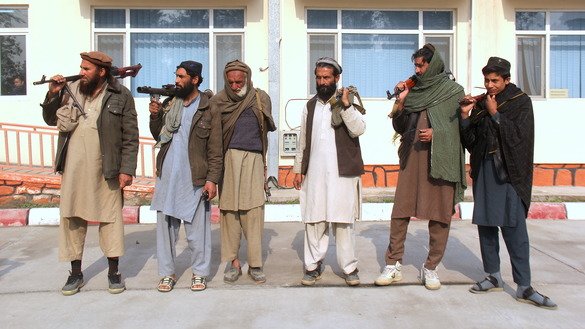 Gul Rahman, 33, another member of the group, said they had received money and equipment from militant leaders in Pakistan.
"At first we did not know, but later we realised that the reality is different [from what we thought] and for this reason we came and surrendered our arms," he said. "We no longer want to destroy the country."
Peace is the only way forward
Nangarhar Governor Mohammad Gulab Mangal congratulated the men at the event for joining the peace process.
"No insurgent group can reach its goals through fighting," he said. "We call on all armed opponents to give up armed opposition and join the peace process and work for the reconstruction of the country."
"We have started efforts, and many other groups are ready to lay down their arms and take part in reconstruction of the country," Mangal said, adding that the militants are not fighting for religion or Islam, but rather on behalf of foreign interests.
"The only victims are the Afghan nation, and you are a part of [that nation]," he told the surrendering Taliban members.
"This group of militants is ready to join the peace process ... through the efforts made by the Afghan National Army and the NDS," Malak Nazir, chairman of the Nangarhar Provincial Peace Council, said at the event.
"They were carrying two Kalashnikovs, two carbine guns, one rocket launcher, one PK [machine gun], two radios and nine magazines with them, which were surrendered to the disarmament programme," he said.
"This armed group joined the peace process through the efforts made by personnel [local officials] assigned in Khogyani and through the NDS," said Brig. Gen. Mohammad Nasim Sangin, commander of the 4th Infantry Division of the Afghan National Army. "We want other groups to follow them and join the peace process."
"Any insurgent group that doesn't join the peace process will be crushed," he said at the event.