JALALABAD -- Twenty Taliban fighters and three members of "Islamic State of Iraq and Syria" (ISIS) surrendered on Wednesday (August 28) to local authorities at the National Directorate of Security (NDS) of Nangarhar Province.
The militants handed over their weapons to Afghan security forces in Jalalabad, the provincial capital.
"The mentioned persons were conducting destructive activities in Khogyani, Kot, Shinwari, Momand Dara and Chaparhar districts," said Nangarhar Governor Shah Mahmood Miakhil. "Lately, the circle around them shrunk, and they saw the reality and stopped fighting."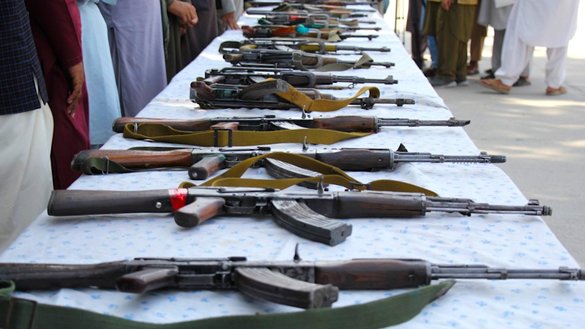 "An area of security has widened in this province and even now operations are going on in a number of areas including Sra Road and Khogyani districts, a result of which the armed opponents are either leaving the area or are surrendering," Miakhil said.
Miakhil called on other militants to stop fighting and join the peace process.
Regrets for wasting years of their lives
The militants who joined the peace process expressed regret over their past activities and said now they would help the government develop the country.
"I joined the Taliban's ranks three years ago, and I fought under the leadership of Ali Haider and Abu Bakr," said Ghulam Rasool, one of the fighters who surrendered.
Faqir Mohammad Gul, another Taliban insurgent, said he gave up militancy after finally realising that the insurgency was only doing the bidding of other countries.
"I thought that [we were fighting for religion], but now I realise that this fighting is not a fight for religion but for alien countries, so I came and chose the way of peace," he said.
Other militants "may join us", he added. "They said, 'You may go; if you can find an easy way and your life is good, we will also join you.' When we came, we saw the people's love here, so I am sure that others will also come and join the peace process."
"We are making efforts for peace, and now many armed men have realised that it is not a fight for Islam," religious scholar Mawlawi Habibullah Jalalabadi said at the ceremony.
"My national army is Muslim, my police is Muslim and they are defending our country. Therefore, we should work to maintain this [government] system," he said.