JALALABAD -- A total of 24 members of the "Islamic State of Iraq and Syria" (ISIS) and the Taliban surrendered to security forces in Nangarhar Province, according to the National Directorate of Security (NDS).
The militants were presented to the media on Wednesday (June 19) in the compound of the NDS in Jalalabad, the provincial capital of Nangarhar.
The surrendered militants included seven members of ISIS and 17 Taliban insurgents who had turned themselves in to the government in the last month.
Some of the fighters said that their leaders were from countries outside of Afghanistan including Iran.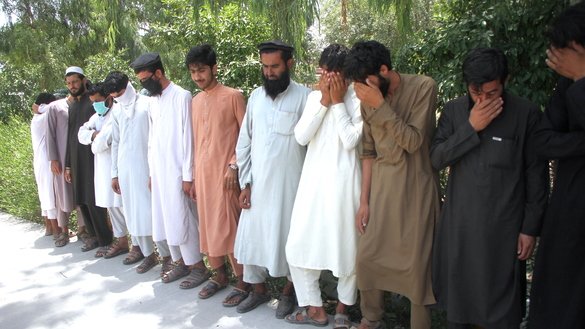 Exploited by foreigners
"We were given training by foreigners, and we did not know their language," Mohammad Rahman, an ISIS militant, told media at the NDS compound. "They included Uzbeks, Tajiks, Pakistanis, Iranians and others."
"When we went to fight, most of our commanders were foreigners," he added. "They have learned the Pashtu language and told us to shoot and kill anyone they showed us. We fought in many areas, and we killed people."
"When people who were just passing by were being hit, I got upset as I realised that this was just a game and not jihad. I then stopped fighting, and I came and put down my weapon," said Rahman.
"We are illiterate," Waheedullah, one of the Taliban members who surrendered, said at the compound. "I thought that we were on the right path as we have to fight for Islam. But later on as I learned the story was different, I came together with five others whom I led and joined the peace process."
The militants made the right decision to lay down their arms and opt for peace, Shah Mahmood Miakhil, Nangarhar's provincial governor, said at the event.
"Every soldier here is Muslim -- he knows the religion and acts on it," Miakhil said at the ceremony. "If I ask the ISIS and Taliban members here, they wouldn't know how to properly make ablution or pray."
The militants "can come and make peace, or else they will face the music", he said.
The surrendered fighters were active in Chaparhar, Khogyani, Momand Dara, Lal Pura and Ghani Khel districts, said Miakhil.
About 550 ISIS and Taliban members have surrendered to the Nangarhar government in the past year.